# 1 Learn the Electrician Job Description
The first step on your journey of learning How To Become An Electrician will be to understand what your new job description entails. It will vary depending on what type of work your employer asks you to perform. An example of this would be residential and commercial work. Each will have its own set of codes and specific tasks. It will be important to do work that brings you joy. You may decide that this career path could be something you do for the rest of your life, therefore, you need to make sure it's something you really enjoy and could potentially develop a passion for.
You need to be able to say YES to most of these questions:
Do I enjoy working with my hands?
Do I enjoy working outdoors?
Would I be good with working in confined spaces?
Can I work most of the day off a ladder or areal lift?
Do I like heights?
Would I enjoy learning a new life skill?
Do I enjoy working with others?
Typically, however, the job entails:
Installing, repairing and, maintaining equipment and components in compliance with national electrical codes, standards, and regulations.
Operation various testing equipment in locating and determining different types of malfunctions (such as finding circuit breakers).
Knowledge of electrical tools, equipment, and materials common to the trade.
Ability to work off a ladder for an extended period of time.
Good written and verbal communication.
Ability to pass a background check, drug screen, and physical abilities test.
Must have a valid driver's license.
#2 Obtain Appropriate Training
The best way to get the appropriate training is to join an apprenticeship program. I have a personal relationship with the representatives in my area for the I.E.C or Independent Electrical Contractors. It is imperative you join an apprenticeship program. I have found that while in the field it is very hard to train an apprentice in the technical areas of becoming an electrician. Problems arise for example your boss makes you work longer and the time schedule for the project has been accelerated.
These are just a few of the problems that make it difficult for a seasoned electrician to teach an apprentice. Small tasks can be taught like how to install a receptacle or set up new light fixtures. Teaching calculations and the "Why" can be super difficult. Let's face it even I do not know everything and I am a master electrician.
In a classroom setting an electrician has the opportunity, without rushing or fear of failure, to learn how to size wire, how to label your wires (using a good label maker), perform motor calculations, build a service for a house on paper and lots more.
This field is always expanding due to massive new construction projects. In addition older, residential, commercial, and industrial electrical systems become outdated and require upgrading or alterations. If you want an electrical reference guide to help you on your journey, check out my list on the best electrician books for beginners.
~~~VERY IMPORTANT INFO ~~~
In the field, there is just not enough time for a journeyman electrician to teach an apprentice electrician the technical skills an electrician should know.
Remember, your supervisor wants you to learn and grow because that makes him look good and his job looks good which means more money! If you have questions don't be afraid to ask. Find some time during lunch or before you arrive at the job site. Be curious and ask why he is doing something in a certain way. You can find more about the IEC @ www.IECI.org.
Independent Electrical Contractors
The IEC is an electrician apprenticeship program registered with the U.S Department of Labor, Bureau of Apprenticeship and Training. They have nationally registered pattern standards. It is a Four Year apprenticeship program. Below are the key points to know and the awesome benefits!
Students work full time while attending class one night a week.
Students are supervised by a Journeyman electrician for their on the job experience.
A master electrician teaches the classes.
Wages shall increase regularly while enrolled in the program.
Graduating students may receive up to 37 college credit hours.
Scholarship funds are available to graduates on a limited basis to continue their educations.
Qualifications:
Age requirement is a minimum of 18

Must have obtained a high school diploma or GED
Must have a way to and from work and class
Social Security Card and Valid Drivers License
Passed a background check and drug test
Upon acceptance, the applicant must supply his own tools (to check out the tools I carry, check out my electrician tools list)
Cost and Tuition:
Note: Tuition is deducted from your pay each week.
$25 application fee

$50 registration fee upon acceptance
1st year – 1,000 hours of on the job training $0.37 per hour for each hour worked
1st year – Next 1,000 hours $0.41 cents per hour for each hour worked
2nd year – $0.49 cents per hour for each hour worked
3rd year – $0.56 cents per hour for each hour worked
4th year – $0.64 cents per hour for each hour worked
#3 Start Working
The best way to learn the trade is to just jump in with both feet! Start working now! This is a career that you have to just learn by doing. When joining an electrical contractor you will be referred to as a helper. A helper will be assigned to a journeyman to assist him in the daily tasked dispensed by the project manager or Master Electrician. You can expect your first year to be assigned to jobs that are repetitive.
Most helpers are assigned to crews that run wiring, install light fixtures and installation of surge protectors for washing machines. You'll also be identifying individual wires you're trying to work with within a massive bunch of cables (this is significantly easier when you use one of the best tone generator and probe kits available).
In addition, a shovel will become your right hand. It is expected for new helpers to dig and clean out ditches for new underground conduits. You will also be assigned to material delivery. This may seem like a waste of time but this is an important task. Make sure you're wearing a comfortable pair of electricians pants – there's no need to make the day more tiring than it needs to be.
If you're carrying around a lot of tools, you'll find that a solid electrician vest, a good electrician tool belt, or a good electrician tool backpack can SIGNIFICANTLY assist you in transporting your tools around. Alternatively, if you'd rather not carry the tools on your, you can carry them on an electrician cart.
You will be able to learn the different types of materials electrician uses daily. Once you become established and respect is built a Journeyman will start to assign more complicated tasks, for example assisting in building a panel, helping to install a generator, or helping install a UPS (uninterrupted power supply) system. You'll often find yourself reaching for a good electricians multimeter in many of these situations. At this time you will start to learn the more advanced skills of becoming an electrician. It is very rewarding when you can say you took part in the construction of a house or building.
#4 Define your state's requirements for licensing and certifications.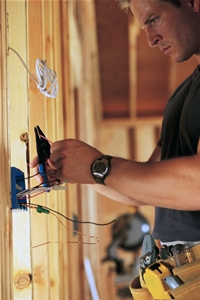 License and certification requirements differ by location. For example, in Texas, you must apply and have in your possession an apprenticeship license before you start working. Check with your local authority having jurisdiction on requirements for licensing.
When applying for advanced licenses make sure you have all of your hours worked documented. The majority of states and cities require you have a minimum amount of hours worked in the trade for an advanced license. Most places convert 1 year of working to 1,000 hours of experience.
Texas requires that you have 4,000 documented hours before you can apply for a Journeyman license. For this reason, is it important that you keep employment records and past pay stubs. For your Master license, Texas requires that you hold your Journeyman license for 2,000 documented hours before they will allow you to take the state masters exam.
#5 Study the Electrical Code.
Most authorities having jurisdiction and electrical inspectors use the National Electrical Code (NEC). You can find one here: NEC 2017 (NFPA 70) (Note we may receive commissions on purchases made from our chosen links – at no extra cost to you). You will need to determine if the version used for enforcement is the NEC, state code, county code or city code. Become accustomed to the codes for that region. In addition, find out which code year has been adopted by the local authorities.
Note: It is not required that you understand the entire code.
This huge document is written by lawyers and other authorities and the language used can be quite confusing to understand. The most important skill you can acquire is mastering the Index. The Index will show the location of every code and exception in the book.
In addition, will even direct you to the code number. This is a vital skill because during testing for your advanced license the majority of the test is open book. An applicant has the ability to use his or her codebook. But the codebook is a huge document and would take a person a long time to locate a specific code without using the Index. In addition, most tests give an applicant a certain time limit for the test. This is why understanding how to use the index of the codebook is the most valuable skill.