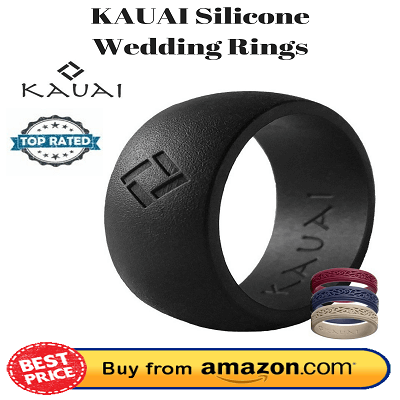 Wedding rings/bands are considered as an important part of any relationship in our society. Couples are normally supposed to wear them all the time on their hands.
Normal rings come in different metals like gold, silver, and others. These metals make rings look more attractive and beautiful. But, there exists some problem for few professionals.
How can an electrician wear a metallic wedding ring during his job? Of course, they cannot. Otherwise, an electric shock would not only ruin their ring but can damage their whole finger as well.
In few cases, it could be more dangerous too. What could be the solution to this problem? It is to find some non-conductive wedding rings for electricians.
Sounds weird? Yeah, but there exists such rings for electricians that allow them to enjoy their relationship in their jobs as well.
If you are also looking for wedding rings particularly made for electricians, then this article is going to help you a lot. Here, we have gathered a list of few wedding rings for electricians along with their reviews and brief guideline.
Best Wedding Rings for Electricians
1. KAUAI Silicone Wedding Rings
This Silicone Wedding Ring is manufactured by KAUAI. This ring is available in different sizes with a variety of vibrant colors. It is one of the wedding rings for electricians that they can wear anytime anywhere.
The most distinguished thing about this ring is that it comes with lifetime warranty. With its lifetime replacement policy, you can replace your ring easily whatever the reason is. The provider will not even ask a simple question.
Furthermore, these electrician wedding rings are unisex. It means they are perfect for both male and females. In its manufacturing, high-quality silicone is used that makes it hypoallergenic and heat resistant. With its medical grade silicone, it not only gives you safety but maintains your health as well.
Moreover, these rings are highly durable. They can even withstand temperature as high as 400 degrees along with any type of rough and tough weather conditions. With its well-maintained shape and size, it is going to stay with you for a lifetime period.
The price range of this wedding ring for electricians is also low. It won't feel heavy in your pocket, no matter how low your budget is.
Pros
With its durable construction, you can use it while working at high-temperature
With its smooth fit, you can carry it anywhere without worrying about it.
Its hypoallergenic material keeps you safe and healthy.
It gives versatility because of its design and color range.
Cons
You can't get this ring in half sizes.
It might not give the metallic
Verdict
This KAUAI wedding ring for electricians is going to offer your amazing sturdiness along with a huge variety of colors. Moreover, you can use its medical grade silicone material without worrying about allergies. In an affordable price range, this ring is going to stay with you for your whole life.
2. Silicone Wedding Ring by HonorGear
This wedding ring for an electrician is made by HonorGear. It comes with plain and simple design to give it more elegant look. You can perform all your job site tasks while wearing these non-conductive wedding bands. In this way, you won't lose them in removing them out of your finger.
With the tensile strength of more than 183N, these bands are perfectly shaped by using stainless steel molds. In this way, it doesn't come with any rough or sharp edges. As this ring is made up of non-conductive, comfortable, chemical safe and lightweight material, people from all types of professions can use it easily.
These nonconductive wedding rings are manufactured by using high-grade silicone that is completely safe for your skin. Moreover, as it is waterproof, it can be used everywhere. It shows sturdier behavior than rubber. Therefore, you can perform any type of heavy-duty task while wearing it.
The company backs its product by giving a lifetime guarantee. With all its amazing features, the price range of this ring is also not high. You can buy it in the average price range.
Pros
With its smooth ends, it gives a comfortable
Its waterproof material makes you worry free about its lifetime.
It comes with lifetime warranty.
Its high tensile strength offers great durability.
Cons
It might hold moisture to some extent.
Verdict
This HonorGear wedding ring for an electrician is one of the high-quality rings that you can keep with you for your whole life. Moreover, it offers comfortable feel, durability and nice appearance with its beautiful colors.
3. QALO Men's Functional Wedding Rings
This Men's Functional Wedding Rings is manufactured by QALO. It is made up of Silicone material that makes it non-conductive and thus suitable wedding ring for electricians.
It is manufactured highly durable. In this way, you can use it anytime and anywhere no matter how tough your job nature is.
It comes with traditional outline style that gives it classic appearance and comfortable feel as well. It contains Pick & Axe stamp. It can tolerate temperature from -75 Fahrenheit to 575 degrees Fahrenheit. It means you can use it without worrying about high-temperature sites.
Moreover, it is made non-porous and shows a tensile strength of 19 pounds. It means you need this much weight to break it up. It also comes with perfect sizing.
As far as the price range of these wedding rings for electricians are concerned, it exists in middle range. You can say it as an average-priced wedding ring.
Pros
Withstand quite hot temperature situations.
Comes in well-fitted sizes.
Highly durable.
It comes with a classic
Cons
If you wear it 24/7, it might cause irritation to your skin.
Its edges aren't as smooth as metallic rings have.
Verdict
This QALO's wedding ring could be a good wedding ring choice if you are looking for some non-conductive and durable alternatives. It can withstand high temperature and heavy loads.
4. Bondwell Silicone Wedding Ring
These wedding rings for electricians are made by Bondwell Company. These rings are made to withstand heavy-duty job nature. It is quite light in weight and considered as a perfect solution for metallic bands.
These nonmetal wedding rings are constructed using medical grade silicone bands. It shows the specific tensile strength that is kept at a point to break without damaging or deglove-ing your finger. In this way, it keeps your finger safe from all types of mishaps.
You can use this ring while working with your hands despite your job nature. It can be comfortably used by electricians, mechanics, firefighters and many other professionals.
These one of the best wedding rings are hypoallergenic. With its high-quality silicone, it protects your skin from irritations and infections. Moreover, its non-porous 'Hydrobead' waterproof technology prevents this ring from getting shrink on interacting water.
Furthermore, if you buy this ring, a donation is made that is used to save a marriage. It is because Bondwell Silicones Wedding Rings were created to make marriage relationships stronger. You can purchase these rings in a variety of sizes.
The price range of these rings is average. You can afford it easily.
Pros
Its hypoallergenic material keeps your skin safe.
Shows great durability.
It prevents your finger from de-gloving.
Because of its lightweight, you won't feel anything wearing at all.
It is completely non-conductive to keep electricians safe from shocks.
Cons
Some of you might feel sizing problem in these rings.
It might sustain moisture to some extent.
Verdict
If you purchase these wedding rings for an electrician, then in an affordable price range you will get the highly durable product. Safety, lightweight, and comfortable feel are its other boons.
5. Men's Silicone Wedding Ring by Proof
These men's' silicone wedding bands are manufactured by Proof. These rings are great alternatives for your metallic rings. As they not only offer safety for electricians but also protect their fingers. It is highly flexible and gives full day comfort while preventing any hazardous accident.
Not only it offers safety, but its design is also nice. It is quite slim in its appearance. So for all people who are tired of bulky silicone rings, this one is a great product.
These rings are constructed using Premium-Grade Silicone material. This attribute offers hypoallergenic qualities along with non-conductive behavior. Because of its durable construction, you can wear it anywhere. Whether you are working out at the gym or working hard at the rough job site, keep your wedding ring on your finger.
The company offers 100% guarantee on this product. If you don't feel contented you can return it within 30 days and can take back your full money. Besides its remarkable features, the price range of this item is also low. You can list it as a least expensive wedding ring for electricians.
Pros
Its high-quality silicone material prevents allergies.
With its durable construction, this ring can serve you for the long time period.
It protects your finger from any dangerous accident.
Cons
You shouldn't wear it every time.
It might not appear as cool as other wedding rings.
Verdict
This wedding ring by the Proof brand can be a great option for all those looking for some reasonably priced product. It offers durability, safety, hypoallergenic properties and nice fitting.
Buying Guide
In this section, you will get to read few information pieces that will help you in getting right wedding rings for electricians.
Why is it important to get special wedding rings for electricians?
Most people are in habit of wearing their wedding rings all of the time. They do this because of their attachments with these rings or bands.
Now the case with the men is slightly different if their working nature involves electricity or another such thing. Nobody remembers to put off their rings every time before starting their work. If electricians do this mistake, there are high chances of getting a terrible shock.
To your surprise, an electric shock of as low as 6 voltages can even harm the finger badly. That's why it is very important to get the non-conductive rings for electricians.
In the market, you can get varieties of non-conductive wedding rings. These rings are made up of ceramic, silicone or other such materials. Here, we will focus particularly on rings/bands made up of silicone material.
What factors should I consider before buying silicone wedding rings?
Consider these few points before purchasing the wedding ring.
Quality
It is one of the most important factors that should be considered while purchasing any product. In rings made up of silicone, it is very important to know the quality and grade of this material.
The reason behind is the low-quality material can produce inflammation or other infections on your fingers. In this way, instead of giving your hand protection, they will rather damage them. Therefore, always go for medical grade silicone material.
Edges
Few nonmetallic wedding rings are constructed poorly. They have sharp edges that pierce deep inside your skin and cause injuries. This situation can be highly uncomfortable. That's why always check the edges of the ring before purchasing it.
Thickness
The thickness of rings varies with the manufacturers and the type. Prefer the rings with the thickness of one to two mm only. Otherwise, they will feel and appear bulky and ugly. Thin rings look more elegant and feel comfortable on your fingers.
Breathability
The ring you purchase should be breathable. Otherwise, it will make your hand sweat and prolonged wearing will cause skin problems.
Size
The right size is very important for rings. Many companies provide their separate size charts to prevent you from any type of inconvenience.
Check the chart and your size properly before buying the ring. Also, look for the company's return or exchange policy in case you get the wrong size.
As the silicone material stretches afterward, it is appropriate to get slightly smaller size than your regular fitting for metallic rings.
Storage
It is not an important factor but can come handy. By the storage here we mean the box where you will keep your ring safely. It can be any small gift box or other such things.
Appearance
Everyone wants their wedding ring to have a good appearance. Usually, non-metallic rings don't look as good as metallic does. Still, you can get the amazing design, color and appearance of silicone made rings as well. The only thing required is you should be able to search the one.
Conclusion
Safety is the most important thing in any field. Many professionals especially electricians want to keep their wedding rings on even on their job site. Now, if their bands are metallic, it could be highly dangerous to wear them up.
Therefore, in this scenario, wearing silicone wedding rings are a perfect solution. These rings with their durable and non-conductive properties offer safety and satisfaction as well.
In this write-up, we have provided a list of few wedding rings for electricians. All of them offer many benefits with a few drawbacks. If we are asked to pick the best among all, then our choice will be Silicone Wedding Ring by HonorGear. There are many reasons behind this selection. Few of them are its great tensile strength, waterproof, high-grade material, and elegant design.