Capacitors play an important role in an electrical system as they perform various essential applications in a circuit design.
From providing flexible filter options to protecting sensitive microchips from noise to limiting a voltage spike to power storage, decoupling, and, more importantly, keeping a constant power supply, there are different uses for capacitors in a circuit.
Capacitors can get damaged due to aging, heat, high voltage, humidity, chemical contamination and moisture. As failing capacitors are one of the common reasons for electrical and electronic malfunctions, as a business owner, you need to catch a failing capacitor in time by testing it with a digital multimeter.
But how do you know whether a capacitor is working or defective? How do you test your capacitor proficiently and swiftly with a digital multimeter?
You can make out whether a capacitor is faulty by doing a simple visual check. One of the telltale signs of a flawed capacitor is a swollen or bulging top or bottom.
Check the casing of the capacitor and the PCB to see whether it is discoloured or damaged. Another indicator of a malfunctioning capacitor is the presence of a leaking electrolyte.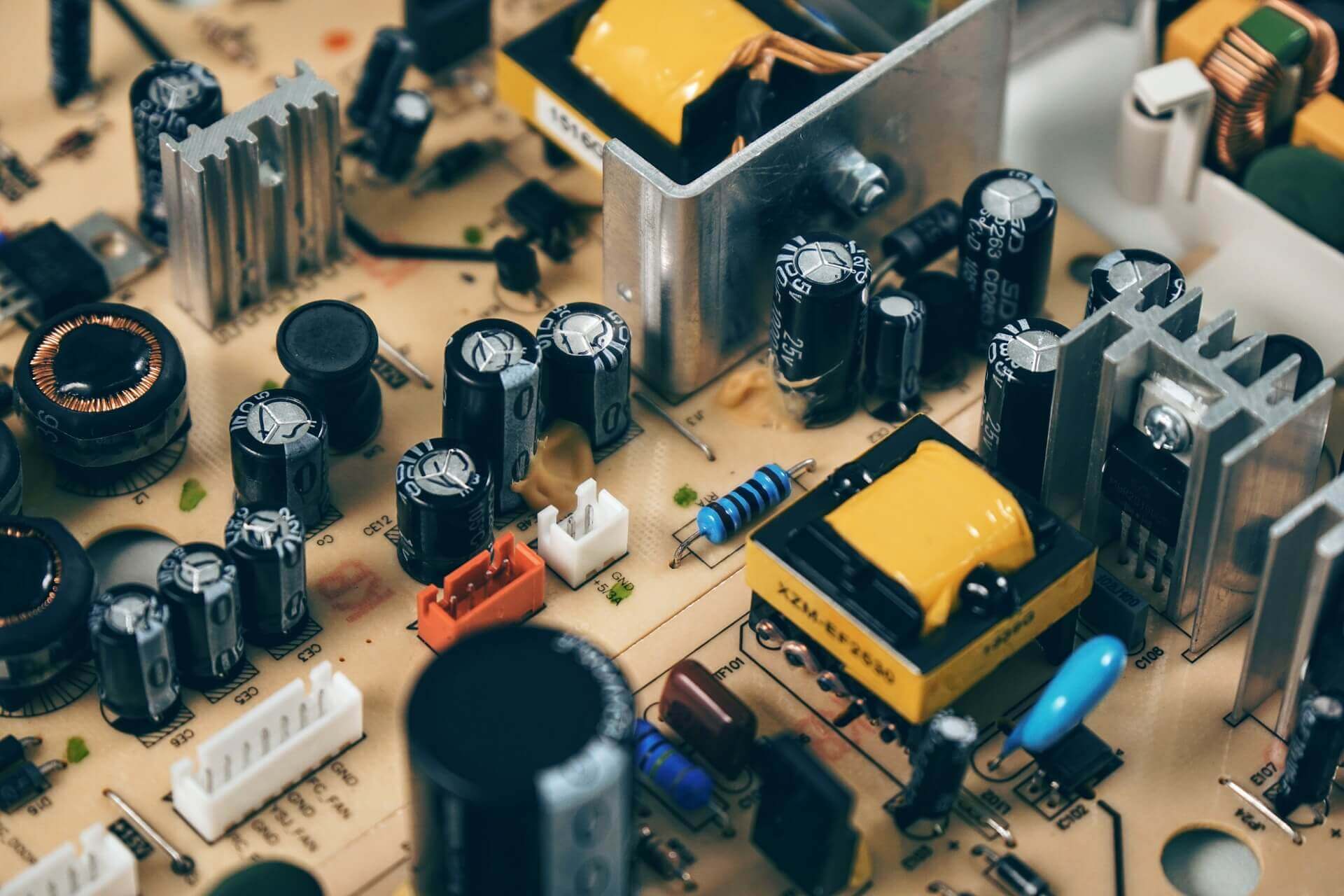 What is a Capacitor?
A Capacitor is one kind of electrical component used to store energy in an electric charge form. These are used in different electrical and electronic circuits to perform different functions. The charging of a capacitor can be done by arranging a capacitor in an active circuit. Once it is connected, then the electric charge will start flowing through the capacitor.
When the capacitor's primary plate doesn't hold the electric charge, it is released back into the circuit throughout the secondary plate. So this process in the capacitor is known as charging & discharging.
Test a Capacitor with an Ohmmeter of a Multimeter
An excellent test you can do is check a capacitor with your multimeter set on the ohmmeter setting.
By taking the capacitor's resistance, we can determine whether the capacitor is good or bad.
To do this test, We take the ohmmeter and place the probes across the capacitor's leads. The orientation doesn't matter because resistance isn't polarized.
Checking a Capacitor's Resistance with an Ohmmeter
If we read a very low resistance (near 0Ω) across the capacitor, we know the capacitor is defective. It is reading as if there is a short circuit across it.
If we read a very high resistance across the capacitor (several MΩ), this is a sign that the capacitor is likely defective. It is reading as if there is an open circuit across the capacitor.
A standard capacitor would have a resistance reading up somewhere between these 2 extremes, say, anywhere in the tens of thousands or hundreds of thousands of ohms. But not 0Ω or several MΩ.
This is a simple but effective method for finding out if a capacitor is defective or not.
Test a Capacitor with a Multimeter in the Capacitance Setting
Another check you can do is check the capacitance of the capacitor with a multimeter if you have a capacitance meter on your multimeter. All you have to do is read the capacitance on the exterior of the capacitor and take the multimeter probes and place them on the capacitor's leads. Polarity doesn't matter.
This is the same as how the setup is for the first illustration, only now the multimeter is set to the capacitance setting.
You should read a value near the capacitance rating of the capacitor. Due to tolerance and the fact that (specifically, electrolytic capacitors) may dry up, you may read a little less in value than the rating's capacitance. This is fine. If it is a little lower, it is still a good capacitor. However, if you read a significantly lower capacitance or none at all, this is a sure sign that the capacitor is defective and needs to be replaced.
Checking a capacitor's capacitance is a great test for determining whether a capacitor is good or not.
Test a Capacitor with a Voltmeter
Another test you can do to check if a capacitor is good or not is a voltage test.
Afterall, capacitors are storage devices. They store a potential difference of charges across their plate, which are voltages. The anode has a positive voltage, and the cathode has a negative voltage.
A test that you can do is see if a capacitor is working as normal is to charge it up with a voltage and then read the voltage across the terminals. If it reads the voltage you charged it to, then the capacitor is doing its job and can retain voltage across its terminals. If it is not charging up and reading voltage, this is a sign the capacitor is defective.
Charge a Capacitor
To charge the capacitor with voltage, apply DC voltage to the capacitor leads. Now polarity is very important for polarized capacitors (electrolytic capacitors). If you are dealing with a polarized capacitor, you must observe polarity and the correct lead assignments.
Positive voltage goes to the anode (the longer lead) of the capacitor, and negative or ground goes to the cathode (the shorter lead) of the capacitor. Apply a voltage that is less than the voltage rating of the capacitor for a few seconds. For example, feed a 25V capacitor 9 volts and let the 9 volts charge it for a few seconds.
As long as you're not using a huge, huge capacitor, then it will charge in a very short period of time, just a few seconds. After the charge is finished, disconnect the capacitor from the voltage source and read its voltage with the multimeter. The voltage at first should read near the 9 volts (or whatever voltage) you fed it.
Note that the voltage will discharge rapidly and head down to 0V because the capacitor is discharging its voltage through the multimeter. However, you should read the charged voltage value at first before it rapidly declines. This is the behaviour of a healthy and good capacitor. If it will not retain voltage, it is defective and should be replaced.
Good to know
The time taken by a capacitor to discharge about 36.8% of the applied voltage's peak value can also be measured. The discharge time can be used as the same in the formula to find the capacitor's value.
In short, there is nothing too complex about testing capacitors. Besides, a capacitor loses its properties to accumulate energy over time. Therefore, it is desirable to check radio components in electronic devices periodically, ensuring their reliable and high-quality operation for many years.
Our online store offers a wide range of multimeters and RLC meters to help you with it. If you have additional questions on choosing the test mode or on the procedure per se, please contact our technical support team, we will gladly help!