Located in the USA and looking for a good lineman school?
To get you started on your school hunt, we have compiled a list of the best lineman school in the USA.
Let's jump straight into the top lineman schools in the USA in 2023.
Southeast Lineman Training Center – Lineman Schools U.S.A.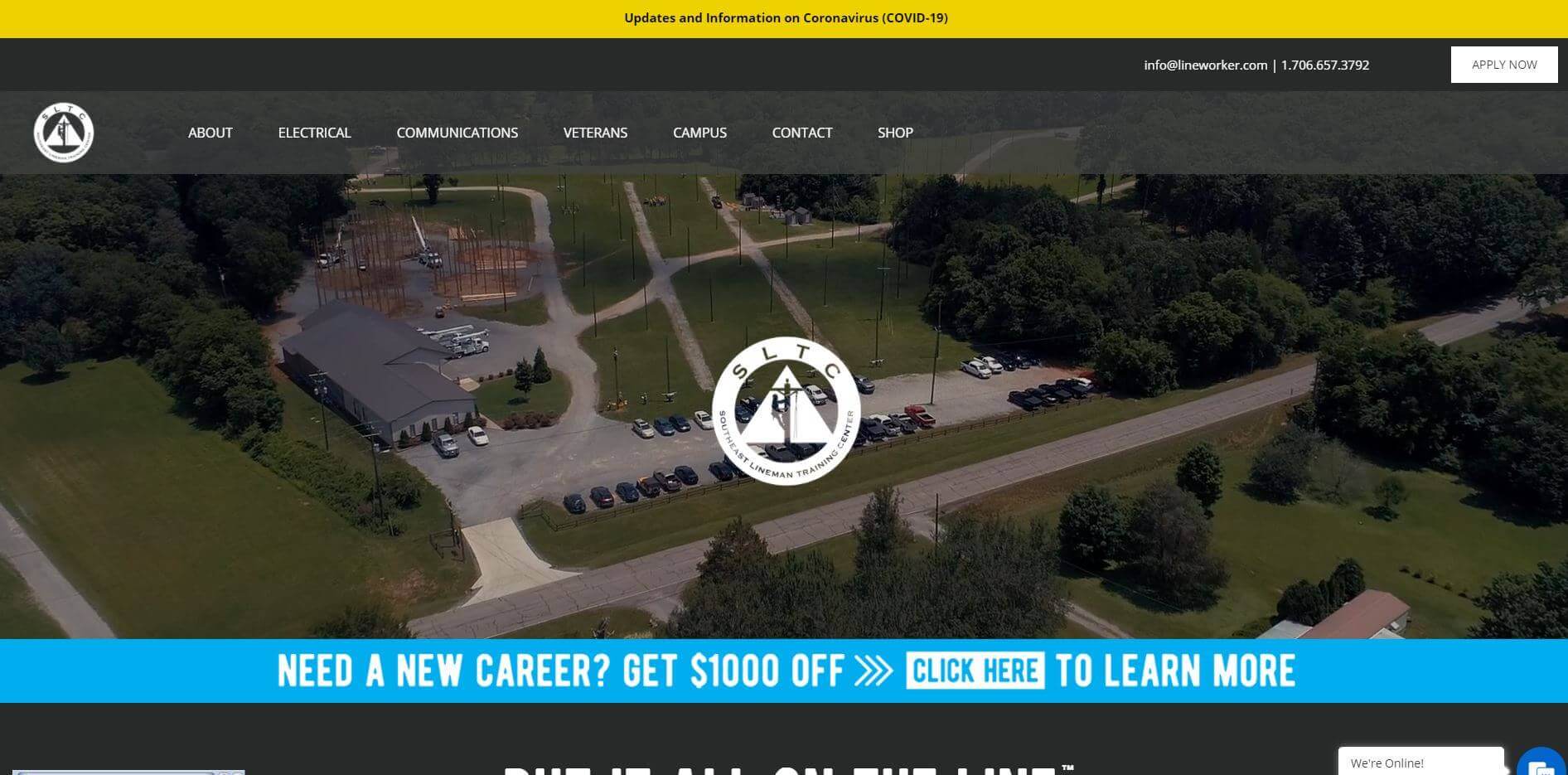 7066573791
Put It All On The Line
Southeast Lineman Training Center is the premier training school for apprentice lineworker training; consistently producing an elite group of highly trained and certified graduates.
Southeast Lineman Training Center (S.L.T.C.), established in 1999, was one of the first schools of its kind dedicated to the recruitment, training, and development of new and upcoming lineworkers in the electrical linework field. We have been a key player in helping to fill the void being created by a generation retiring from the electrical utility industry as well as creating the first-ever communications lineworker program in the country.
Today, we rank among the highest calibre of training facilities in the world and have established ourselves as industry experts in both the electrical and communications linework industries.
The Electrical Lineworker Program
The objective of the Electrical Lineworker Program (E.L.P.) is to provide the opportunity for students to embark on a meaningful and rewarding career in the electrical line work industry. This is accomplished by providing training methods that have proven to be extremely effective in preparing students to be highly successful employees. During the 15-week program, students will be trained in three educational areas: Academic Training, Field Training, as well as Certifications & Skills. Student/Teacher ratios during the field training environment are 16:1.
100+ acres of training grounds
Our campus offers students the most comprehensive hands-on field training available. In addition to our classroom space, we have a variety of training grounds, and real-world equipment spread out among three campuses that are just a few miles apart.
History
Founded in 1999, Southeast Lineman Training Center (S.L.T.C.) is the premier training school for lineworker training; consistently producing an elite group of highly trained and certified graduates. We accomplish this through a training style and philosophy that is unlike any other program offered in the country, which has earned us an outstanding reputation in the linework industry. Many companies now require applicants to attend S.L.T.C. before they are considered for employment. We offer training courses in electrical and communications linework here on campus through our introductory programs and advanced industry training in Trenton, GA, as well as on-site training with companies around the world.
NW Line JATC – Lineman Schools U.S.A.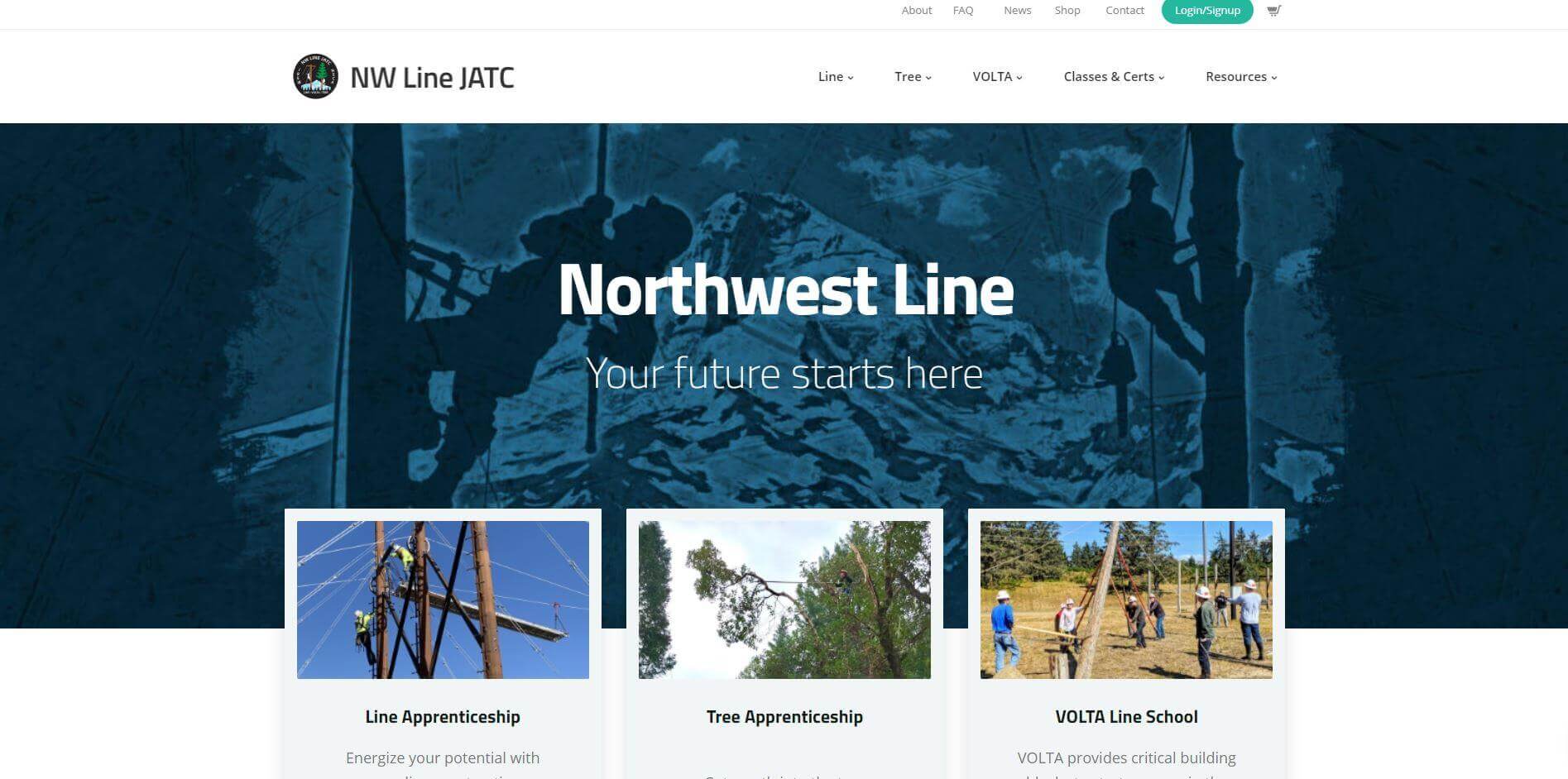 3608167102
NW Line J.A.T.C. is focused on preparing highly skilled journey-level workers for employment in the outside electrical industry. We're committed to providing the best possible training for apprentices, getting them ready for a long and successful career.
START BUILDING A BETTER LIFE
Despite the uncertainty of our times, the hardworking men and women of the I.B.E.W. and N.E.C.A. proudly serve our communities by building and maintaining the electrical systems around the clock. NW Line J.A.T.C. is honoured to be a vital contributor by providing men and women the necessary training required to become professional journeymen.
It is by no means an easy job. Electrical Lineman and Powerline Clearance Tree Trimmers work long and arduous hours in high-risk situations throughout all types of environmental conditions- from midnight emergency responses to cringe-worthy working heights. Not everyone has what it takes to be a part of this industry. Paired with thousands of hours of job training and years of schooling, one must have true grit and determination to succeed. All that said, it is one of the most rewarding, well respected, and challenging career fields a person can enter.
Outside Lineman Apprenticeship
As an NW Line J.A.T.C. apprentice, you will receive on-the-job training to become a journeyman lineman. You will build, repair, and maintain the powerlines that carry electricity to homes and businesses across our communities. From the point of generation at the power plants to the customer's meter, linemen are responsible for the work- from powerlines and overhead structures ranging upwards of 300 feet to underground vaults and trenches. Work can be in rural or metropolitan areas.
Power Line Clearance Tree Trimmer Program
Tree trimmers provide tree maintenance and removal, typically near active power lines. Trimmers typically work in excess of 100 feet, utilizing ropes and aerial lifts to perform their job duties. Their advanced Rigging, cutting, and climbing techniques help them to identify trees and tree sections that pose a danger.
VOLTA Line School
Licensed through the Oregon Department of Education, the Vocational Outside Line Training Academy (V.O.T.L.A.) is a private, non-profit vocational training school: preparing students for entry-level work as a line worker in the outside line industry.
If you are interested in pursuing a high-paying, skilled trade, VOLTA can help you achieve your goals. Our program focuses on skills for both the entry-level lineworker and the experienced tradesman looking to make a career change. You will be taught by Journey-level instructors who are currently active in the industry.
You will learn skills ranging from fundamental knowledge of electrical systems to equipment and safety protocols. Your accumulated knowledge will prepare you to enter the field as an entry-level lineworker. We ensure that the skills we teach are in line with the current industry demand, so employers will know you have the skills they want in a new hire.
Spokane Community College – Lineman Schools U.S.A.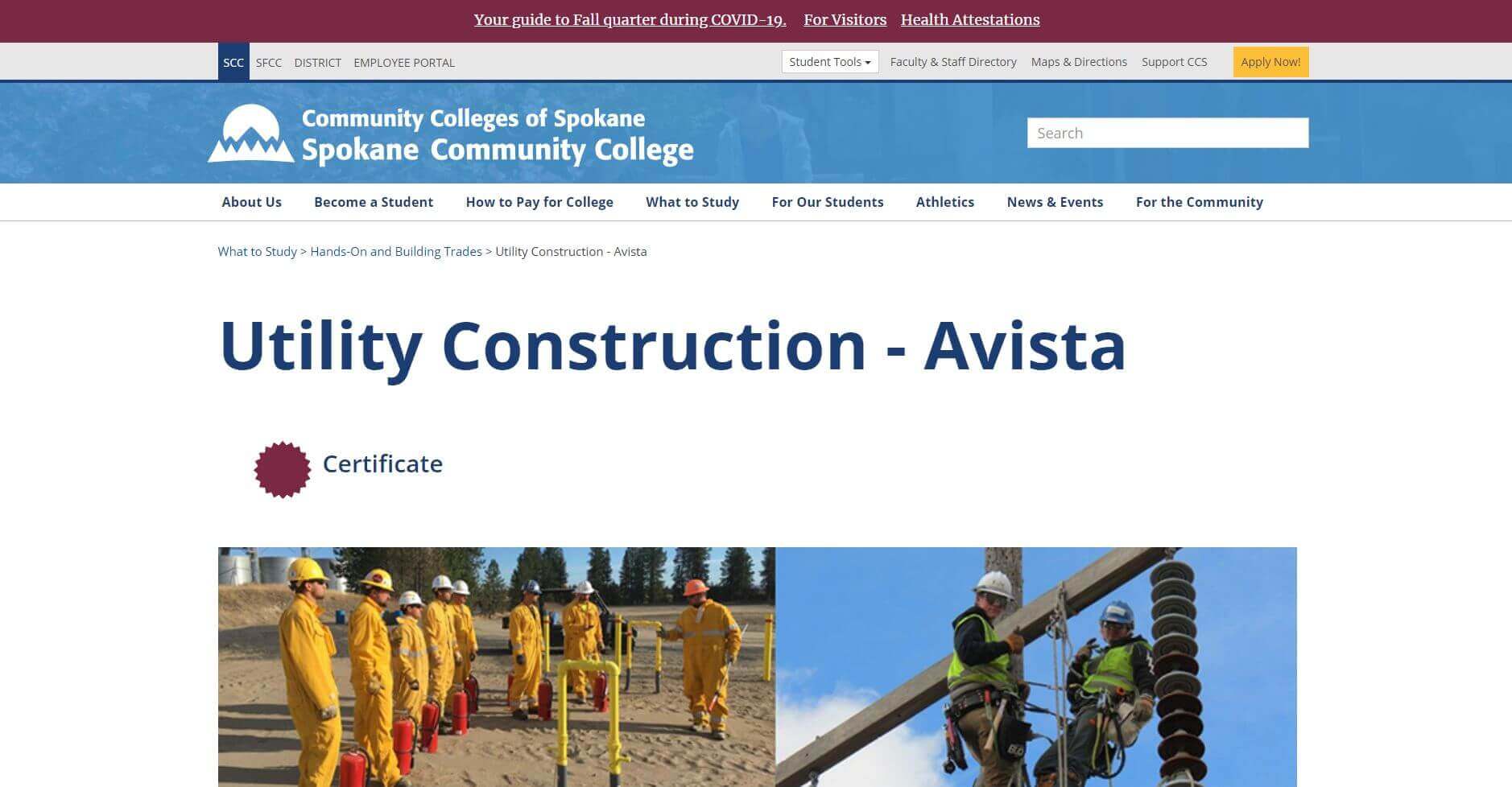 5095338404
Spokane Community College and Avista Utilities have formed a unique partnership with the goal of introducing people to the demanding field of utility construction. This introductory course is open to individuals interested in entry-level positions leading to career positions in the line or gas craft.
Through classroom and field training, participants will be introduced to a variety of knowledge and skills which are essential to the trade.
The utility construction school is held at Avista's training facility. The facility features three fully-equipped classrooms with an on-site shop that houses various types of equipment used for training seminars. The 10-acre utility construction site is equipped with a variety of construction set-ups designed to provide a high-quality training environment. Hundreds of apprenticeships and journey-level workers from utilities and construction companies have benefited from our training facilities and programs.
Spokane Community College (S.C.C.) is one of two accredited institutions of Community Colleges of Spokane and one of the largest community colleges in the state. S.C.C. is known for leading programs in automotive, aviation, cosmetology, culinary arts, healthcare, machining and welding, just to name a few. We also train and certify many professionals through our Apprenticeship and Journeyman Training Center and the popular Avista/S.C.C. Lineworker School. S.C.C. provides associates degrees and transfer-ready programs to open your path to a four-year college or university. The main campus is located in Spokane, with centres in Colville, Newport, Republic and Inchelium.
S.C.C. Mission and Core Themes
Mission
Spokane Community College offers educational opportunities in college readiness, workforce training, and university transfer that meets the needs of the diverse communities we serve. We are committed to student success through active learning, dynamic relationships, and supportive environments.
Core Themes
The college has identified four core themes to further define the Mission, which is used to evaluate mission fulfilment.
Workforce Development
S.C.C.'s professional technical certificate and degree programs are industry standard, preparing students for entry-level positions in their discipline.
Academic Transfer
Students enrolled in Academic Transfer courses are well prepared and successful as they transfer their coursework and/or Associate degrees in pursuit of the next step in their education plan.
College Readiness
College Readiness programs meet the needs of students and prepare them for college-level courses while empowering them to succeed academically, personally, and professionally.
Student Success
Students are provided with the opportunity to succeed in a supported environment that enhances individual and professional growth through academic, personal and professional development.
Vision
Spokane Community College is where students transform their lives and attain their goals, enriching our communities.
Core Values
Student Success, Excellence, Accessibility, Inclusiveness, Collaboration, Mutual Respect, Responsiveness, Life-long Learning
Linemen Institute of the North East – Lineman Schools U.S.A.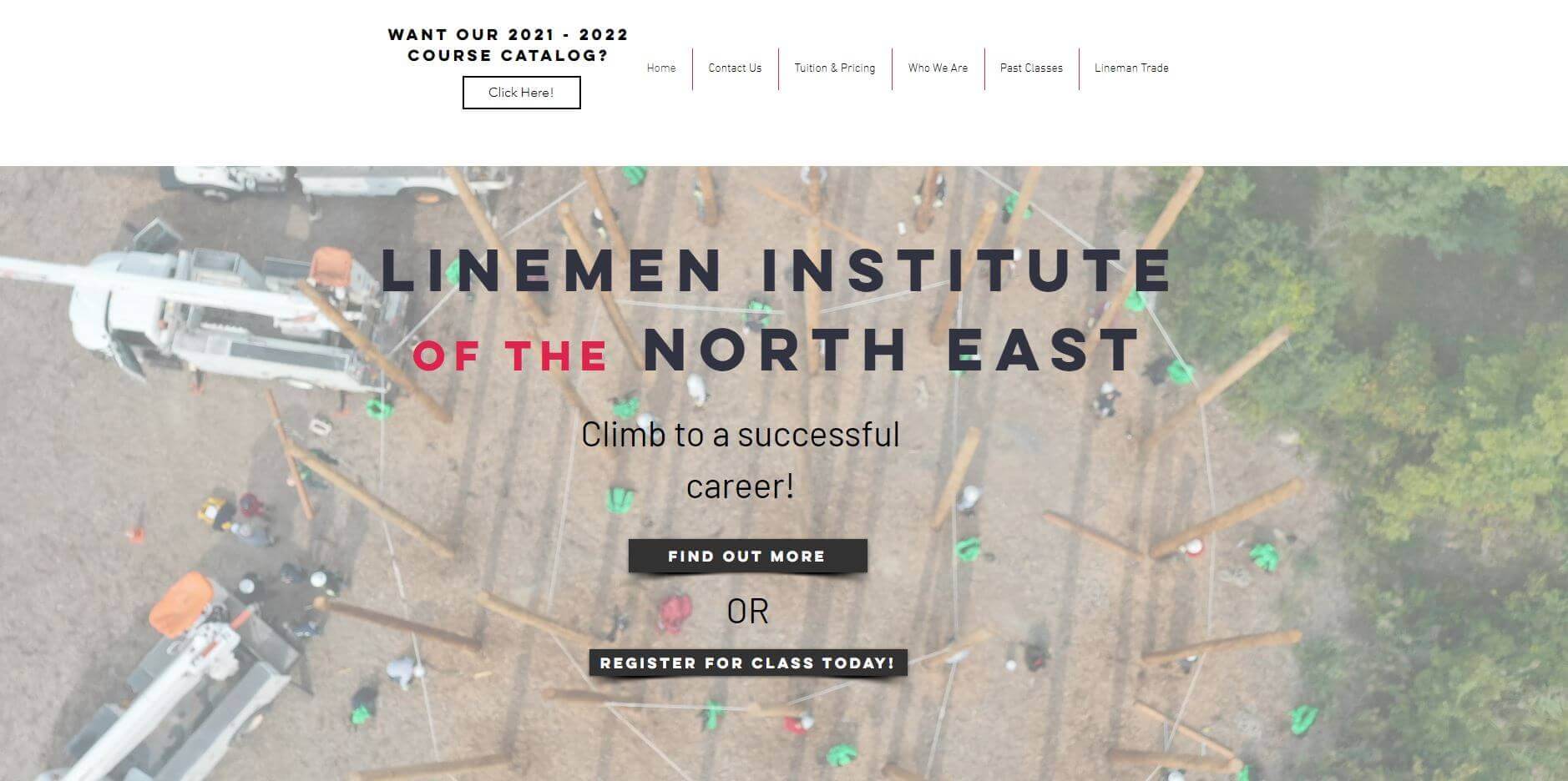 8452477396
The Linemen Institute of the North East is a 500-hour pre-apprentice electrical lineman training program based in Saugerties, NY. Founded by Donald Leiching, a 25-year lineman who has worked across the country, served eight years in supervisory and managerial roles and obtained his Bachelor's in Business Management, L.I.N.E. is a one-stop-shop for people looking to gain the essential skills needed to start a career as an apprentice lineman.
Students receive the following credentials
First Aid & CPR
OSHA 10
CDL License
Pole Top & Bucket Rescue
Digger Truck Operations
STUDENTS RECEIVE HANDS-ON TRAINING IN THE FOLLOWING AREAS:
Industry Safety
Overhead Distribution
Rigging
Construction Standards
Career Planning
T.V.P.P.A. Lineman Training
We currently have two Lineman Training courses available: Apprentice Lineman and Advanced Lineman Training. Read more about each below.
For Frequently Asked Questions about the revised lineman program, click here.
Apprentice Lineman Training
Apprentice Lineman training introduces the beginning apprentice to the basic math, electricity and alternating current fundamental principles that are the groundwork for understanding the "hows and whys" of this profession. Students learn the basic tools and equipment used in everyday operations, and applications include stringing and sagging wire; underground distribution systems; transmission and distribution line maintenance; transformer connections; meter applications; substation operations; and phasing and measuring voltage and current.
The five laboratory sessions plus the final exam enable students to apply the knowledge learned from the correspondence units. Participants learn basic knots and safe climbing techniques, as well as pole-top rescue, both climbing skills necessary for overhead line construction. Participants construct and frame lines using specifications, and learn grounding and preparation of stress cones for underground cable. Effective job briefing and basic troubleshooting steps for overhead and underground systems are demonstrated, as well as transformer banking, bucket truck pre-trip inspection, and bucket truck rescue.
Pre-Apprentice Assessment Workshop
Due to the nature of this course, all participants are required to stay in designated lodging. This new, intensive workshop is designed to help managers learn whether an employee is suited for the demanding role of Lineworker Apprentice. Candidates are assessed for their ability to learn the various aspects of line work, especially climbing. Individual sessions focus on the hazards of electricity, grounding, Rigging, hand lines, and aluminium and copper ties. Participants stay physically and mentally busy for the entire six and a half days and are placed on call at night. In addition to classroom discussion and hands-on exercises, they are assigned homework and tested extensively. At the end of the week, managers are given a written assessment of candidates' potential to perform line work under stress, their capacity to learn, and how well they follow orders. Individuals successfully completing this course will be eligible to receive credit toward T.V.P.P.A.'s Lineworker Apprenticeship Climbing Lab.
Odessa College – Lineman Schools U.S.A.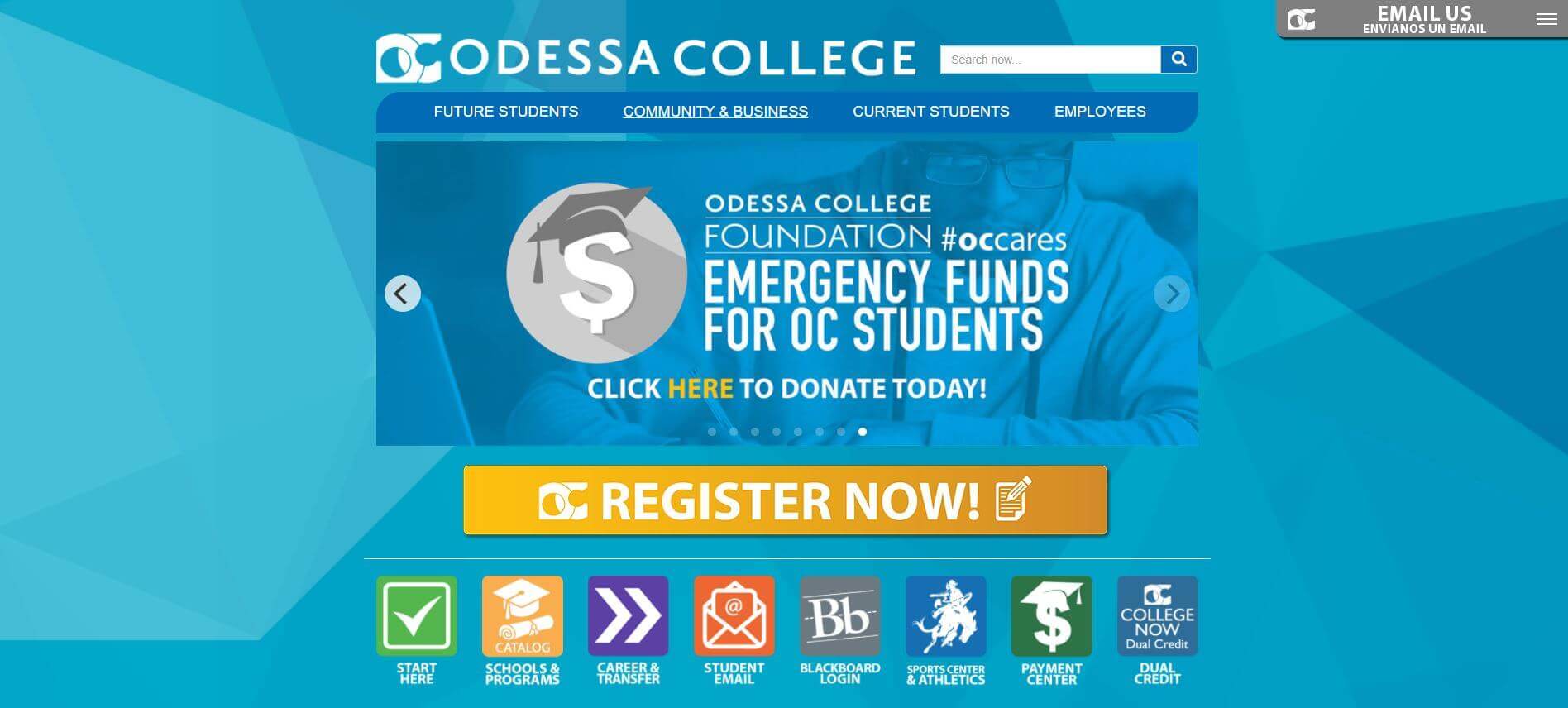 4323356401
Odessa College offers a wide variety of short-term, non- credit courses and training programs in the areas of personal enrichment, professional development and job skill enhancement. These courses range from one-day workshops to one-year programs. Continuing education units (C.E.U.s) are awarded for successful completion of most courses. Many professionals may obtain C.E.U.s for certification and licensure requirements.
Non-credit courses, seminars, and workshops offer a wide range of topics intended to accommodate individuals of all ages and interests. We offer face-to-face and online class options. There are no entrance requirements for most continuing education courses.
O.C. continually works with prospective employers to assist in the placement of graduates and to keep programs up-to-date with current job requirements. Essential occupational skills are taught in these classes by faculty who have years of working experience, as well as appropriate academic credentials.
Career and Technical programs carry college credit leading to an associate in applied science degree, a certificate of technology or a certificate of completion. Additionally, many career and technical programs provide opportunities for students to earn industry-recognized licensures or credentials or transfer to four-year universities.
Lineman
The electrical lineman program is delivered by veteran practitioners in the field who bring a wealth of expertise and experience. It is a joint partnership between Odessa College and Oncor. Oncor Electric Delivery Company is Texas's largest transmission and distribution utility— the 6th largest in the U.S.A.—serving more than 10 million customers living in 401 cities and 91 counties in the state.
The program prepares individuals to build, repair, and maintain electrical power and distribution systems (E.D.S.). This includes poles, conductors, cables and equipment. Participants learn how to maintain old wire, string new wire, explore the processes for installation, maintenance of insulators as well as setting poles and towers to retain electrical wire. Participants learn to restore energy, identify/repairing damaged equipment, poles and conductors during natural disasters such as ice storms, hurricanes and tornadoes. Linemen are in very high demand during these times.
The program is broken into two phases: a knowledge phase where the requisite content of the field is taught and a skills component where participants acquire first-hand exposure on how to apply the knowledge through field experience practice under the supervision of veteran practitioners.
Courses covered include Fundamentals of Safety and Assessment; Basic Electricity (AC/DC); Lineman Terminology, Tools and Equipment; Basic Electrical Systems; O.S.H.A. and N.E.S.C. Regulations; Hydraulic Equipment Competencies; Beginning and Advanced Climbing; Rigging Knowledge and Advanced Rigging.
Participants receive classroom instruction in conjunction with field experience in accordance with the Workforce Education Course Manual (W.E.C.M.).
State Technical College of Missouri – Lineman Schools U.S.A.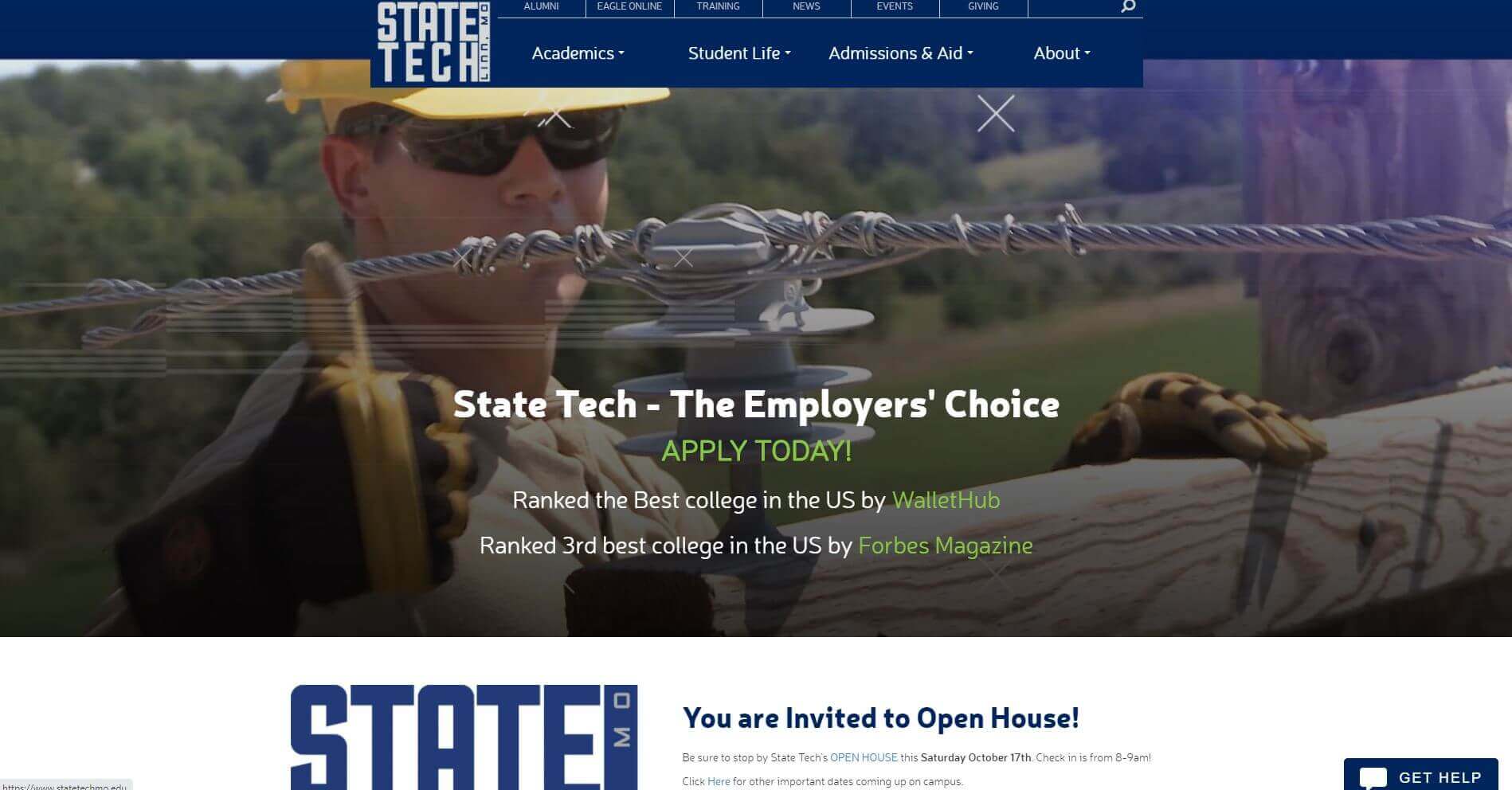 8007438326
Throughout our history, State Technical College of Missouri has served as one of the foremost institutions of higher education in Missouri. It all started with Thurman Willett, Superintendent of Osage County R-II Schools, who had a vision of a higher education institution that would be an alternative to a baccalaureate or liberal arts junior college choice. He got his wish.
MISSION
The State Technical College of Missouri prepares students for profitable employment and a life of learning.
VISION
State Technical College of Missouri, as the premier public institution of technical education supporting economic development in the state of Missouri, is dedicated to serving the state's diverse population. As a student-centred education community, the institution maximizes students' learning potential by providing them with specialized knowledge in traditional and emerging technical areas as well as general knowledge that fosters a life of learning.
LINEMAN
This hands-on program equips students with the knowledge and technical skills needed to harness and maintain electricity.
You will learn how to safely climb utility poles, build and maintain electrical distribution systems, perform pole top rescues, and safe work practices. Students also gain real-world experience through paid internships with potential employers.
As the best program of its kind in Missouri, Electrical Distribution Systems graduates are highly employable, competitively paid, and in-demand.
With input from industry advisors, the curriculum is updated annually to include the latest trends and technologies, including basic first aid and C.P.R. Students are also prepared to obtain a Class A Commercial driver's license.
Maricopa Community Colleges – Lineman Schools U.S.A.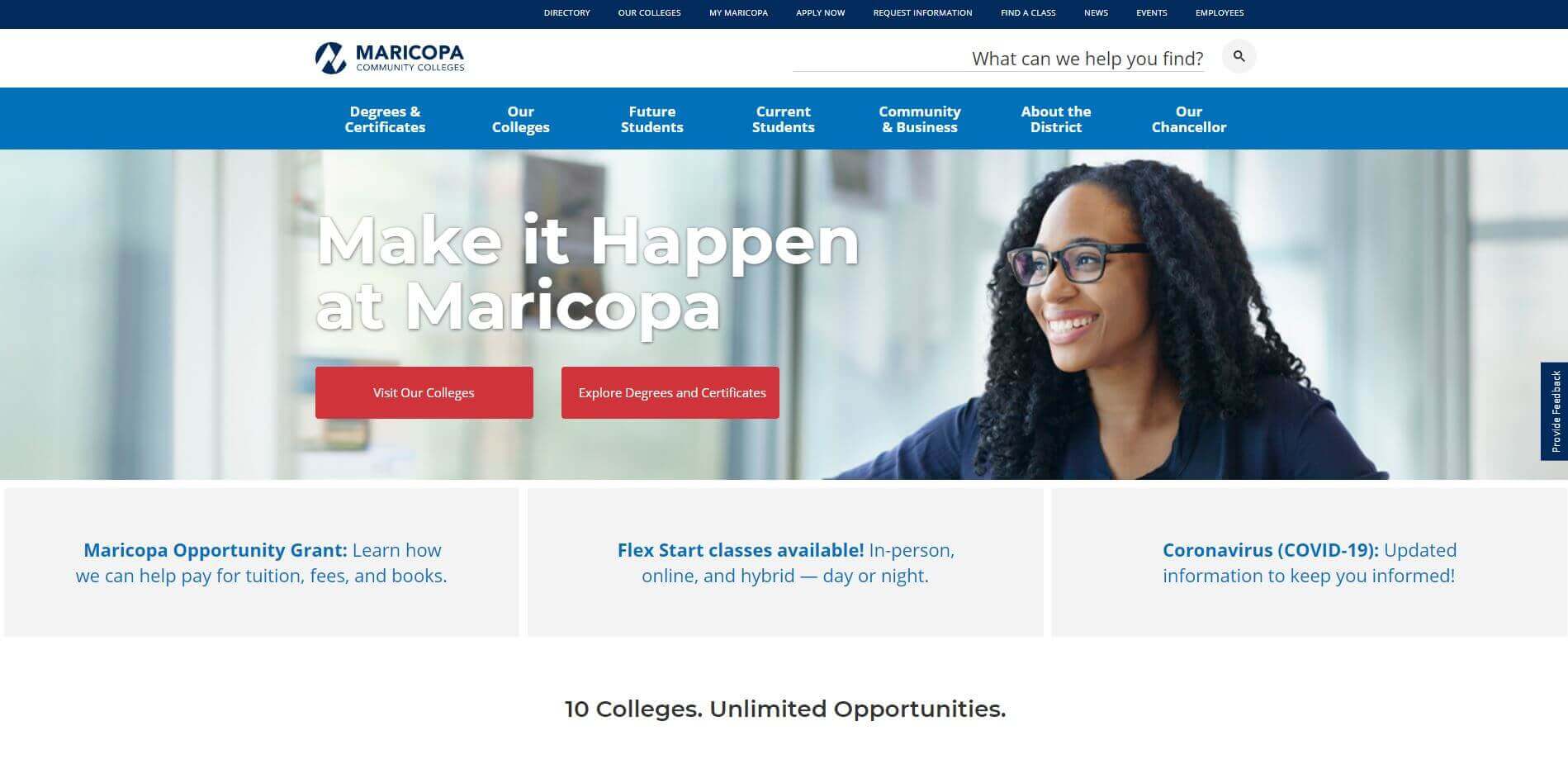 4807318009
Your goals matter. We want to help you reach them. Whether you want to earn an associate degree, get a head start on your Bachelor's, or receive workforce training, Maricopa Community Colleges can help pave the best path for you. From day one, you'll see how our affordable tuition, world-class faculty, small class sizes, and innovative programs can support your success.
Affordable Tuition-At just $85 per credit hour, our colleges offer high-quality education you can afford.
10 Colleges-With ten colleges spanning Maricopa County, find the campus most convenient for you.
Student Support-Various services and amenities are available to help you achieve your academic and career goals.
Academics and beyond
Our story begins with you and your success. The inspiration to be the best we can be is driven by the passion of our students. With ten colleges across the county, Maricopa Community Colleges is working to make quality education affordable for as many students as possible. But our story is so much more than what happens in the classroom.
90+ years educating students
200K+ students attend our colleges each year
Ten regionally accredited colleges across Maricopa County
Who we serve
Our colleges welcome all kinds of students – new high school grads eager to start their academic journeys, professionals looking to move up at work, and adults of all ages excited to learn for a lifetime. We're committed to excellence in education and building a trained workforce that can power a thriving economy.
Lineman Technology Level I
The Certificate of Completion (CCL) in Lineman Technology Level I program is designed to provide students with the training needed for employment in the electrical utility industry. Topics covered in the courses include an introduction to line work equipment, tools and safety. An emphasis is placed on equipment and procedures for overhead line construction including climbing, grounding and creating a safe zone in addition to taking lines out of service. Also covers underground line construction equipment and procedures as well as trenching, excavating and handling Blue Stake laws and markings. The program also includes a Certificate of Completion in Lineman Technology Level II, Certificate of Completion in Lineman Technology Level III, Certificate of Completion in Lineman Technology Level IV, and an Associate in Applied Science in Applied Electrical Technologies.
Metropolitan Community College – Lineman Schools U.S.A.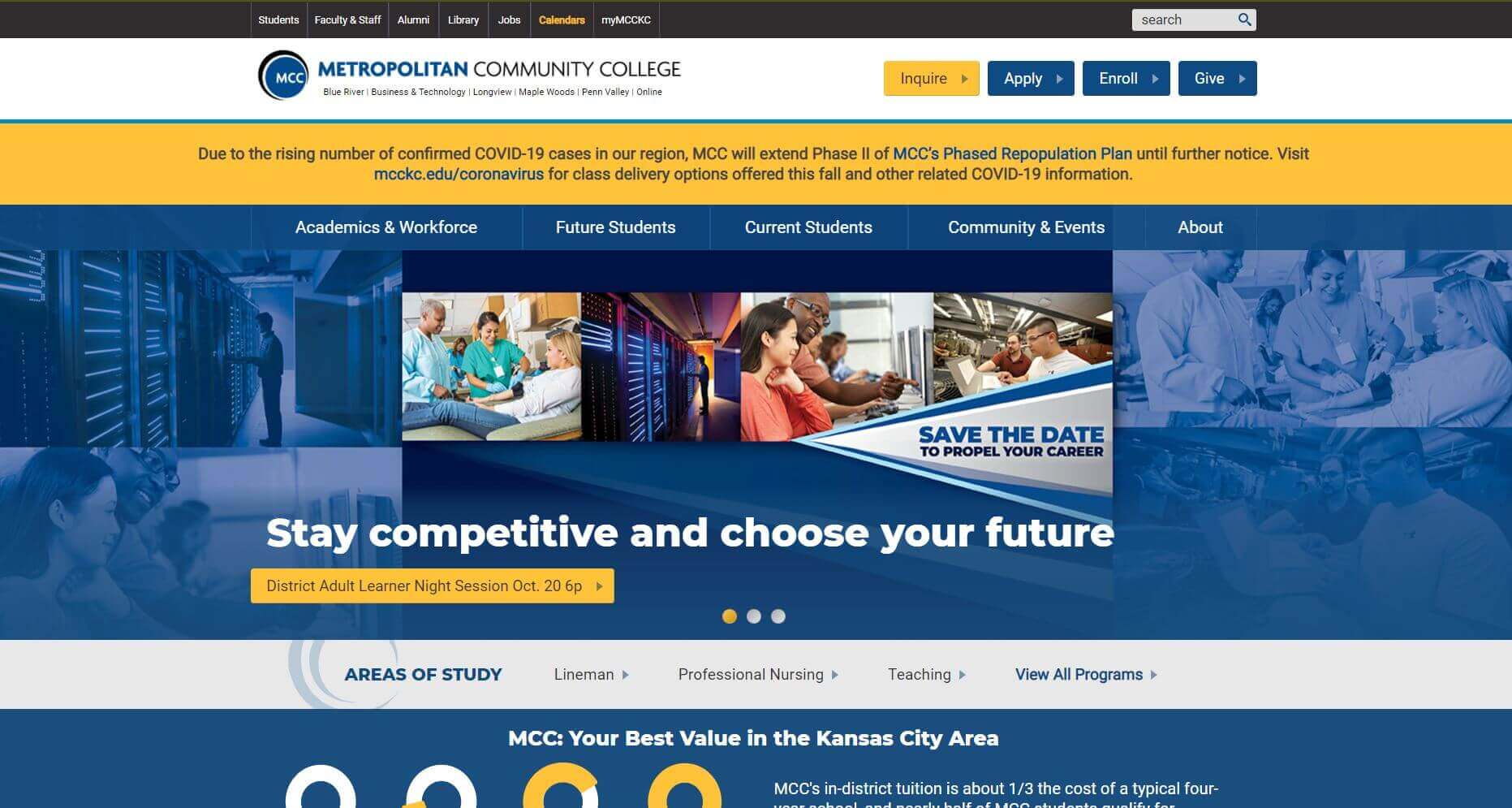 8166041004
Metropolitan Community College, founded in 1915 as the Kansas City Polytechnic Institute, is the oldest public institution of higher learning in Kansas City, Mo., and was the first community college established in Missouri. The Junior College of Kansas City, as it was known starting in 1919, was one of the first schools in the country to award an associate degree. Today, MCC offers 125 associate degree and certificate programs.
Metropolitan Community College is dedicated to serving the educational needs of the community. The college's programs are intended to help students understand themselves, the society of which they are a part and the universe in which they live.
At the same time, MCC provides opportunities for students to develop occupational skills. Faculty and administrators cooperate to create an environment that stimulates intellectual growth and nurtures academic freedom for students and instructors alike. The programs offered are intended to encourage lifelong learning.
MCC employees are committed to providing equal opportunity for all persons regardless of age, creed, race or gender.
Mission
Preparing students, serving communities, creating opportunities.
In order to accomplish this mission, the Board of Trustees has empowered the chancellor, as executive officer, to implement its policies. The chancellor, with the other officers of the district, will provide leadership in the implementation of the Mission and goals of the district.
Vision
Metropolitan Community College will be a high-performing institution that is learning-centred, affordable, and aligned around student success.
The program, which only starts once a year in the summer, begins with a one-year certificate. You can then go on to get an associate's degree (with four additional classes) for transfer. The program is fine-tuned to meet real-world needs. Three utility companies, Evergy (K.C.P.L.), Independence Power & Light, and Platte-Clay Electric Cooperative, are on the MCC-BTC advisory board for course content.
What You'll Learn
You will learn to install and remove poles, conductors, cables and equipment used in electrical power and distribution systems. You also will learn to build single stations and three-phase transformer banks off the pole.
What You'll Do and Where You'll Work
You can work as a power line worker, journeyman lineworker, substation technician, cable splicer, utility worker and much more. Our alumni work at electrical utility companies across the region.
North American Lineman Training Center – Lineman Schools U.S.A.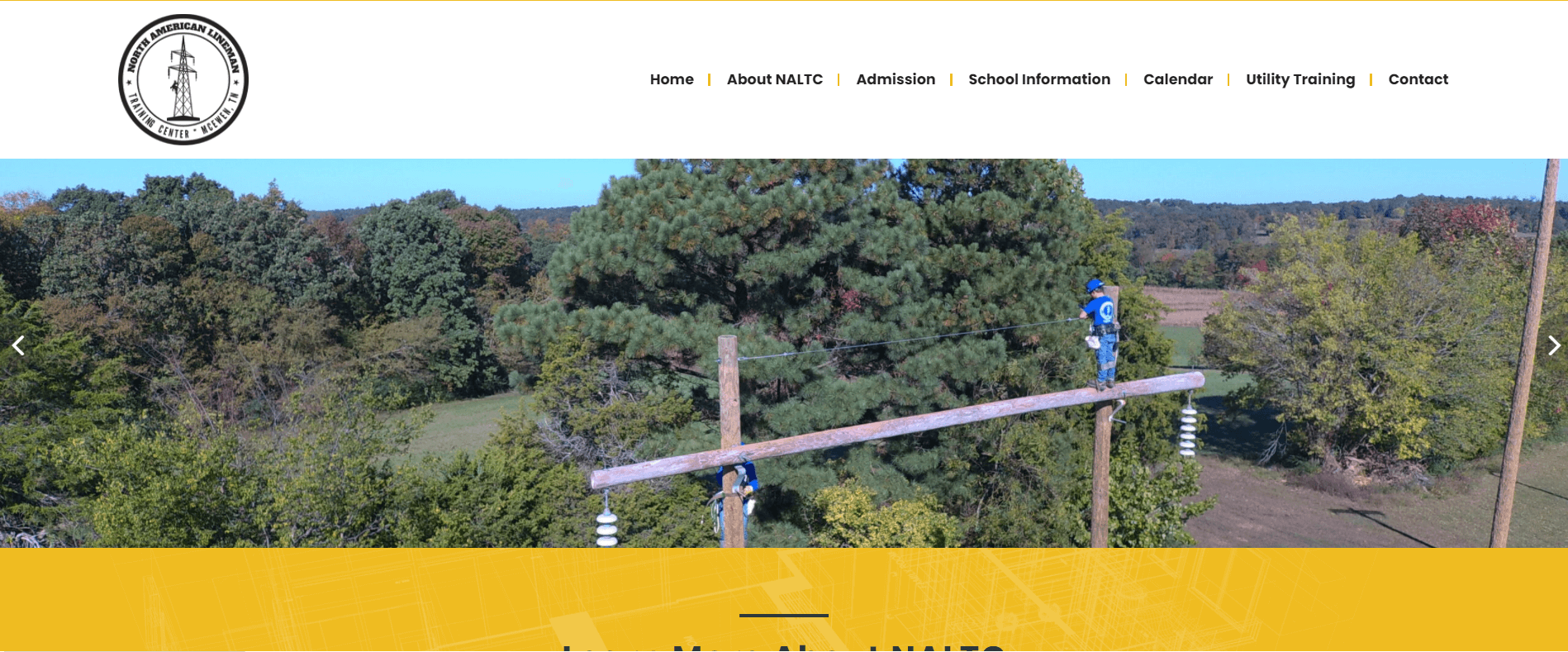 9315824163
North American Lineman Training Center is unparalleled in its Mission to provide the safest, most comprehensive training to the next generation of linemen. Our curriculum is taught by highly experienced JOURNEYMEN LINEMEN, not safety officers, inside electricians nor theoretical engineers. We pride ourselves on being a smaller institution where the student is engaged one-on-one and given a more thorough, hands-on experience than our competitors.
EXAMPLES OF COURSE OVERVIEW- WHAT YOU CAN EXPECT TO LEARN
PERSONAL PROTECTION EQUIPMENT AND PROCEDURES
Students will learn about safety working procedures and personal protection equipment.
ELECTRICAL SYSTEMS
Students will learn the basics of the entire electrical system from generation through transmission, distribution, and conversion.
BASIC ELECTRICITY
The students will be taught the fundamentals of practical and mathematical application of Direct Current and Alternating Current.
TRANSFORMERS
Students will learn how and why transformers are used, banked, energized, and the various configurations of both Delta and Wye.
PERSONAL PROTECTIVE GROUNDING
Students will learn how and why companies work on transmission and distribution lines as well as all equipment and methods used when working.
RIGGING AND KNOT TYING
Students will learn how to tie specific knots, splice rope and learn the proper use of various ropes, slings, block and tackle.
UNDERGROUND
The students will learn about underground transformers, under-ground switching and grounding procedures.
CAREER PLANNING
Students will learn how to construct a resume and cover letter, what to look for in an employer and engage in one-on-one mock interviews with instructors in order so that they might interview well once they graduate.
FIELD INSTRUCTION
Each day North American Lineman Training Center focuses on implementing classroom theory out in the field in the most comprehensive, hands-on setting to ensure each student has mastered the task asked of him.
WHY the U.S.?
ARE YOU READY TO BEGIN YOUR CAREER AHEAD OF ALL YOUR COMPETITORS?
Our lineman school program will allow you to begin your career ahead of all the rest. Our students have experience performing the jobs of a lineworker, as well as obtaining professional knowledge of the industry while they proceed through our program. Our students are well equipped to stand out from the interview to the actual job. Our program will provide an outlet for electric companies to search for new qualified applicants. Our students will be able to enter the industry with the technical skills that their employers can't pass up!
DO YOU WANT TO LEARN FROM EXPERIENCED AND KNOWLEDGEABLE LINEMEN?
The lineman school instructors at North American Lineman Training Center have extensive real-world experience in power generation, transmission and distribution. Their exceptional understanding of the industry and what companies are looking for makes our program a cut above other schools.
Our students will have hands-on experience in the trade and be coached in problem-solving skills in order to help them excel in their work. Additionally, our instructors have worked throughout numerous geographical regions of North America, Africa, and the Middle East, and have worked many of the hurricanes, snowstorms and other natural disasters in the United States thus benefiting students with their vast and knowledgeable experience.
DO YOU WANT TO BE ABLE TO GRADUATE AND HAVE THE OPPORTUNITIES FOR
IMMEDIATE POSITIONS ANYWHERE IN THE WORLD?
Then this trade is the right career for you. North American Lineman Training Center provides its lineman school graduates with a listing of electric companies and unions that will be useful in your search for your ideal company. Our instructor's connections with the leaders of the trade will also give the students of North American Lineman Training Center the upper hand at finding a career. Our students will be trained, not only to look for the job but to find jobs. A career planning class is required to help our students create a resume and learn to find their own jobs.
Northwest Lineman College – Lineman Schools U.S.A.
8889302795
OUR CORE VALUES, YOUR SUCCESS
PASSION
Love what you do with persistence, motivation, and the attitude to succeed.
INTEGRITY
Do the right thing — even when no one is watching — trust, honour, and dependability are your hallmarks.
EXCELLENCE
Innovate always, leveraging originality and teamwork, so your legacy of positive contribution is guaranteed.
Northwest Lineman College is an industry-leading educational institution that trains workers for successful careers in the electric, telecom, and natural gas industries.
8000+ Trained Each Year
8000+ Campus LocationsAcross the U.S.
8000+ Network of Employers
Northwest Lineman College (N.L.C.) is an industry-leading educational institution that provides safety and certification training in the power delivery, natural gas, and telecommunications industries.
N.L.C. offers complete solutions from pre-apprentice to advanced training and has remained committed to doing what's best for the student for more than 25 years.
Since 1993, N.L.C. has grown to over 270 employees with four campus locations across the United States.
MISSION STATEMENT
To improve lives, the industries we serve, and the country, Northwest Lineman College will be a dynamic, visionary, and leading international educational institution providing the benchmark standard of human performance, training, and products for the trades that exceed the expectation of customers.
Alaska Electrical Apprenticeship – Lineman Schools U.S.A.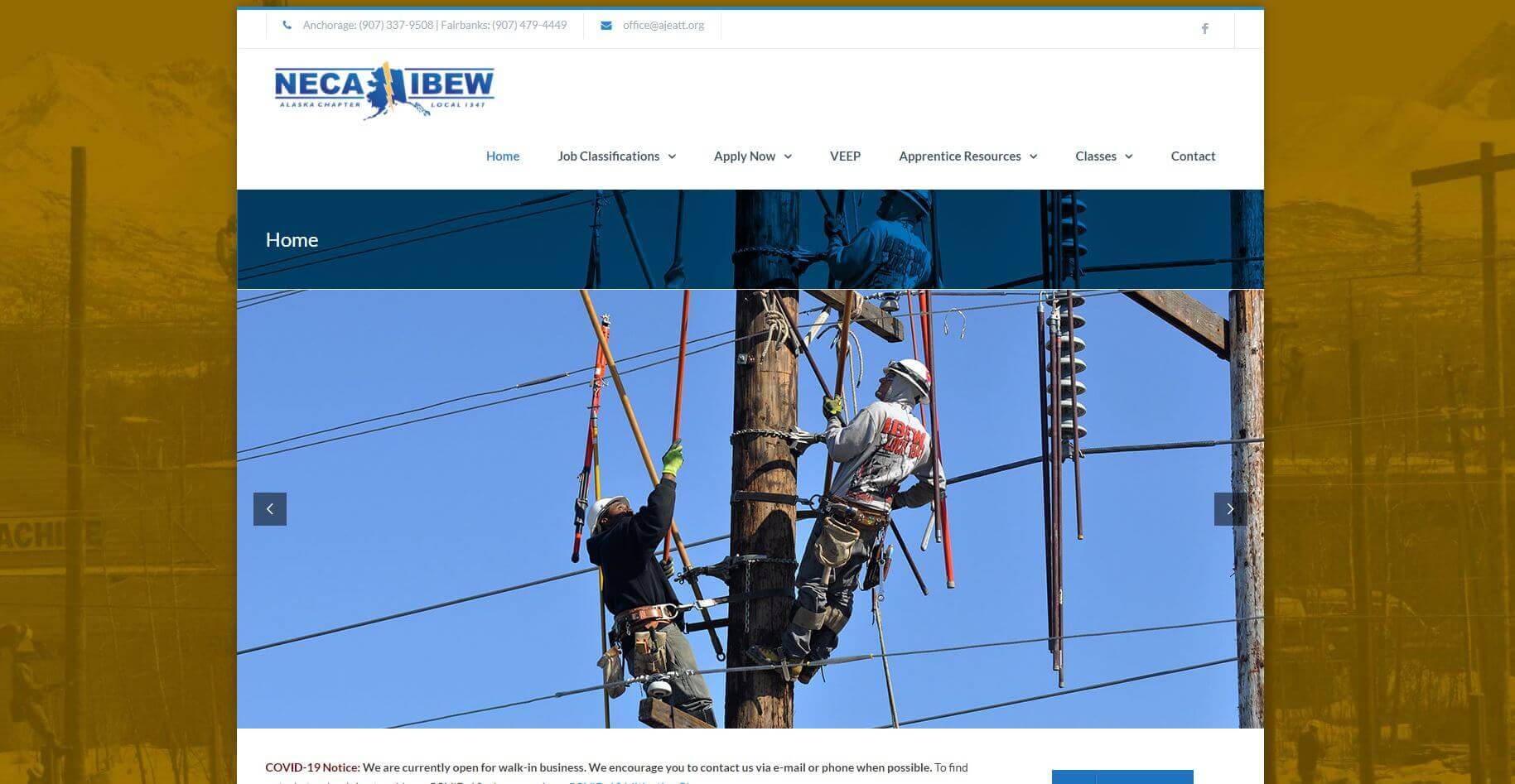 alaskaelectricalapprenticeship.org
9073379502
The Alaska Joint Electrical Apprenticeship and Training Trust is a joint partnership between The Alaska Chapter of the National Electrical Contractors Association and The International Brotherhood of Electrical Workers Local 1547.
The A.J.E.A.T.T. is dedicated to producing Alaska's best trained and most qualified electrical workers. Let us help you get started on an exciting and fulfilling career in the electrical industry.
Inside Wireman
The inside wireman does the electrical work on industrial, commercial, and private structures and installations. Work consists of installing conduit, wire, distribution and service panels, lighting fixtures, motors and controls. Much of the work may be outside, in all kinds of weather, and involve reading of plans, codes, and specifications.
The school consists of an initial six to the seven-week session, with four additional sessions approximately once every year. Classes are held eight hours a day, five days a week, at the Electrical Training Centers in Anchorage and Fairbanks. There is a total of 1400 hours of class-related training.
Outside Power Lineman
The outside lineman is responsible for the distribution and transmission of high voltage power from the generation system to substations or occupancies. This is done either on poles or underground, in all kinds of weather. Their work requires good physical strength and the ability to work in a team effort.
Outside Power Lineman: School consists of an initial eight-week session with two additional eight-week sessions during on-the-job training. The classes are held eight hours a day, five days a week, at the Electrical Training Centers in Anchorage and Fairbanks. There is a total of 960 hours of class-related training.
Telecommunications
A communications worker works with and installs communications equipment in the fields of line construction (outside plant), splicing (construction and maintenance), installation and repair (residential and commercial), central office and customer-owned premise equipment. The work is often in confined spaces and highly technical. It will also involve working outside in adverse conditions or handling heavy conductors and equipment. Regardless of the field of communications, you choose to specialize in, all telephone workers and apprentices must learn to climb poles and work at heights.
The school consists of an initial eight-week session with three additional eight-week sessions during on-the-job training. Classes are held eight hours a day, five days a week, at the Electrical Training Centers in Anchorage and Fairbanks. There is a total of 1280 hours of class-related training.
EITI – Lineman Schools U.S.A.
6044274203
Safety. Performance. Excellence. This is what E.I.T.I. is all about. Since 1991, the Electrical Industry Training Institute (E.I.T.I.) has trained thousands of electrical utility industry personnel throughout the world. From pre-apprentice linemen training to electrical engineering professional development, E.I.T.I. programs meet or exceed federal and state regulations and standards.
EXPERIENCE
EITI provides many utility training programs and services along the Pacific Coast of North America to international locations overseas. The following list represents some recent.
GLOBAL TRAINING
EITI is the premier source for international industry training. With extensive industry experience and an exceptional record for safety and productivity, E.I.T.I. sets the benchmark for international best practices and standards. If you want training delivered to your doorstep — anywhere in the world
WORKER TRAINING & DEVELOPMENT
From high voltage Live Line training to Substation Operations, E.I.T.I. Global delivers Worker Training or Train-the-Trainer programs — directly to your site. With an extensive repertoire of training modules, E.I.T.I. easily customizes our training packages to meet your company's distinct needs.
SCHEDULED PROGRAMS
Gain the skills you need to excel in your career. Open for registration now, E.I.T.I. Global provides world-class pre-apprentice and apprentice programs for powerline workers, utility arborists, and climbing arborists. Register now or pre-register to be put on our waiting list for the next course intake. See our programs.
SKILLED WORKER TRAINING & DEVELOPMENT —
Whether you need a fully comprehensive train-the-trainer program or specialized journeyman training courses that are customized for your corporation, E.I.T.I. Global can help you get the right training for your needs. Having trained thousands of generation, transmission, and distribution students all over the world, E.I.T.I. sets the industry benchmark for international training standards — meeting all established regulations and codes. With a heavy emphasis on performance, all E.I.T.I. programs incorporate a significant portion of hands-on training to complement leading-edge classroom training and technology. All students must pass rigorous theoretical knowledge and practical competency evaluations before they are awarded E.I.T.I. Certification. This commitment to excellence has led to E.I.T.I. trained students achieving some of the highest performance and safety records in the industry.
Worker Training
Get exactly the right training you need. With our extensive repertoire of internationally-renowned training modules, E.I.T.I. can quickly package a training program designed specifically for you. We start with a brief needs assessment of your company, reviewing any diagrams or other site-specific details, to make your training program highly specific and relevant. Pick and choose from the following list of training modules to build the training program you need if you don't see the training module you.
California Nevada Electrical – Lineman Schools U.S.A.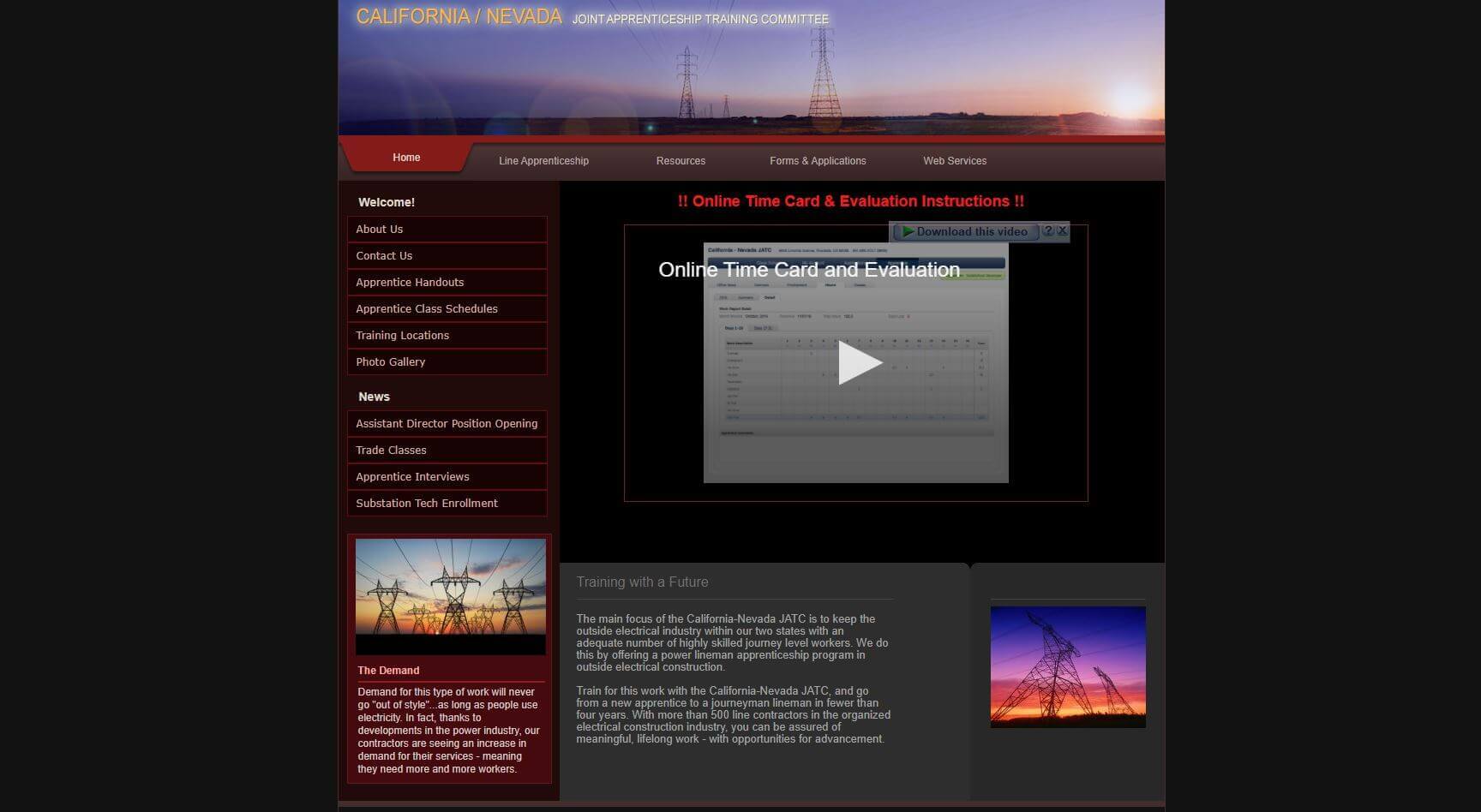 9516858651
The main focus of the California-Nevada J.A.T.C. is to keep the outside electrical industry within our two states with an adequate number of highly skilled journey-level workers. We do this by offering a power lineman apprenticeship program in outside electrical construction.
Train for this work with the California-Nevada J.A.T.C., and go from a new apprentice to a journeyman lineman in fewer than four years. With more than 500 line contractors in the organized electrical construction industry, you can be assured of meaningful, lifelong work – with opportunities for advancement.
The Joint Apprenticeship and Training Committee of the California-Nevada Line Construction Industry (California-Nevada J.A.T.C.) is a non-profit association designed to systematically train unionized workers for the outside electrical construction industry.
The main focus of the California-Nevada J.A.T.C. is to keep the outside electrical industry within our two states with an adequate number of highly skilled journey-level workers. We do this by offering a Power Lineman Apprenticeship program in Outside Electrical Construction.
What is an Apprenticeship Program?
Apprenticeship is a training strategy that combines supervised, structured on-the-job training with related theoretical instruction. The training program is sponsored by employers or labour/management groups that have the ability to hire and train in a work environment. Apprenticeship prepares people for skilled employment, with the content of the training defined and dictated by the needs of a particular industry.
Program Requirements
Typical apprenticeship programs span 3-5 years with a minimum of 144 hours of related supplemental instruction each year. The program requirements are clearly delineated in Federal & State laws and regulations. A registered apprenticeship requires a signed, written agreement (indenture) between the sponsor and apprentice. The apprentice agrees to perform the work faithfully with diligence and to complete the related course study.
This web site will attempt to explain to you what the Lineman trade is all about and how you can earn your way to a satisfying future in the electrical trade.
Review the topics on this page and the related links on the left to find out the benefits and requirements of becoming a certified I.B.E.W. Journeyman Lineman.
As a journeyman lineman, you'll build, maintain and repair the power lines that carry electricity to homes and businesses. When you apply for the California-Nevada Outside Lineman Program, you'll be taking the first step to a career that not only has a tremendous impact on the people you serve but one that will have a positive impact on your future as well.
After completion of this program, you can be proud to say, you are a journeyman lineman from the California-Nevada J.A.T.C. program.
Global Powerline Academy – Lineman Schools U.S.A.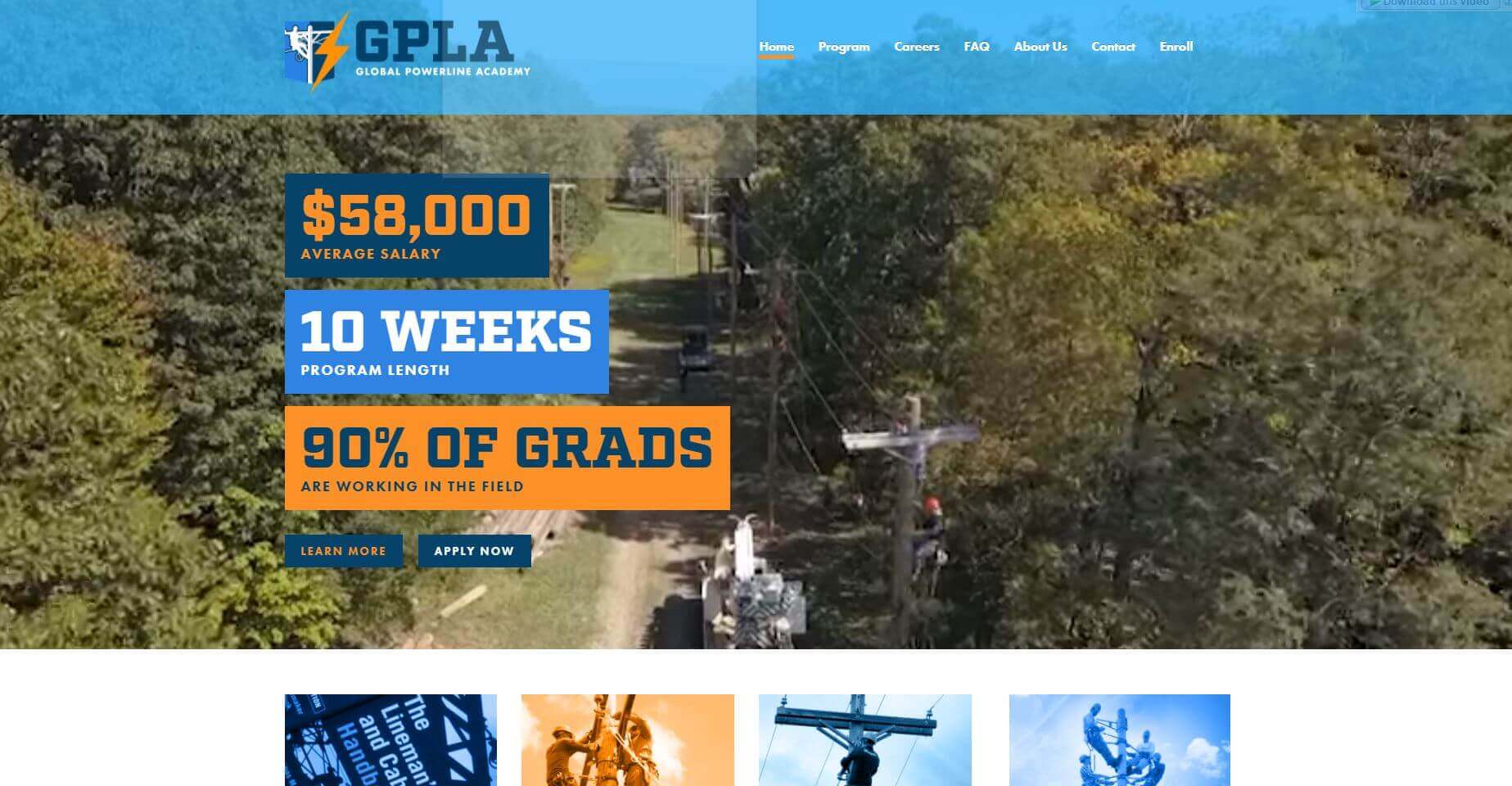 8778850625
Power line contractors and utility companies are facing a severe shortage of line workers to fill their future needs. But to reach the level of a journeyman, a worker typically spends 3 ½ to 5 years learning and training.
The early stages are filled with developing the basic skills and fundamentals on which the whole trade is built. Without these fundamental skills, success is not possible. So G.P.L.A. has designed and developed a lineman training pre-apprenticeship program to meet the needs for teaching these fundamentals to the next generation of essential line workers.
What we do. How we do it. And why?
WE FOCUS OUR TRAINING ON TWO MAIN AREAS.
1.Providing a solid foundation for a student to continue structuring his or her advancement toward a "journeyman" classification.
2.Aiding employers in the selection of future employees. A student finishing the G.P.L.A. course of study will be a sound investment for any employer looking to add to their workforce.
Our Experienced Staff teaches the topics most critical to the employers we hope to serve
Climbing wood poles & pole top rescue
Basic Rigging as it applies to our work
Basic Electrical Theory
General safety practices of our industry
C.P.R./ First Aid
Personal Protective Equipment
Grounding for personal protection
Power line Construction
Digger Derrick Training
Proper Cover-up methods
MISSION
To mentor, train, and provide the next generation of electrical grid-system workers with the skills and abilities necessary to provide safe and reliable electric service.
Like many worthwhile projects, Global Power Line Academy first started off as an idea in 2005: Ken Bilek, President and owner of Global Live Line, Inc. (a training and safety consulting business for Electric Utility Companies) and his mentor, Fred Fritz, knocked around the idea of starting a school for powerline workers–their ideas spurred by what they saw happening in the industry; e.g. experienced linemen getting ready to retire, lack of new and interested candidates entering the line trade, and candidates entering the trade without the fundamental skills needed to be successful.