Located in Ohio and looking for a good Inside Wireman Training Center?
Different training centers can vary wildly on pricing and the quality of training they provide.
To help you in your search: we have compiled a list of the best Inside Wireman Training Centers in Ohio.
These schools are the cream of the crop and have high job placement rates.
Let's jump straight into the top inside wireman training centers in Ohio in 2023.
Akron Area Electrical JATC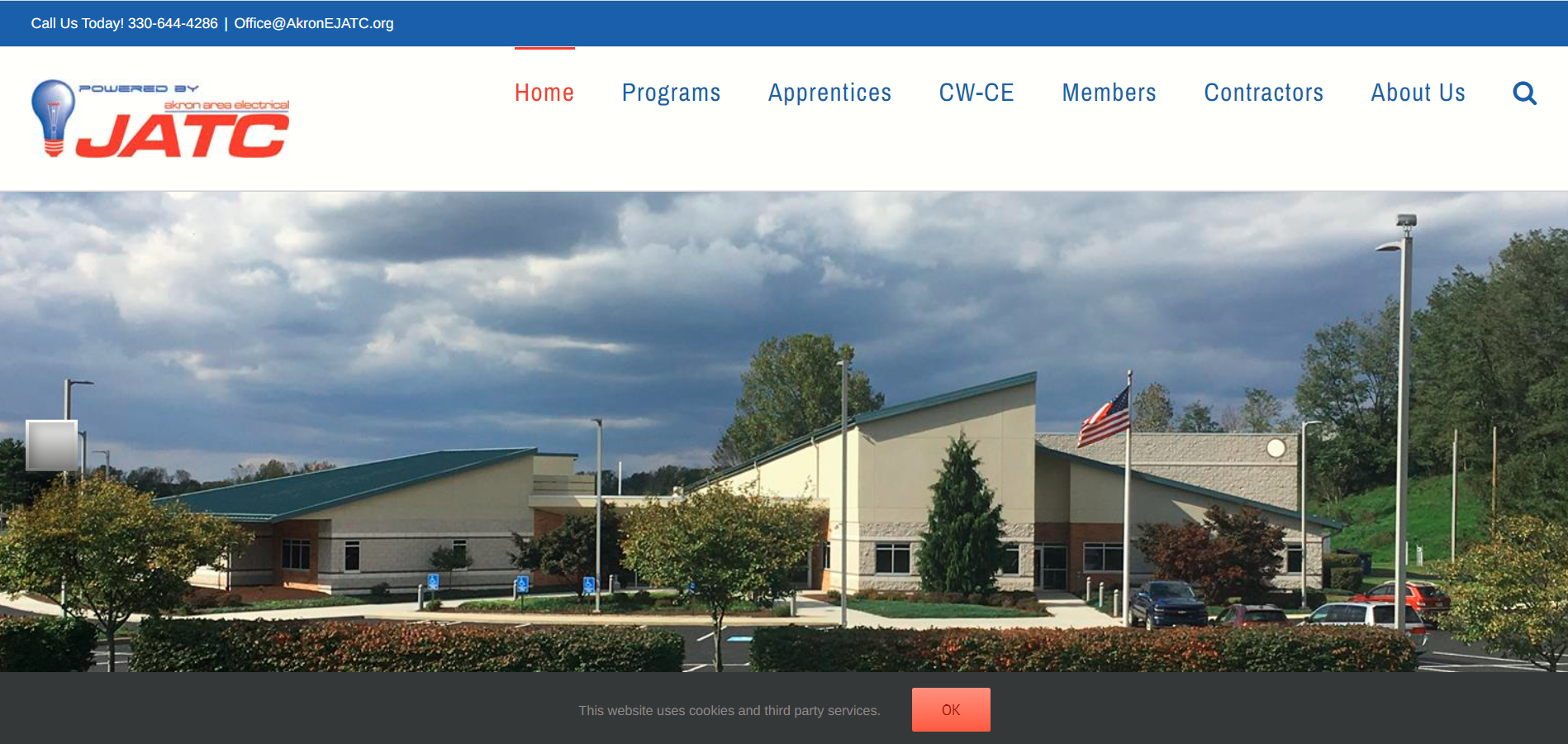 The Akron Area Electrical Joint Apprenticeship and Training Committee (JATC) is an organization of Union Electrical Contractors and Union Electricians tasked with developing and providing training programs to create highly-skilled Union, electrical workers.
To provide the highly-skilled workforce necessary to meet customer needs and ensure job satisfaction for electrical workers, the IBEW Local 306 and the North Central Ohio chapter of the National Electrical Contractors Association (NECA), with support from several national organizations, have teamed up to sponsor the most rigorous and respected apprenticeship programs for electrical workers.
Canton Electrical JATC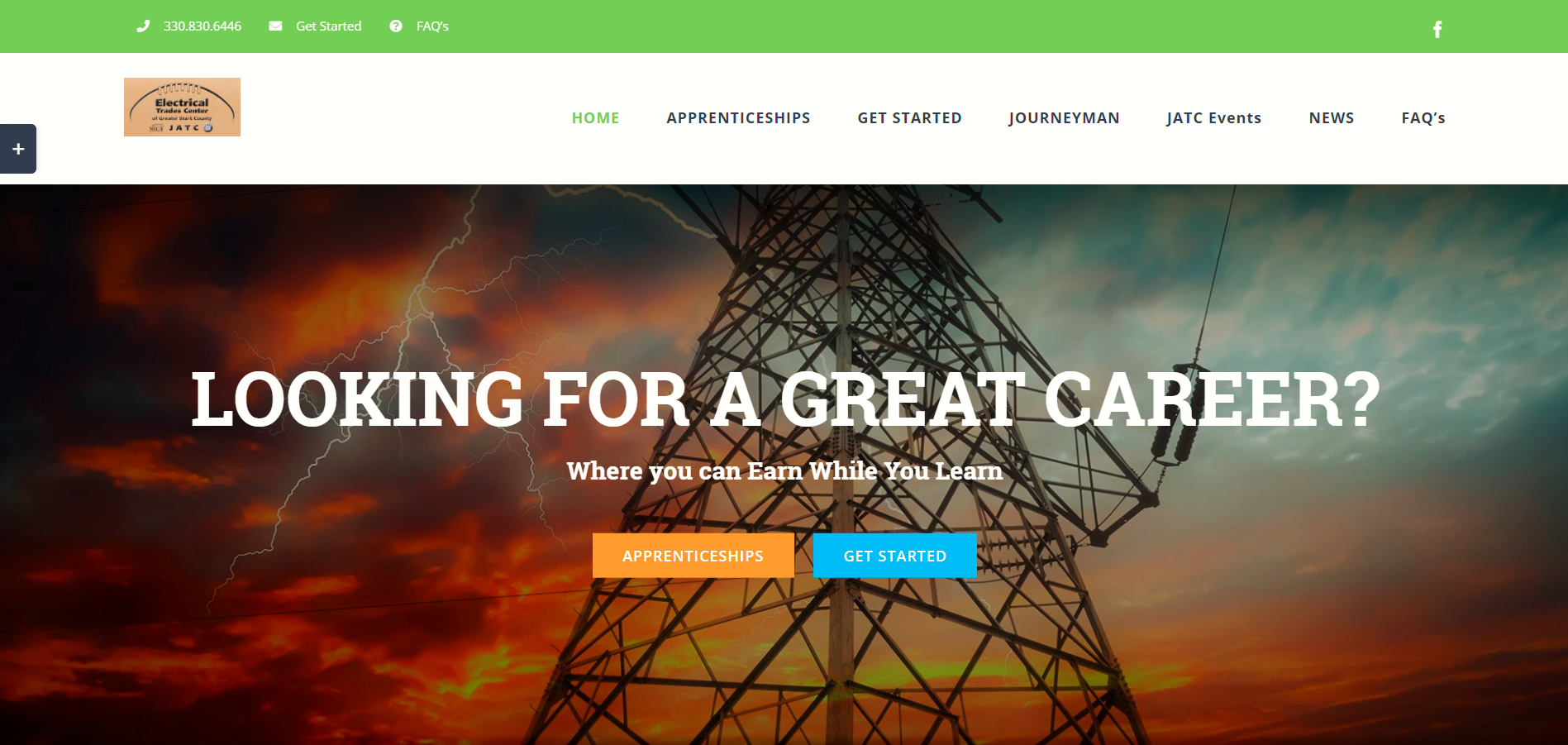 The Electrical Trades Center of Greater Stark County is a formal, structured, nationally recognized education and training program that enables men and women to secure positions in the electrical construction industry. The Canton Electrical JATC apprenticeship prepares participants with classroom instruction and extensive on-the-job training supervised by a skilled journeyman.
Classroom training not only offers the tools to advance in a life-long career, but it also provides the opportunity to EARN WHILE YOU LEARN. As an apprentice advances and develops more complex skills and knowledge on the job, they are rewarded for their hard work.
Cleveland Electrical JATC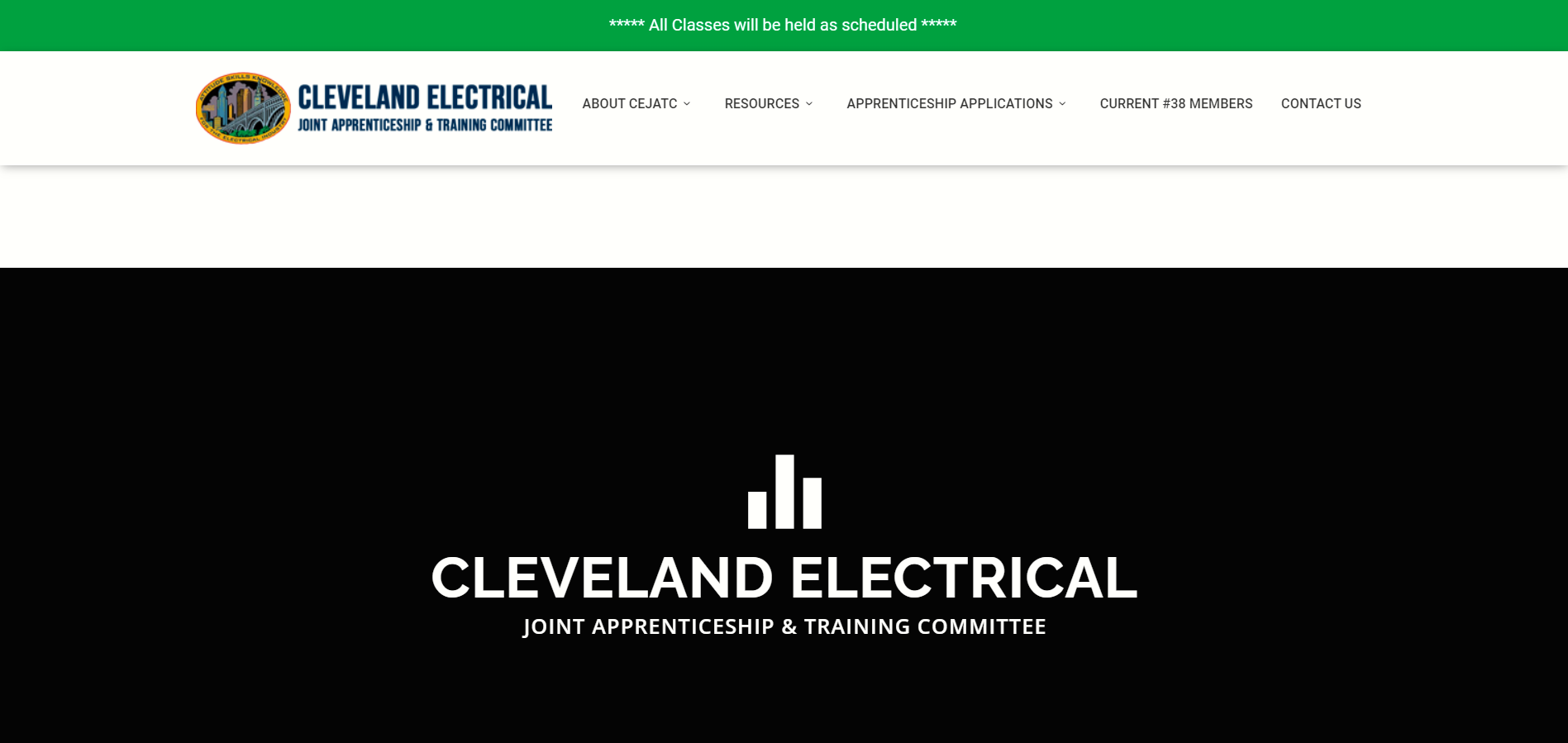 Website
Contact Info
Training Director
cejatc.org
9050 Sweet Valley Drive
Valley View, OH 44125
Phone: 216-573-0400
Fax: 216-573-0403
Kenneth W. Field
[email protected]
The Cleveland Electrical Joint Apprenticeship and Training Trust select and train the best candidates for a wide variety of electrical construction jobs. The trade school supplies competent, well-educated journeyman workers along with continuing education classes relevant to the electrical construction industry.
These workers fall under the collectively bargained agreements between the International Brotherhood of Electrical Workers, Local #38, and the National Electrical Contractors Association, Greater Cleveland Chapter.
The Electrical Trades Center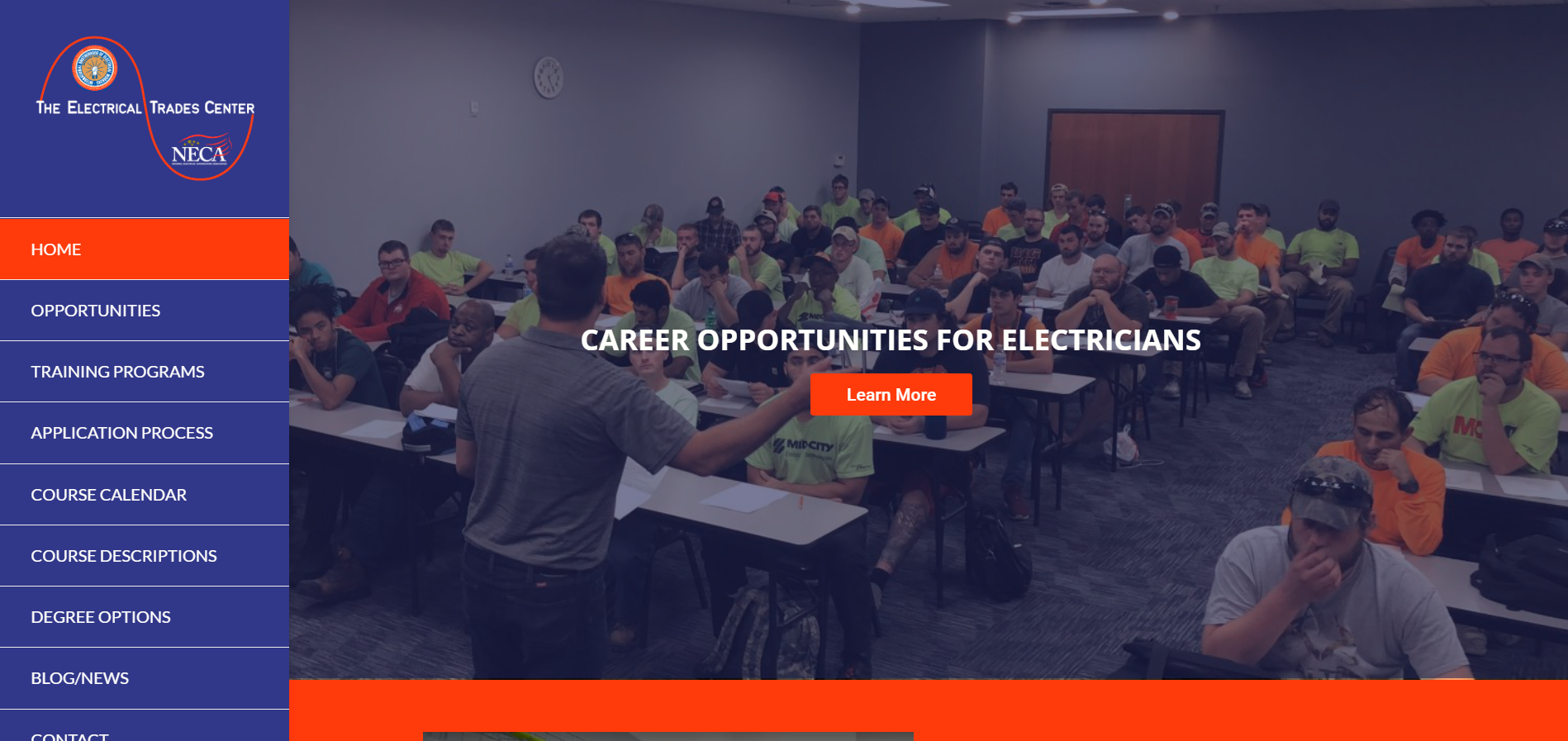 The Electrical Trades Center proudly trains the next generation of central Ohio IBEW members, who work as electricians or teledata installer-technicians. Discover the difference between a world-class education provided by the Electrical Trades Center at our state-of-the-art training center.
Our earn while you learn apprenticeship model allows men and women to work alongside journeymen and earn a livable wage, plus excellent health insurance and retirement benefits while learning the trade.
Plus, apprentices receive classroom instruction to help ensure their safety and advance their industry knowledge and skillset. In addition to apprenticeships, we also provide industry-leading journey upgrade training to the region's premier electrical workforce.
Lima Area Electrical JATC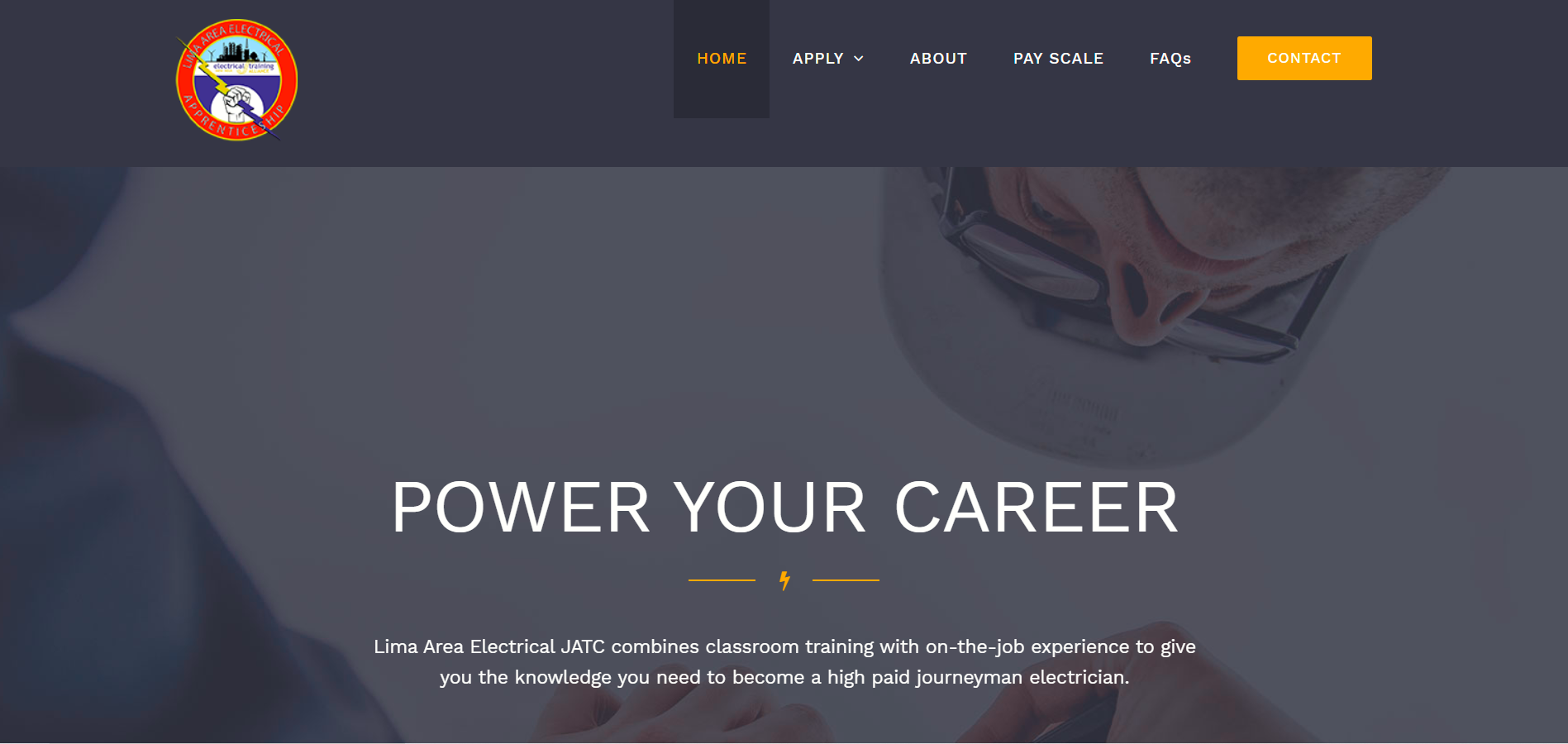 Website
Contact Info
Training Director
limajatc.com
2285 N. Cole Street
Lima, OH 45801
Phone: 419-229-2775
Fax: 567-371-3478
Marc Pescosolido
[email protected]
The electrical training ALLIANCE was created over 70 years ago and has developed into what perhaps is the largest apprenticeship and training program of its kind.
Apprenticeship has been the preferred method of passing essential skill sets from generation to generation since the beginning of history. Apprenticeships, like society, have changed and evolved along with technology.
Modern exceptional quality apprenticeship programs bring not only highly recognized industry-specific credentials but also college degrees. Lima Electrical JATC apprenticeship programs are a joint effort between the National Electrical Contractors Association (NECA) and the International Brotherhood of Electrical Workers (IBEW).
The modern apprenticeship consists of two key and equally important elements: On-the-job training under the watchful eye of a master craftsman; and related classroom instruction performed by skilled, qualified instructors delivering a meaningful curriculum in a nurturing environment.
On-the-job training provides the apprentice with the skills required to become a master craftsman. The Lima Area Electrical Joint Apprenticeship Training Committee places an apprentice in a carefully monitored the job training assignment with an employer.
On the job, the apprentice is teamed with a journeyman, one who has the skills, knowledge, and attitude to impart all critical skill sets. The apprentice's scope of work is virtually unlimited; if it involves the practical use and application of electricity, it is fair game.
Related classroom training provides a strong foundation in safety, construction theory, electrical theory, codes, and systems. This education provides the apprentice with skills and knowledge to have a working understanding of all electrical systems.
With the many rapid advances in technology, this coursework furnishes a firm footing toward comprehending and mastering the myriad new systems, equipment, and apparatus that continues to challenge today's electrician. The curriculum is rigorous and based on a national award-winning program developed by the electrical training ALLIANCE.
Lima JATC's apprenticeship program is highly structured, highly recognized, in high demand, and has clearly demonstrated that it is the most cost-effective way to train qualified craft workers.
Marietta Electrical JATC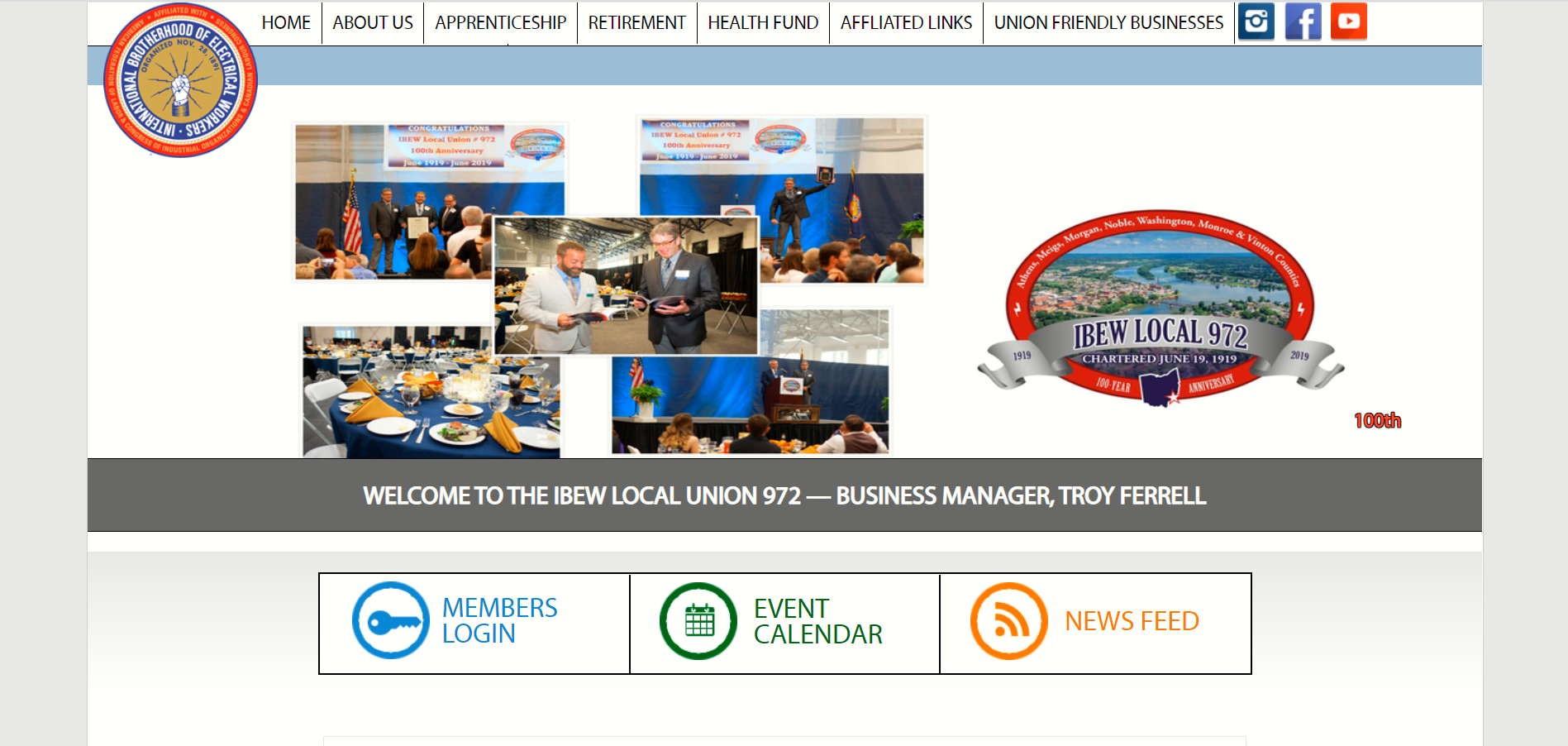 Website
Contact Info
Training Director
ibew972.com
50 Sandhill Road
Reno, OH 45773
Phone: 740-373-5054
Fax: 740-373-7501
Daryl Jones
[email protected]
The International Brotherhood of Electrical Workers (IBEW) Local Union 972 is a proud part of the Mid-Ohio Valley. Chartered June 19th, 1919, we currently represent 240 Union Electricians that live and work within the jurisdiction for a variety of customers and locations.
We strive to promote ourselves and our industry by
Promoting reasonable methods of work,
Cultivating feelings of friendship among those of our industry,
Assisting each other in sickness or distress,
Securing employment for our members,
Securing adequate pay for our work,
Seeking security for the individual,
And, by legal and proper means, elevate the moral, intellectual, and social conditions of our members, their families and dependents, in the interest of a higher standard of citizenship.
(Taken from "Objects" in the "The IBEW Constitution")
We hope you will take a few minutes and get to know who we are. We're your friends and neighbors. We are the IBEW and "The Right Choice" for your electrical needs.
Newark Joint Apprenticeship Training Committee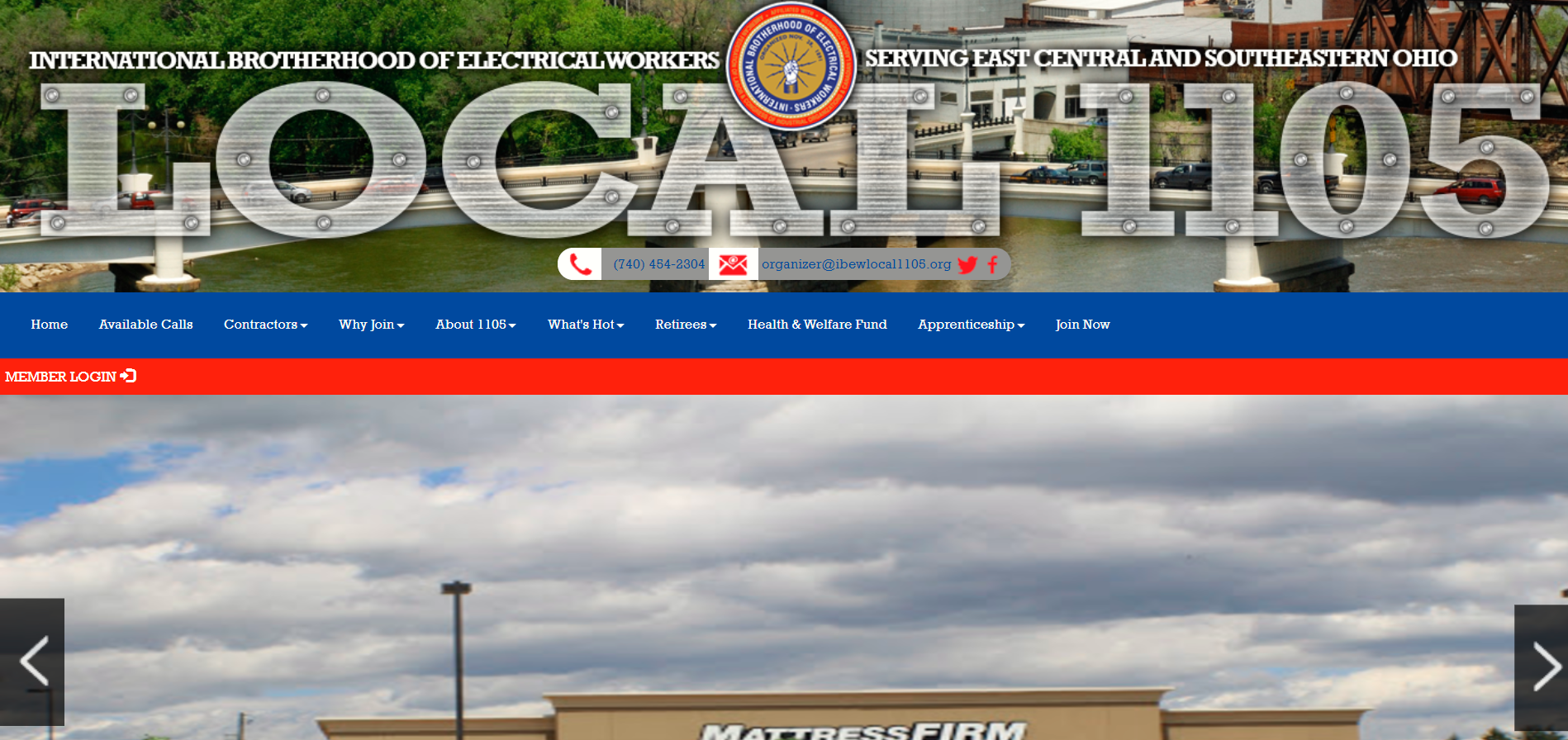 Our local is proud of the long history that we have in East-Central and Southeastern Ohio. We are proud of the major role that we have played in building and maintaining the electrical systems of our area, and we look forward to continuing to provide the most highly skilled and qualified electricians in the area, capable of bringing all electrical projects in on time and under budget, while at the same time, protecting the rights and benefits of all workers.
Just as new technologies in our industry continue to present themselves to us, so does the ways of effective communication. Sitting down with pen and paper for communication seems to be a thing of the past, given all of the quicker and more convenient ways of communicating and information sharing. With that being said, it is my distinct honor to welcome you to our newly updated and improved website.
We bring you this website in our continuing effort to utilize the most efficient means of communicating with our membership, employers, industry leaders, and the general public.
For our members, we encourage you to use this website to access important, up-to-the-minute news and activities. You will also find legislative updates which affect our industry, our workers, and our families. Hopefully, at the same time, you can have a little fun while visiting the site.
Additionally, please utilize this site to keep up to date on union activities, functions, and events. For others throughout the industry, I hope you find this site informative as to the many offerings that a relationship with Local 1105 can bring.
So please sit back, relax and enjoy your visit. Please come back often to keep up to date on what is going on in Local 1105.
Lake, Ashtabula & Geauga Electrical JATC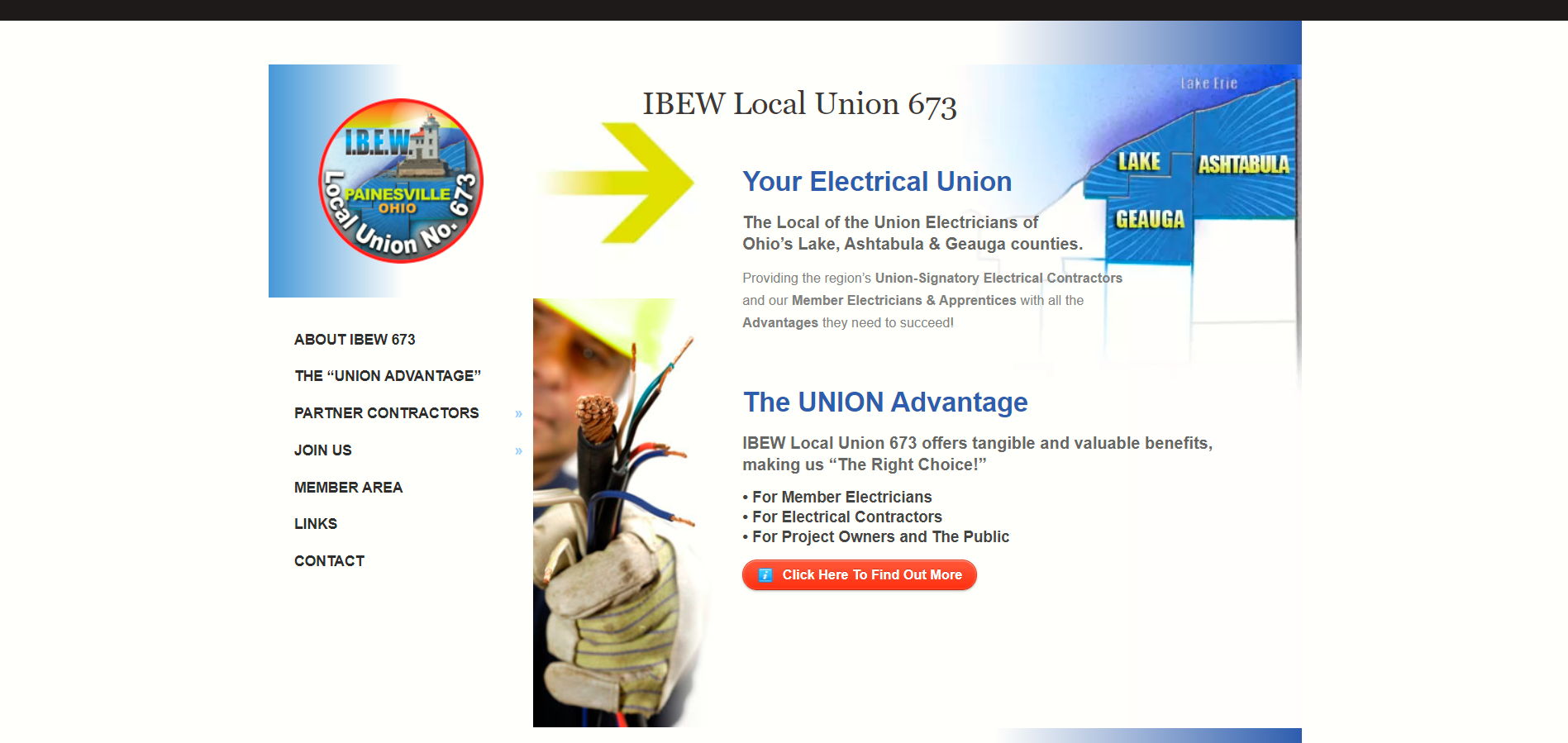 Website
Contact Info
Training Director
ibew673.org
8376 Munson Road
Mentor, OH 44060
Phone: 440-255-3028
Fax: 440-255-3038
David Mealy
[email protected]
Local Union 673 of the International Brotherhood of Electrical Workers provides its members with the training and benefits they need to be the best electricians they can be and earn the wages and lifestyles they and their families deserve – this is "The Union Advantage" Union membership carries with it great responsibilities and great rewards – we work and train hard, so our members receive some of the best pay, healthcare and retirement packages in the industry!
Steubenville JATC
Website
Contact Info
Training Director
sejatc.org
626 North 4th Street
Steubenville, OH 43952
Phone: 740-282-7572
Fax: 740-282-4425
Brian Ferguson
[email protected]
Steubenville Electrical JATC provides the opportunity to earn while you learn, through paid on-the-job training, along with classroom instruction.
SEJATC provides training for Apprentices and Journeymen in the organized electrical industry within the Local 246 jurisdiction, which includes Jefferson, Hancock, Brooke, Harrison, Columbiana, and Carroll Counties.
Apprenticeship programs are offered for Inside Wiremen, Residential Wiremen, and Telecommunications Installer-Technicians. These electrical workers install, maintain, and repair electrical systems in compliance with state, national and local electrical codes.
American Line Builders
Website
Contact Info
Training Director
albat.org
P.O. Box 370
Medway, OH 45341
Phone: 937-849-4177
Fax: 937-849-0592
Kevin Castle
[email protected]
The American Line Builders Joint Apprenticeship and Training Committee (ALBAT) is a leader in preparing program participants to compete in a 21st-century economy. Our unique approach keeps pace with advancing technologies, innovations in training, and human resource development.
ALBAT has a systematic approach to training that ensures employees are trained and certified to produce projects at the highest skill levels required while maintaining safety training to produce projects on-time. The ALBAT Program is a registered program with the U.S. Department of Labor Office of Apprenticeship.
We are proud to train the top electricians in the following programs: Cable Splicing, Outside Line, Substation, Traffic Signal, Transmission, and URD (Underground Residential Distribution).