Located in the Tulsa, Oklahoma and looking for a good electrician?
To help make sure you're getting an electrician who knows what he's doing, we have compiled a list of the Best Electricians in Tulsa.
Let's jump straight into the Top Electricians in Tulsa in 2023.
Adair Electric – Electricians Tulsa
9182957961
Your leading & trusted Electrician Serving Tulsa and Surrounding Area.
Adair Electric, a Tulsa-based Electrical Contractor and Electrician, with over 25 years of experience. Our technical experts work with
integrated systems, engineering and design, construction maintenance and repair.
We are Licensed, Bonded, and Insured in the state of Oklahoma.
Our staff are Electrical Designers, Master Electricians, Electrical Specialist, Journeymen, and Apprentice.
Indian Preferred Contractor with A+ Better Business Ratings
Our experience that counts!
Commercial Service
Blueprints and Building Layouts
Equipment Circuits and Hook up
Phone and Computer Lines
Security, Landscape and Perimeter Lighting
Circuit Reconfiguration
Code Corrections
Track and Accent Lighting
Service Panel Upgrades
Data and Communication Lines
Lighting Design and Maintenance
Surge Protectors
Appliance Circuits
Outlets and Switches
Residential Service
Fuse Box to Circuit Breaker Conversion
Panel Changes & Sub Panels
Installation 220 Volts Lines
Recessed & Fluorescent Lighting
Room Additions & Remodel Wiring
New Outlets & Switches
Damage Repair
All Lighting & Lighting Concepts
Pool & Hot Tub Electrical
Computer & Phone Wiring
Boat Dock Wiring
Helpful Energy Saving Tips
Electrical Service Upgrades
Backup Generators
Choosing the right home or business backup generator begins with selecting the right team. At Adair Electric, we provide complete service and support from start to finish.
Not everyone knows exactly how much power they typically use, and even more often they don't know what their standby power needs might be in an emergency situation.
If you would like a free consultation with any backup generator purchase, installation or repair give us a call.
Industrial and Speciality Service
These projects range from installing electrical service for the CNC machine or large industrial appliance to home automation and large bank clocks.
Who We Are
Adair has staff with over 30 years of experience providing electrical services in the Tulsa Metropolitan Area. The team is lead by Master Electrician Jason Adair.
We have served Tulsa for many years and plan to continue our growth by providing the best products and services in the market.
Core Values
Core values are important to clients that want to build a relationship. These values represent what we do for all of our clients. Thank you for the opportunity to serve you for your electrical projects.
Integrity
Trust
Quality
Committed
Electrical Services of Oklahoma – Electricians Tulsa
9185270241
Electrical services of Oklahoma specializes in installing, remodeling, troubleshooting and repairing electrical components and controls. We service residential, commercial and industrial customers in Northeast Oklahoma.
Our team's experience and breadth of knowledge means we can offer a complete range of in-house capabilities rarely found in an electrical services company. We provide turnkey electrical services with integrity, attention to detail, and responsiveness. Services are listed but not limited to the following.
Machine tool repair
General electrical wiring and service calls
Remodeling
Equipment layout
Preventative maintenance management
Equipment procurement
Consulting
Project Management
Additional capabilities
Whether a one time problem, project, or on-going preventative maintenance relationship you'll be satisfied with our service.
Residential & Commercial Services
General electrical repair and installation
Remodels
Industrial Repair Services
Paint booths
CNC Machine tools
Lathes
Mills
Chemical process lines
Industrial freezers
Autoclaves
Ovens
Furnaces
Conveyers
Fowler Electric – Electricians Tulsa
9182662153
ELECTRICIANS TULSA HAS RELIED ON FOR OVER 20 YEARS.
Expert Electricians Performing Superior Service
What Can We Do?
Responsive, friendly, professional service
Arrive on time with appointments
Great listeners and provide accurate diagnosis of the problem
Get the job done and charge a fair price
A long term, reliable relationship with all of your electrical needs
Extensive knowledge – they can solve any problem
A trusted and reliable electrician is one of the most beneficial things a homeowner can have. Your electrical system is one of the most important parts of your home. You use it for nearly every task you perform on a daily basis, and going without it simply isn't an option. It's also a part of your home that you can never work on on your own. Electrical repairs require a professional electrician, no matter what. So our Tulsa electricians always provide our customers with the highest quality repairs and the most professional service available.
Our Tulsa electricians are all background checked, professionally trained, licensed, and extensively experienced. So at every single job we perform, we can guarantee excellence. We'll work to promptly complete any repairs, and we'll never leave you waiting long. We respond as quickly as possible to all requests for service. We know how important electricity is to your home, and we'll do everything we can to make sure that your electrical system is in the best condition possible.
If you have any electrical issue, except perhaps replacing a light switch should be done by a Tulsa electrician expert such as Fowler Electric. Electrical repairs are extremely dangerous, and trying to take care of them without professional training and experience can easily result in injury or death. And if any small detail is overlooked, it can have huge repercussions. Faulty electrical wiring, according to the National Fire Protection Agency, is the leading cause of house fires in the United States. You'll also need to have a vast knowledge of local and national codes in order to properly repair any part of your electrical system, and if anything doesn't meet with the codes and standards, it could be a huge problem if you ever decide to sell your home.
Our Tulsa electricians will make sure that your home's electrical system is always safe, and that no dangers are lingering anywhere. If you're unsure of your home's electrical safety, or if you're attempting to buy or sell a home, we can offer a full safety inspection so that you can rest assured that your home is in no danger. We can provide a complete rewiring of your home if the wiring is out of date, which can help your electrical system run much more smoothly, and will ensure complete safety. We can also provide wiring repairs, or the wiring for a new construction or home addition.
The services our Tulsa electricians provide include:
Aluminum Wiring Replacement
Electrical Safety Inspections
Home Generator Installation and Repair
Electrical Wiring Repairs
Lighting Installations
Security and Landscape Lighting
Panel Upgrades
Surge Protection
Ground Fault Circuit Interrupters
Outlet Repair
Lighting Repairs
Some of the specific commercial electrical services we provide include:
Electrical Distribution Systems
Emergency Power Systems and Generators
HVAC Control
Lighting and Dimming Systems
Lighting Protection System
Low Voltage Cabling: Voice, Data, TV, POS, Gaming, Security, AV
UPS Systems
Philips Electric – Electricians Tulsa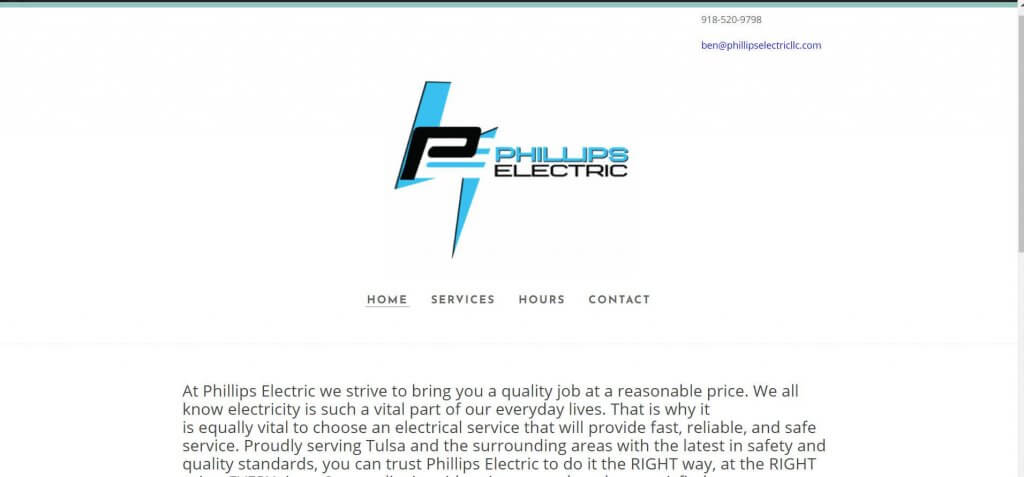 9185209796
At Phillips Electric we strive to bring you a quality job at a reasonable price. We all know electricity is such a vital part of our everyday lives. That is why it is equally vital to choose an electrical service that will provide fast, reliable, and safe service. Proudly serving Tulsa and the surrounding areas with the latest in safety and quality standards, you can trust Phillips Electric to do it the RIGHT way, at the RIGHT price, EVERY time. Our quality is evident in our work and our satisfied customers. So whether it's for your home, commercial, or industrial needs, we would love to serve you!
SERVICES
Residential
Commercial
Industrial
Lighting upgrades, adding new lights, new construction, remodels, trouble shooting, updating electrical panels, adding new outlets- these are just a few examples of the services we provide.
Houchin Electric – Electricians Tulsa
9186631812
If you are a resident homeowner or a business owner in our service area, our award winning company, Houchin Electric, will send a licensed electrician, that is insured, uniformed and background checked to your Tulsa area home or business. You get honest options, fair up-front pricing, and amazing customer service, so you can make the best decision for your money. We perform a wide range of electrical services for home and business owners throughout the greater Tulsa and surrounding areas. We are electrical Home Safety Experts. Our electricians are extensively trained and highly skilled in the proper diagnosis and repair of electrical circuitry problems,service and panel upgrades/replacements, exterior and interior lighting installations, partial or whole home rewiring, aluminum wiring removal or pig-tailing, evaluation and repair of electrical surge event damage, generator installations, and many other types of electrical repairs and installations.The safety of our customer is always our top priority.
Every Day. Every Hour.
24/7 Electrical Service.
60 Minute Emergency Response After Hours.
RESIDENTIAL SERVICES
Our experienced and licensed journeymen electricians provide fast, high quality workmanship with honesty and integrity. Everyone has electrical problems at some time. Our low cost basic diagnostic service call gets an electrician to your door with the tools and the parts to fix a wide variety of problems. We look forward to being your residential electrician of choice.
COMMERCIAL SERVICES
Our team of commercial & industrial electricians has been servicing the Tulsa area since 1974. Your business can't afford lengthy downtime or interruptions, you can't close your doors to accommodate commercial electrical installation. We perform the work needed correctly, letting your business stay on schedule, every time.
INDUSTRIAL SERVICES
Houchin's industrial electrical contractors have the versatile skills and specialized experience to address diverse industries, complex systems, and unique power requirements. Houchin Electric distinguishes its Industrial electrical services by providing exceptional support, and innovative solutions.
Wiley Electric – Electricians Tulsa
9186275401
Our owner, Dennis Tate, has an electrical career that has spanned over forty years here in the Tulsa area prior to taking over at Wiley Electric, LLC. He has maintained the technological advances associated with the growing electrical industry. Today we provide electrical services to industrial & commercial businesses as well as largescale estates. Some of what we provide consists of: installation of medical equipment, industrial & commercial maintenance, parking lot lighting, large scale distribution & motor control centers installations, robotics, design builds, home & business generators, home automation, sound systems, advancements in LED lighting & lighting controls, outdoor landscape lighting, pool/fountain lighting, and driveway gates. We also specialize in projects, in the home or business, thought to be too difficult or impossible.
We also provide consulting to discuss your needs with the possibilities that are available to you, whether that's in your home or business.
Commercial
We provide all electrical services for the commercial industry. Whether you need a new installation or a remodel both are within our specialty.
We also provide:
Service Entrance
Building Distribution
Transformer
Generators
Lighting Maintenance
Lighting Upgrades
LED Retrofits
Parking Lot Lighting
Exterior Wall Lighting
Industrial
Our industrial work has included:
Refineries
Tank farms
Chemical plants
We are also small business and government Hubzone certified.
We enjoy the ability to do design/build projects as well. We have also completed many projects overseas and in other states, including:
turbine generators
design and construction of computer rooms
oil related construction.
Among the services we perform, those which maybe of particular interest to your company are:
Outstanding Service Department
Quick response by the best-qualified people in the business.
Infrared Scanning – Prevent costly problems before they happen
Design/Engineering – For any size project
Residential
We provide services from Large Scale Estates to Apartment Buildings.
Some of the services we provide include:
New Construction
Remodels
Lighting Upgrades
LED Retrofits
Landscape/Security Lighting
Pool & Fountain Lighting
Home Automation
Sound Systems
Driveway Security Gates
Parking Lot Lighting
Generators
Apec Services – Electricians Tulsa
9183202072
Who We Are
Apec Services is a 60 year Family owned business serving the Greater Tulsa Area.
What We Do
All residential and commercial electrical work, including Alarm, monitoring, power management, back-up power generation, cctv & remote monitoring.
Our Mission
Captain Bill Hopkins of the Tulsa Fire Dept started a family owned electrical business in Tulsa, Oklahoma in 1954. Our Core Standards are the same today: Quality & Integrity of Safe and Efficient Electrical Work. Three generations later, we are proud to offer Alarms and Structured wiring keeping up with modern demand. Licensed, Bonded & Insured
Millers Superior Electric – Electricians Tulsa
9189334002
Repair and Troubleshooting
We can repair outlets, ceiling fans, wiring, lights and more.
Inspection and Installation
Something just not working properly? We can perform an electrical inspection and maintenance check.
Emergency Electrician
Electrical emergencies never happen at convenient times – which is why we're available 24 hours a day, seven days a week.
In 2009, Miller's Superior Electric was founded by Matt Miller and his wife Robin Miller. Matt at that time brought more than 20 years' experience as an electrician to this family owned business. Since then we have grown into one of the most respected residential and commercial electrical contracting firms in the Tulsa area. We have enjoyed steady growth, while building towards a stable future…
We firmly believe that a company is known by the employees it keeps, and the honor it practices! We are committed to being dependable, on time and on budget. The Oklahoma business community attests to our versatility, and we are fortunate to have contributed to numerous projects throughout the Tulsa area. Just a few of our projects and clients include the Tulsa International Airport, A Clean Environment, Lee Supply and many others. Flexibility is at the heart of Miller's Superior Electric. Whether it is new construction or commercial projects.
We also are an active member of the Better Business Bureau. We apply the latest technologies, and latest Electrical Industry codes to benefit the client, both commercial and residential…. no Shoddy work here
Services
Emergency Electrician
Electrical emergencies never happen at convenient times – which is why we're available 24 hours a day, seven days a week to help you with whatever electrical problem you're having.
Lighting Repair
Do-it-yourself home improvement projects can be fun for the whole family – but when it comes to lighting repair, it's usually wise to leave the job to a professional electrician.
Electrical Design
Our licensed, highly trained electrical engineers will work with you or your contractor to achieve the quality final product you expect in your residential or commercial electrical project
General Electrician
We specialize in rewiring older homes to meet today's technological requirements, and we're also available for a full home energy saver inspection.
Reavis Electric – Electricians Tulsa
9188928016
REAVIS ELECTRICAL SERVICES
POWERFUL. PROFESSIONAL. COMMITTED.
Reavis Electrical Services is a locally based, Tulsa Area electrical contracting company. We service the North Eastern Oklahoma area with a full range of services for residential, commercial and industrial electrical projects.
Our staff of Master and Journeyman Electricians are committed to providing you the best electrical services that are safe, accurate, innovative and cost effective. We are continuously receiving education on up-to-date technologies so that we can better serve you in a powerful, professional, committed way.
Safe, Quality Craftsmanship Fully licensed, insured and bonded 24/7 Emergency Service Free Estimates 100% Satisfaction Locally owned and operated
Aspen Electrical Services – Electrician Tulsa
9182779112
Fully licensed, insured and bonded, trust Aspen Electrical Services LLC for all your residential, commercial and industrial electrical repairs and remodeling needs. Voted Tulsa's "best in the world" winner in 2017, we have grown over the past years to provide you with reliable and cost-effective electrical solutions. Depend on an experienced team for all your electrical service and remodeling needs. Call (918) 277-9119 today.
Member of the Better Business Bureau
Lighting Services
Rely on Aspen Electrical Services LLC to help you see the light with complete lighting services to your home or business. Same-day service is available.
Remodeling and Repairs
Get help from beginning to end with expert electrical remodeling and repair work from Aspen Electrical Services LLC. We can help you map out what your electrical needs are!
Residential Services
Depend on us for a variety of reliable residential electric services. We're up to date on all the electrical codes and industry standards.
Complete Residential Electrical Services 24/7
Installations
Repairs
Maintenance
Troubleshooting
Upgrades
New construction
Remodeling
Retrofits
Fuse panel replacement
Meter and service upgrade
Broken outlets and switches
Additional garage power
Air-conditioning and heating and more
Commercial Electrical Service
Powered Up to Serve Your Business
Budget and design consultation
Control wiring
Electrical code updates
Generator installation
Lamp and ballast replacements
LED retrofits
New and remodel installations
New equipment circuits
Panel upgrades
Receptacle replacements
Underground cable locator
UPS system installations
Any Kind of Commercial Property
Apartment and condo complexes
Assisted living facilities
Churches and houses of worship
Factories
Manufacturing facilities
New construction
Strip malls and shopping centers
Student housing
Temporary job sites
Industrial Electric Services Include:
New electrical installation
Full electrical service and maintenance
Minor and major electrical repairs
Lighting retrofits
Process controls
Panel testing
PLC programming
Power distribution
High voltage
Power correction and more
Building Electrical Systems, Inc – Electricians Tulsa
At BESCO, we have pride in the knowledge and abilities of our electrical crew. Our crew members produce top quality work each and every day and continually strive for excellent service, safe work practices and reliability to ensure long-term relationships with our customers. Quality is the keystone in which Building Electrical Systems, Inc. (BESCO) was built, and it has not changed in all these years – and it will never change. We truly believe if we allowed the quality of our electrical installations to drop, our phone would stop ringing.
Building Electrical Systems, Inc. (BESCO) is a commercial and industrial electrical contracting company doing business in Tulsa and the surrounding area since 1986. BESCO provides a comprehensive range of electrical contracting services to serve you.
We, at BESCO, have pride in the knowledge and abilities of our electrical crew. Our crew members produce top quality work each and every day and continually strive for excellent service, safe work practices and reliability to ensure long-term relationships with our customers. Quality is the keystone in which Building Electrical Systems, Inc. (BESCO) was built, and it has not changed in all these years – and it will never change. We truly believe if we allowed the quality of our electrical installations to drop, our phone would stop ringing.
We also believe that top quality electrical installations do not necessarily have to be more expensive. We have found over the years that if an electrician regularly produces a quality product and is proud of what his labour has produced his productivity is equal to or better than the norm. I can tell you that before any electrician receives a job offer at BESCO, he or she must first understand how serious we are about quality and agree to assist us in maintaining our normal standards.
Colburn Electric – Electricians Tulsa
9182518761
WELCOME TO COLBURN ELECTRIC
A Tulsa Electrician
Colburn Electric is the Tulsa area's most trusted expert electrician. Started in 1976, we specialize in residential electrical service and repair, offering a wealth of experience and a solid reputation for quality. Whatever the job, large or small, Colburn Electric is standing by to meet your needs and exceed your expectations! read more
3 Things Tulsa Homeowners Want To Know:
What do you work on?
How much will it cost?
When can you come out?
What do you work on?
We can work on everything electrical in your home, whether it's a switch that doesn't work, an electrical outlet or a breaker box that needs to be replaced; a light that you want hung, or even new landscape lighting!
How much is it going to cost?
This is a great question. We know that every dollar is important to you. Right now, we offer a half-price service charge, which means that we will send a licensed electrician to your house to check out your electrical problems for just $50. Then we discuss the electrical issues with you and give you upfront pricing before we do anything. We value your business and don't want you to be surprised by anything other than the superior quality of our work!
When can you come out?
We know the last thing you want to do is wait around all day! We have small scheduling windows and strive to be as punctual as possible.
Why Choose Colburn Electric?
Up-front Pricing!
Never pay more than you expect! No hidden fees… No surprises. We show you the total price up-front before we start the work!
Same Day Service
Don't wait for a repair! We arrive in fully stocked vehicles, ready to access and fix your electrical issue the same day!
On-time Service!
No waiting around, wondering where the electrician might be! We respect and value your time. We schedule in short time windows, and we always call 30 minutes before arrival to let you know we are on our way.
Expert Electricians!
We can repair and install anything electric in your home or office. Our electricians are licensed by the State of Oklahoma and are highly skilled and trained. With our expert knowledge and superb customer service, you'll call Colburn Electric your trusted Tulsa-area electrician!
Everding Electric – Electricians Tulsa
9183699253
Welcome
Everding Electric has been serving the greater Tulsa area for over 20 years. Locally owned and operated, our shop is located in the growing town of Bixby, Oklahoma. We are licensed in the state of Oklahoma and the cities of Tulsa, Bixby, Broken Arrow and Sand Springs. Specializing in commercial electrical services, we are also proficient and experienced in industrial electric work and residential electrical labour.
Our 55′ boom truck also allows us to tackle hard to reach jobs such as parking lot lighting, outdoor building lights and lighted signs. Feel free to contact us with any questions, or to request a bid at any time. We are available during the week from 8 AM to 5 PM or for emergencies seven days a week, 24 hours a day.
Safety
Over ten years without a single safety violation – Proof of the serious attitude with which we execute our work. Our employees are trained and certified in OSHA safety standards, with monthly safety meetings ensuring that safety is, and always will be our number one priority.
Electrical Services
Everding Electric will oversee your electrical project from blueprint or spec sheet to final inspection. We will apply for and obtain all necessary permits/inspections and follow the project through to the end.
Troubleshooting:
Years of experience in the field of electricity allows us to solve even the most difficult electrical problems. Our team of educated experts can solve tripping breakers, outlets that fail to operate properly, improperly grounded electrical systems, and anything electrical that fails to co-operate and function correctly.
Commercial Build-Out/Remodel
Demolition and installation of lighting, electrical switches, electrical power poles, receptacles and power for larger appliances such as copiers, scanners, plotters, water heaters, screen printing equipment, ovens, air conditioning/heating units, dishwashers and anything else that may need to be energized.
We have also installed and performed maintenance on a variety of emergency power systems such as backup generators, battery backups and automatic/manual transfer switching devices. Ethernet/data cabling, telephone/fax lines and coaxial cable runs are also among the services we offer.
Industrial
Installation and maintenance of conveyors, motors, control stations, variable frequency drives, and emergency stop systems. We have performed work at, but are not limited to – sand mines, fertilizer plants, fuel docks, coal-fired electrical power plants, and several conveyor-driven distribution facilities.
Our Boom Truck
The boom truck expands the scope of our services by allowing us to service and install pole lights, lighted signage, wall-packs, down-lights and canopy lighting that may be out of reach from standard ladders. Our journeymen are also licensed to operate machineries such as forklifts, scissor lifts and other indoor lift machinery.
Firefly Electricians – Electricians Tulsa
9188049225
TULSA'S PREMIER ELECTRICIANS
FireFly Electricians provides the highest quality customer service while offering paramount solutions to fit your budget and electrical needs. See why we're growing! Call FireFly Electricians for all of your electrical needs. Large or small, we'll FLY right over!
WELCOME TO FIREFLY!
Looking for a dependable, thorough licensed, BBB A+ Rated electrician that guarantees their work? Look no further. FireFly Electricians in Tulsa is a full-service electrical service company that is bonded, insured, and ready to exceed your expectations for any of your residential, industrial or commercial electrical needs. We put our money where our work is, by standing behind our FireFly Guarantee.
Give us a call and see why the voters of Oklahoma Magazine have awarded us The Best of The Best title along with winning the Tulsa People Magazine A-List award for Tulsa electricians. FireFly is also accredited by The Better Business Bureau of Oklahoma and the Tulsa Home Builders Association. If you are looking for a company in the Tulsa Metro area that pays attention to detail, and will still be around tomorrow, call FireFly Electricians.
Faulty Receptacles
Lighting Upgrades
Remodels
Emergency & Standby Generators
Whole House Surge Protection
Smart Homes
Historical Home Repairs
LED Lighting Conversions
Panel Change Outs
Outdoor & Security Lighting
New Construction
Ceiling Fan Installs
Wiring upgrades
New Machinery
OUR SERVICES
Whether you want to make it better, make it new, or make it over, we can provide sensible solutions for all your electrical needs. Services range from repairing a single faulty outlet to wiring an entire Smart Home. We love the variety!
We can handle repairs and wire upgrades for historical homes to specializing in the current day and next-generation projects such as smart technology, generator installs surge protection, and specialized industrial plants/equipment. From ceiling fans to security lighting, panel upgrades to doorbells, aluminium wiring repairs to LED's, FireFly Electricians has you covered. And all of our services are backed by our FireFly Guarantee.
OUR FEATURED SERVICES
Residential
Would you like to make repairs, improvements, or additions to your home? We can help make that happen! And we promise to leave your house better than we found it, guaranteed. Call us for a skilled, polite, and happy electrician to visit your home today.
Commercial
We understand that businesses can't afford to have downtime. Have a problem? We'll FLY right over! Need a repair in your restaurant or retail space? You can call us for all of your tenant improvements, office repairs, and industrial needs as well.
New Construction
Are you an architect, builder, developer or property manager? We'll help you get your project right, right from the beginning.
Troubleshooting
Have no idea what the problem is? Have you tried other electrical companies and had to call them out numerous times? We can fix it.
Live Wire Electric – Electricians Tulsa
9186958224
For all your electric service needs, Live Wire Electric of Tulsa, OK is always here to help you. We provide industrial, commercial, and residential services at reasonable rates. Our professional technicians will take care of your needs. Excellence is our top priority.
Our Industrial Services Include:
Automation wiring
New construction
Maintenance
Our Commercial Services Include:
Tenant build-out
Remodelling
New construction
Building design
Our Residential Services Include:
Service upgrades
Room additions
Remodelling
Mister Sparky – Electricians Tulsa
9182009901
We Fix Electrical Problems
We repair outlets, electric panels, ceiling fans, smoke detectors, wiring, flickering lights and more!
Emergency Electrical Repair
Have an outlet that's not working, a blown a fuse or a ceiling fan that needs replacing? We've got you covered.
Need a ceiling fan repair? Call Mister Sparky electricians Tulsa!
Inspection and Installation
Does something seem like it's not working properly? Call us today for an electrical inspection and maintenance check!
MISTER SPARKY – TULSA ELECTRICIAN
Mister Sparky Electrician Tulsa, America's On-Time Electrician, employs the most trusted and experienced electricians across the country and it all starts with finding the best electricians in y0ur local neighborhoods. You might hear our commercials or see our big red trucks coast-to-coast, but all Mister Sparky Electrical businesses are locally owned and operated by people who live in your community.
Mister Sparky's Tulsa Electricians are experienced, trained and highly knowledgeable as well as friendly, clean and trustworthy. All repairs and installations are 100% guaranteed. Plus, Mister Sparky is UWIN endorsed. Don't trust your electrical needs to just anyone. Let us show you the Mister Sparky difference.
A Mister Sparky Electrician Tulsa technician fixes .an electrical main panel in Tulsa, OK.
Mister Sparky Electrician Tulsa is your locally owned and trusted electrical expert serving the entire Tulsa area. Our technicians are highly trained and knowledgeable in the area of electrical panel repair, home safety inspections, ceiling fan installations, landscape lighting installations, accent lighting for the kitchen, media theatre or other rooms and routine electrical maintenance.
Contact us today and see the Mister Sparky difference for yourself with the expert electrical contractors at Mister Sparky Electrician Tulsa.
AVAILABLE SERVICES
Main Electrical Panel
Attic Fans
Sub Panel
Exhaust Fans
Surge Protection
Ceiling Fans
Home Automation
Maintenance
Carbon Monoxide Detectors
Lighting
Landscape Lighting
Generators
Smoke Detectors
Amp Upgrades
Circuits Wiring
Security Lighting
Wiring Pools/Spas
Walkers Electric – Electricians Tulsa
9186719999
All Walkers Electric employees are licensed, insured, professional electricians providing quality, expert electrical services to the Tulsa Area since 2011.
Sure, professional electricians will provide you with quality and expert electrical services. Our high standards of craftsmanship combined with reliability and integrity, yield a continuous list of satisfied clients. Our Pride in Customer Service, Communication, Teamwork, and On-Site Supervision of projects from beginning to end are the keys to our success and your happiness.
We Specialize in everything Electrical such as Service calls, Building / Property Maintenance, Residential, Commercial, Industrial, Design-Build Projects, Remodels, Pole lighting, Data Cabling, CCTV, and Fire alarms.
SERVICES
Service panel installation and upgrades.
Home improvements: additions, new construction, remodels and renovations.
Parking lot lighting repairs and service
Fire Alarms and Security Systems.
Troubleshooting and Repairs.
Code compliance issues, re-wiring to meet code.
Underground wiring.
Ventilation/Exhaust fans and Heaters.
Lighting fixtures: serviced, repair, install or relocate.
LED lighting.
Outdoor security lighting installations
Recessed and accent lights installations
All new construction applications
New Circuit breakers and Electrical panels
Control wiring
Recessed and accent lights installations
Dimmer switch installations
Ceiling fan
Wall-mounted Television
Generator Systems.
Surge protection installation.
24 Hour Emergency Service