Located in Melbourne and looking for a good electrician?
To help make sure you're getting an electrician who knows what he's doing, we have compiled a list of the Best Electricians in Melbourne.
Let's jump straight into the Top Electricians in Melbourne in 2023.
Abba Electrical – Electricians in Melbourne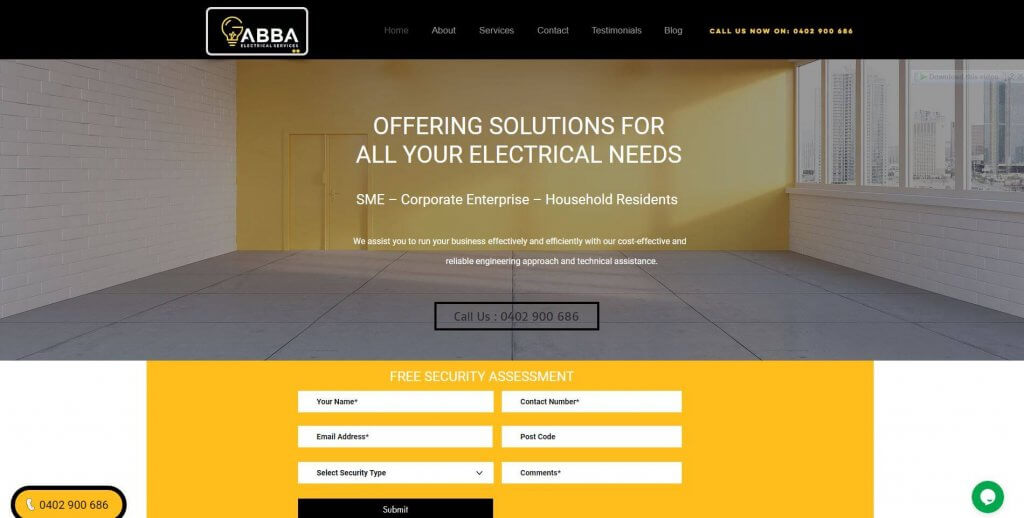 402900686
Electrical Services
Electricity is about so much more than turning on lights. Electricians can help you with many different tasks, including installing heating and cooling systems, Internet cabling and solar panels.
Don't risk your family's safety by hiring a beginning electrician-or worse, by trying to solve your electricity problems by yourself. Hire an accredited master electrician from Abba Electrical.
Electrical Services We Offer
We Offer Melbourne families and businesses can rely on us for any and all electrical services. We can install all types of lights, including halogen lights, fluorescent lights and energy-saving LEDs. We can also install floodlights, emergency lights and downlights.
Our focus on environmentally friendly electrical services benefits you, and it also benefits our beloved Earth. Our solar systems help you save in energy costs while reducing your dependence on fossil fuels.
Our Services
Domestic installations, repairs and solutions for all your electrical needs.
Home Safety
Safety Switches
Surge & Circuit Protection
Smoke Detectors
Electrical Safety Inspections
Testing & Tagging
Kitchen & Other Appliances Repairs
Wiring, Cable & Points
PowerPoints & Fan Switches
TV, Internet, Phone & Data Cabling
Renovations/Rewiring
Mains Power Upgrade
Switchboard repairs/replacements
Foxtel & Austel
Period Home Specialists 1880 – 1940
Body Corporate Electrical Services
Home Entertainment & Theatres
Light Installation & Replacement
Halogen
Fluorescent
LED Lighting
Flood Lights
Signage & Emergency/Exit Lights
Light Switches
Dimmers & Down Lights
Swimming Pool & Shed Power
Cooling & Heating
Vent & Exhaust Fans
Split System Air Conditioning
Ceiling Fan Installation
Electrical Fire Heaters & Panel Heaters
Hot Water Systems
Solar Power & Green Energy
Energex Green Tariff Compliance
Energy Saving LED Downlights
Solar Panel Cleaning
Local Electrician – Electricians in Melbourne
457004206
Local Electrician is your go-to for trusted electrical service solutions in response to your home and small business's safety and maintenance needs.
Embedded within the community, Local Electrician always puts you, the customer, first. We understand your unique challenges and provide the best solutions and support tailored to your safety and electrical maintenance needs, to help get the job done.
From using high-quality electrical service products that are covered by warranty, to experienced and friendly electricians that explain exactly what they're doing, Local Electrician supports you to be empowered and in control every step of the way.
Our licensed electricians care about you and want you to get up and running again in no time with minimal hassles and disruptions to your day. Your satisfaction is our priority and our quick, reliable and friendly service, all at an affordable cost, means that you can count on us to take care of all your electrical service needs.
The Local Electrician Vision
We want to live in a world where we demystify electrical terminology and practices and make these accessible to everyone. We want to empower our customers and community to feel comfortable engaging with an electrician and not feel like they were dealt an unfair card. Most of all, we want our customers to feel safe and secure in their homes and businesses.
Our Mission
Our Mission is to give back to the community. Whether it is through helping out with free-of-charge services where we can, or by sharing our knowledge with the customer so that they feel empowered and more involved in the process, we want to give power to the community. We want to be the leaders in making our community feel safe and secure. We want to be known for our expertise and our willingness to do whatever it takes to keep our community safe.
Our Values
Our below core values define us and drive everything we say and do. Each master electrician lives out our values every day to deliver the best experience to our customers.
What Can We Help You With Today?
Sensor Light Installation
LED Outdoor Sensor lighting
Preventing unwanted accidents
preventing unwanted accidents
Indoor Motion Sensors are perfect for entryways
Switchboard Upgrade
Safety switches are required by Australian standards
Replacing damaged and old ceramic fuse type switchboards
Keep your family safe by Eliminating potential fires
Older Switchboards Cannot Handle Modern Power Demands
Ceiling Fan Installation
Ceiling Fans have low running costs, high effectiveness
Minimizing the use of refrigerated cooling
Keep cool in summer and circulating fresh air in winter
A built-in Ceiling Fan is a great safety feature
Smoke detector Testing
Test smoke detectors to Australian standards
Replace battery operated with hard-wired as per regulations
Photoelectric not ionized alarms for your home
Protect your family from house fires
Essential Services
Test and tagging
Residual Current Device (RCD) testing & Photoelectric not ionized alarms for your home
Fire extinguisher and blanket testing
Exit and emergency lighting
Thermal Imaging
Digital and thermal photos to eliminate hot spots
Notes on any areas flagged as high-risk
Detailed comments on any repairs undertaken
Reduce your insurance bills
Lighting Upgrade
LED Lighting helps to reduce your energy costs
Upgrade lighting to eliminate dark spots
Improve your vision With a brighter environment
Sensor lights, floodlights, security lights, exit lights
Exit & Emergency Lighting
Exit Signs should always be powered by emergency power
Essential for providing effective fire safety at your premises
Modern Systems are usually powered by LED Lighting
Installed by an approved Electrical Contractor
Oven cooktops gas & electric
Save you Money, by reducing your energy costs
Replacing your appliance when renovating
Upgrading due to your family outgrowing your existing appliance
Is the existing appliance Old and Unsafe?
ITA Electricians – Electricians in Melbourne
390692625
Founded in 2005, ITA Electrical has earned its reputation for expert energy management, home automation and general electrical services.
We're trusted by a wide client base across Melbourne – including commercial, industrial and residential customers.
Why? Because our multi-award winning expertise spans a wide range of electrical services. It means our customers can relax in the knowledge they're dealing with an industry leader.
It's also because most of our professional electricians have been with us since the start. So they're as dedicated to doing a great job as we are.
Our values
Honest. Hard-working. Dedicated to their craft. Our professional electricians supply long-term solutions to your electrical problems. That's why they've never been called back to finish off a job. Not once. We ensure a first-time fix, every time.
Why choose ITA
Our expert electricians couple experience with ability, ensuring that your service is as seamless as possible.
FREE ELECTRICAL ASSESSMENT ON ALL JOBS
Your time is precious, and we won't charge you for an assessment. Let us develop some solutions and deliver a quote, so you can decide which avenue you'd like to take.
FREE SMOKE DETECTOR BATTERY
Enjoy some peace of mind. We will provide you with an additional smoke detector battery free of charge. You can rest easy knowing that everyone and everything in your home is protected.
LIFETIME LABOUR WARRANTY
At ITA Electrical, we take pride in our work. So much so that we guarantee it for life. If there's a problem down the line, a fast and easy repair is just a phone call away.
CERTIFICATE OF ELECTRICAL SAFETY
We are never complacent. All of our electricians are qualified and licensed, and a Certificate of Electrical Safety backs all of our work. We will provide one for every job without fail.
Metropolitan Electrical Contractors – Electricians in Melbourne
1300157706
If you'd like to know a little more about us and how we operate, this is the place. Metropolitan Electrical Contractors are your local electricians. Established in 1995 as a part of Metropolitan Group Australia, we are a trade based business that specializes in delivering excellence every time. For over 25 years, we have been delivering top quality services to tens of thousands of our customers.
Our company is a local family-owned business developed in Australia, which means when you book a job with us, you are helping to support a local Australian business and keep revenue within the country.
Metropolitan Electrical Contractors is represented by some of the country's most skilled and experienced electricians who deliver faultless workmanship and exceptional customer service. We handpick our electricians based on their knowledge, skills and the many years of experience under their belts. All of our electricians are qualified and registered in the trade and make it their priority to complete work to the highest standards. Our electricians will respect your home, treating it as if it were their own. They take pride in their presentation and will always clean up after themselves. Our professional staff are knowledgeable, trusted and able to give you solutions to suit your budget.
Metropolitan Electrical Contractors is one of the best electrical companies in Australia. We promise to deliver exceptional workmanship and customer service and will only ever use high-quality parts and materials on all jobs that we attend. We are proud to offer a range of service benefits to ensure customer satisfaction which includes 24-hour service, every day of the year and a range of interest-free payment plans** to all approved customers.
We aim to take the stress out of electrical work and have put the appropriate steps in place to ensure a seamless process on all jobs we attend. We pride ourselves on being a trustworthy and dependable electrical company that always strives to deliver a first-class service to all customers, no matter how big or small the job may be.
Why Choose Metropolitan Electrical Contractors?
With over 25 years' experience, you can trust the Metropolitan name for comprehensive electrical services with a smile. Our electricians give 100% in every job, and that often starts from service within an hour.*
When you are looking for a local electrician who always puts the customer first, Metropolitan Electrical Contractors are available 24/7.
Explore our Electrical Services
Rewiring Homes
Our electricians are experts in all of your home rewiring needs. From power-tripping issues to overheating outlets, Metropolitan is the choice for you.
Lighting
Whether you need a repair, installation, or just general maintenance, give us a call. We specialize in all things Lighting and are available 24/7 to brighten up your home.
Electric Hot Water
We have all the tools and know-how to ensure your electric hot water systems are always performing their best. We can service your existing system or even install a brand new unit.
Powerpoints
These handy sockets can cause some serious irritation when they stop working. Our technicians offer expert service to make sure your home powerpoints never let you down.
Switchboards
Our fully qualified electricians can service your switchboard, and keep the flow of electricity running smoothly through your home.
Electrical Meters
A functional meter is essential for tracking your home's energy usage. Our technicians can keep your electrical meter operating at its best.
Smoke Detectors
Your safety is our number one priority. We can tend to your smoke detector needs at any time, on any day.
Fans
We specialize in fan maintenance and installation. For fan service that will blow you away, contact Metropolitan Electrical Contractors.
CLELEC ELECTRIC – Electricians in Melbourne
1300253532
WHO WE ARE
Situated in the heart of Melbourne. We deliver a promise for quality, professionalism and superior customer service. Available to all areas throughout Melbourne and surrounding Suburbs. "Building relationships not clientele".
Priding ourselves on workmanship, knowledge, technical skills and a can-do attitude to any problem. Delivering an electrical service at a level far greater than what's to be expected in the electrical contracting industry.
"Technicians not just tradies".
From the very start in 2013, our aim was always to completely go against normal trade mentality, industry norms and provide real excellence in our field. We are still continuously growing and looking for better ways to provide the best possible service and materials to our customers.
No project is too big or too small.
From a new power outlet in an existing home to new factory fit-outs, domestic rewires to commercial lighting design and new construction. Whether you're a property owner, manager, operation manager, facility manager, business owner or body corporate, we look forward to hearing from you about your next electrical project.
OUR SERVICES
COMMERCIAL
Wiring & Installation
Upgrades & Refits
Exit & Emergency Lighting
Full Preventative Maintenance
Speciality, One-Off Lighting
CONSTRUCTION
Light & Power
Mechanical Electrical
Exit & Emergency Lighting
Temporary Light & Power
Lighting Design
DOMESTIC
RCD Replacement & Installation
Switchboard Replacement
Safety Power systems & cut-offs
Maintenance
On-Call Emergency Services
INDUSTRIAL
Light & Power
Custom Switchboards
Exit & Emergency Lighting
Full Preventative Maintenance
Speciality, One-Off Lighting
RESPECT ELECTRIC SERVICES – Electricians in Melbourne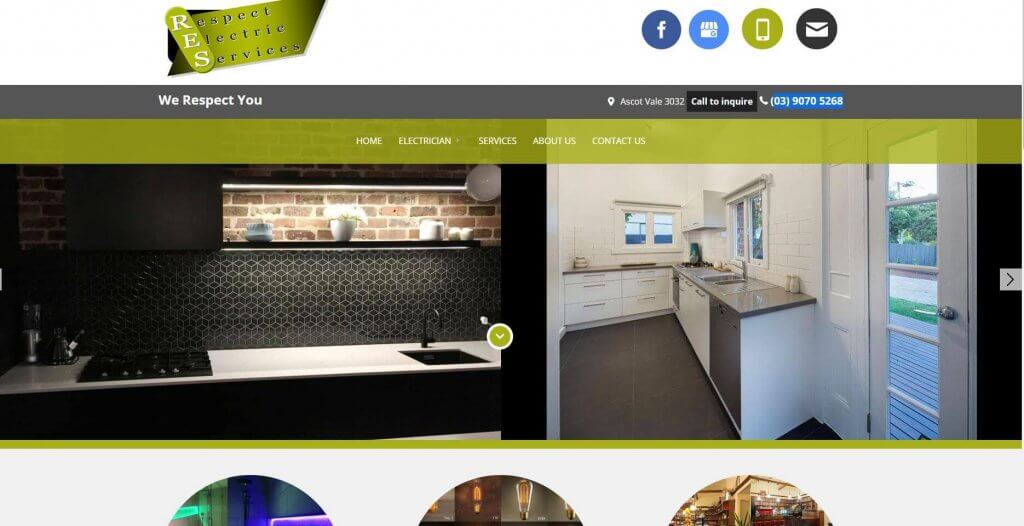 390705268
SERVICES OFFERED AT RESPECT ELECTRICAL SERVICES
Respect Electrical Services offers a range of electrical and data solutions. This includes:
Electrical
Appliance Installations
Energy Efficient LED Lighting
Pathway & Deck Lighting
Ceiling Fans – Switched & Remote
Electrical Fault Finding
Smoke Alarms – Mains Power
Pre-Purchase Property Electrical Inspections
Additional Switches & PowerPoint's
Switchboard Upgrades & Repairs
RCD Safety Switches
Security Sensor Lighting
3 Phase Power
Electrical Fitout's & Renovations
New Home Builds
Retail Shops
Restaurants
Factories
Bathrooms
Kitchens
Offices
Garages
Home & Office Rewires
Workplace Electrical Maintenance & Repairs
Appliance Testing & Tagging
Exit & Emergency Lighting
Property Maintenance
TV / Security Systems / Telephone
TV Antennas, Cabling & Points
Phone / ADSL Cabling & Points
CCTV
Intercom Systems
House Alarms
Network Data Cabling & Cabinets
Wireless Access Points – (WAP)
Network Data Cabling – (Cat5e / Cat6e)
Data Cabinet Installations
Canny Electrics – Electricians in Melbourne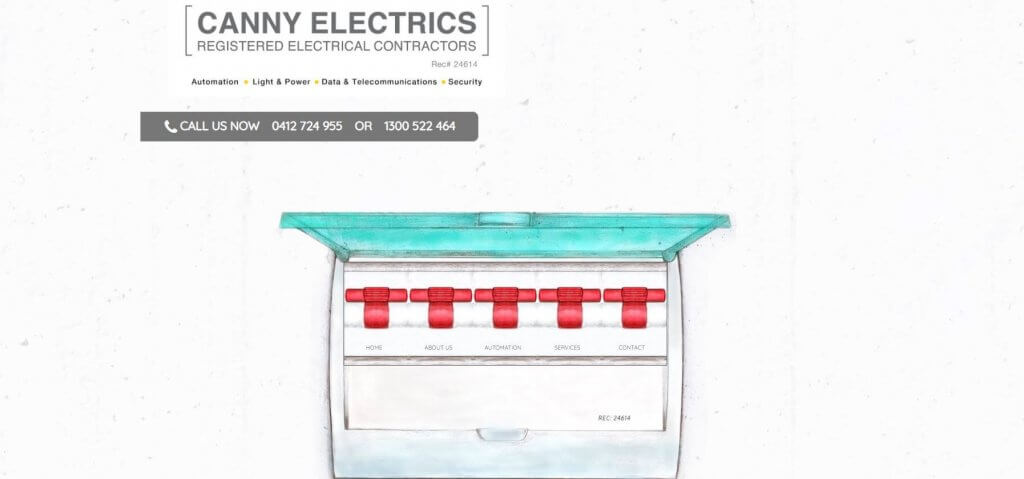 390784985
No matter what electrical work you require for your home, office, shop or factory, Canny Electrics' approach to providing outstanding service is always the same.
When you make an appointment, we make it our business to ensure our 'A' Grade electricians show you the respect of arriving right on schedule ~ and with a 'can-do' commitment to solving your power problems in the best and most efficient way.
You'll have professionals who'll take the time necessary to perform your work with real precision; who'll never see your job as complete until they're 100% happy that everything is operating perfectly; and who'll never baulk at going 'the extra mile' ~ to overcome any challenge; or provide a knowledgeable answer to any electrical question you have.
Canny makes this possible by never overbooking our team, and never pressuring them to race through work (or look for 'quick fix' short-cuts) in a mad rush to get to their next job.
It simply means you can expect more personal care and attention to detail; a more satisfying end result; and a service experience that explains why so many of our first-time customers have chosen to become long-term clients.
THINK SAFE, THINK ABOUT US!
Our knowledgable, skilled & certified
electricians are here to help you.
WHY CHOOSE US?
We provide our technical and creative expertise, combined with well-trained staff, state of the art equipment, and thorough support to ensure outstanding results within domestic, commercial and industrial environments.
SERVICE
RESIDENTIAL
HOME AUTOMATION
LIGHTING
SAFETY CHECKS
COMMERCIAL
Total Solar Solutions – Electricians in Melbourne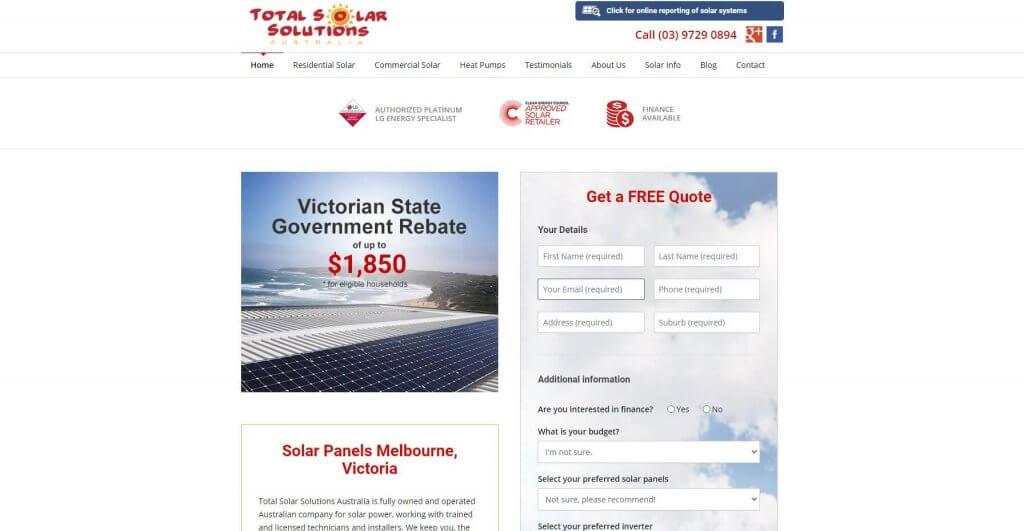 397290894
Total Solar Solutions was established by A-Grade electrician Reece Kennedy when he experienced the great divide between solar sales companies and installers. Wanting to bring a higher level of customer service, Reece had the vision to create a solar company with a full inhouse team of sales consultants, office support and the team of electricians. Not to be the biggest solar company but a company with the highest attention to detail and immaculate installations using only the best quality products available.
As a Clean Energy Council approved solar retailer, and a Platinum authorized installation partner for LG, we are proud to install not only the very best LG solar panels but also quality inverter brands such as Fronius, SolarEdge and Enphase. We are proud to be 100% Australian owned and operated, and a Clean Energy Council approved Retailer since June 2016, so you can rest assured you are in great hands.
Total Solar Solutions Australia is fully owned and operated Australian company for solar power, working with trained and licensed technicians and installers. We keep you, the customer, at the centre of everything we do. We offer the highest quality work and use some of the best quality products on the market. Speak to us today!
What is the Total Solar Solutions experience?
Meet with one of our highly trained Solar Consultants who will custom design a solar system specifically to your home. Our friendly office staff will then confirm an installation date suitable for you.
On installation, day experience our red carpet service. Our electricians will arrive on time, introduce themselves, confirm installation location for the inverter and panels with you then set to work. Once completed, they will run through the system with you, set up any monitoring and leave you with an information pack for future reference.
Your solar system will then be signed off by an independent electrical inspector, and our office staff will process your paperwork, solar rebate and retailer service order on your behalf. We hope you will be so thrilled with our service that you will recommend us to your friends and family."
Helcro – Electricians in Melbourne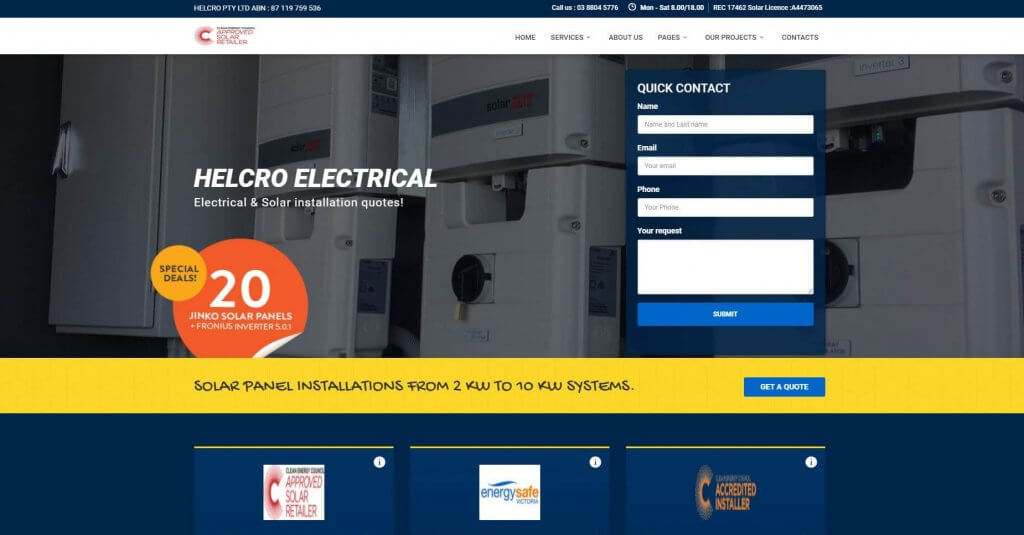 388045776
Little things about us
Helcro Pty Ltd. is a small company that has been providing solar electrical services in Melbourne and throughout the suburbs of Melbourne. Our expert fully qualified electricians provide a wide range of specialist electrical services that ensure your service is fully compliant with the current AS/NZS 3000:2018 and other relevant Australian Standards, health and safety, legal and other regulatory requirements.
Get in touch with us if you're in Melbourne or the surrounding areas and need electricians that offer a fast, effective and safe service. We are specialized in all types of Solar electrical work, both domestic and commercial.
We are fully registered members of Energy Safe Victoria Electrical Contractors and Clean Energy Council. We are licensed to certify solar and electrical safety compliance in domestic, commercial and industrial work. We are a licenced Solar Retailer.
Mission
Helcro Pty Ltd. is a small company that has been providing electrical services in Melbourne and throughout the suburbs of Melbourne. Our expert fully qualified electricians provide a wide range of specialist solar and electrical services that ensure your service is fully compliant with the current AS/NZS 3000:2018 and other relevant Australian Standards, health and safety, legal and other regulatory requirements.
Get in touch with us if you're in Melbourne or the surrounding areas and need solar electricians that offer a fast, effective and safe service. We are specialized in all types of solar electrical work, both domestic and commercial.
We are fully registered members of Energy Safe Victoria Electrical Contractors and Clean Energy Council. We are licensed to certify solar and electrical safety compliance in domestic, commercial and industrial work. We are a licenced Solar Retailer.
Philosophy
We strongly believe in preserving long-lasting relationships with all of our customers. We maintain regular contact with all of our previous and current customers.
Johnstone Electrics – Electricians in Melbourne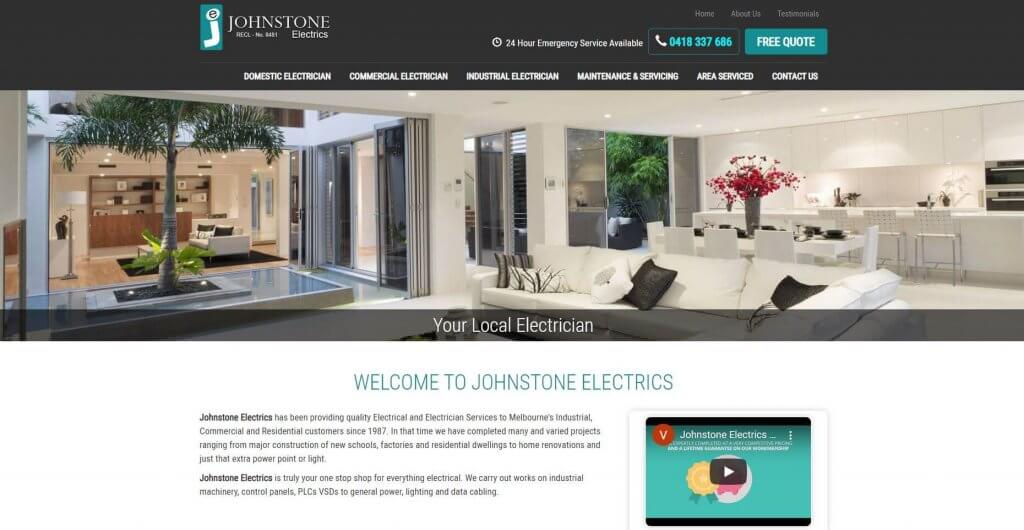 418337686
Established in 1987, Johnstone Electrics is a total Electrical solution centre. We provide services to areas such as Laverton North, Laverton, Sunshine, Brooklyn and surrounding areas. For years together, we have believed and followed that our commitment to customer service, attention to detailed quality workmanship along with competitive rates has proven to be the potential source of lifeblood, for the ongoing success of our business. With utmost care and a constant flair to produce diligent work of a high professional standard, we assure complete, reliable services that are unconditionally guaranteed and installed to Australian Standards. With an ongoing experience of more than 30 years, we proudly possess:
ELECTRICIAN AND ELECTRICAL SERVICES
DOMESTIC ELECTRICIAN
Are you searching for an excellent domestic electrician in your area? Johnstone Electrics is here to protect you from any electrical mishap. We have an expertise in providing domestic electrical services starting from installations of the domestic switchboard, wirings to repair as well as replacements of damaged electrical fittings.
COMMERCIAL ELECTRICIAN
At Johnstone Electrics, we have certified commercial electricians who are ready to assist you 24*7. Our team is well equipped to support commercials building with all of their commercial electrical services. We provide quality services that ultimately add value to our clients. Contact us now to experience the difference.
INDUSTRIAL ELECTRICIAN
At Johnstone Electrics, we cover all your industrial electrical needs right from the primary power source to every moving equipment or machinery in your industry's premises. We can assist industries with installations of switchboards, industrial wirings, control panels, and much more. Contact us now to get an electrical upgrade.
MAINTENANCE & SERVICING
Are you searching for efficient and cost-effective electrical maintenance services? Your search ends here. At Johnstone Electrics, we have a dedicated team of professionals who understands all your electrical maintenance requirements. Get affordable and customized services, perfectly satisfying your unique business needs.
Hit the Switch – Electricians in Melbourne
1300205205
Looking for a good, reliable and responsive Melbourne local electrician who offers a quality solution rather than a quick fix'? Then it's time to call Hit The Switch Electricians.
Hit The Switch is your first choice local Melbourne electrician. Our qualified tradesmen will sort out electrical problems in your home or office, quickly, safely, efficiently and cost-effectively. We will assess your needs and suggest a range of options – plus we'll make sure everything is clean and tidy when we're done.
Electrician Melbourne CBD
Master Electrician 10+ years experience
Full year's warranty on all parts – that's the Hit the Switch way
Local Electricians – Fairer, Better, Right – First time, every time
Electricians who understand your home is your castle
Free no-obligation advice
Local Electrician Melbourne CBD
If you're looking for an electrician in the Melbourne CBD, look no further than Hit The Switch. Our local electricians provide a fast emergency call-out service and can cover any other areas needed. Residents and commercial businesses of Melbourne, Carlton, Southbank, and Parkville can be assured of a high-quality job guaranteed.
Our fully trained electrical technicians can respond to any job, large or small, whether you are in Jolimont, North Melbourne or Richmond.
From a shorted out PowerPoint to the installation of a new LED lighting system, Melbourne residents can rely on Hit The Switch.
Some of the areas our local Melbourne electricians service include
Docklands Electrician 3008
East Melbourne Electrician 3002
Flemington Electrician 3031
Kensington Electrician 3031
Melbourne Electrician 3000
Melbourne Electrician 3004 (St Kilda Road)
North Melbourne Electrician 3051
Port Melbourne Electrician 3207
Parkville Electrician 3052
Southbank Electrician 3006
South Wharf Electrician 3006
South Yarra Electrician 3141
South Yarra West Electrician 3141
West Melbourne Electrician 3003
main switch tripping hit the switch
NJB Electrical Services – Electricians in Melbourne
400501431
With over 18 years in the industry, NJB Electrical Services is a company you can rely on for high-end electrical maintenance, installation and repair services.
In order to remain up to date on all the latest electrical maintenance standards, we make sure our team undergoes regular training and invest in top-of-the-line equipment to guarantee quality results. Get in touch with us for expert electrical services in and around Melbourne!
Our Mission and Commitment
Our mission at NJB Electrical Services is to offer our exceptional technical and functional expertise in the form of long-lasting solutions. Upon hiring our services, you'll benefit from our expert industry knowledge, which could prove useful when it comes to quickly troubleshoot your electrical issues in the future.
Serving our clients with the utmost respect and honesty, we take our time to ensure outstanding services are delivered on every occasion.
Our fully trained staff is guided by a strong work ethic, ensuring you get first-class workmanship and the highest level of service.
Our services
Electrical services
Electrical maintenance services
Electrical installation
Data cabling installation
Our guarantees
Experienced and qualified electricians
Quality workmanship
Dedicated and organized team
Licensed and insured electricians
Briggs Electrical & Data Solutions – Electricians in Melbourne
1300300222
We are a proud family-run business based in the Bayside area of Melbourne.
No matter which job we're called to, we take pride in the service that we provide. We guarantee that all work is completed by qualified, licensed and insured tradesmen.
We have more than ten years' experience throughout the industry in domestic, commercial and industrial electrical works.
Our aim is to provide solutions to all your electrical and data needs. We can tailor our business to suit your business, including out-of-hours and 24/7 emergency call-outs.
Briggs Electrical is a member of the master cable's association and NECA.
We also encourage our staff to attend information nights provided by Energy Safe Victoria to keep up with industry changes, constantly improve our service, and better enhance your safety.
You've found the most reliable electrician in Melbourne!
There are hundreds of electricians in Melbourne. However, few of them offer the same combination of experience, workmanship and professionalism that Briggs Electrical brings to the table!
We've made a name for ourselves as professional and reputable electricians in Melbourne who can tackle any indoor or outdoor electrical job that's thrown at us!
From the sparky basics like PowerPoint repair or installation to large-scale electrical strategies like CCTV installation or new builds, the Briggs team is ready to help you!
We provide a wide range of electrical services from domestic, commercial, and emergency, no matter where you live in Melbourne. Briggs Electrical is ready to respond to your electrical needs after hours, weekends and public holidays.
Our Melbourne electricians are:
Reliable
You can count on us 24 hours a day; 7 days a week. We're ready to help you out from the smallest of electrical faults to complex rewiring or lighting jobs.
Polite
Every job is completed with a smile from electricians who simply love what they do! Click here to see what our previous clients have to say about us.
On-time
We'll be there when we say we will – yes, really! And if for some reason we're running late, we'll give you a courtesy call to keep you informed.
Honest
Our team of sparkies aim to smash the stereotype of tradies. Our business prides itself on honesty and transparency, and our fixed pricing ensures you won't find any nasty billing surprises.
Experts
Residential, commercial, emergency electrical jobs we've seen it all. There's no electrical job that our team of experts won't be able to do for you!
Qualified
Our team of professional electricians are fully licensed and qualified to tackle all sorts of electrical problems. We guarantee quality workmanship and well-thought-out solutions, no matter what you need.
Committed
Our mission is simple: to provide the best electrical services in Melbourne! We're committed to delivering outstanding service, whether you're a brand new customer or a client who's relied on us time and time again.
Excellence
We're extremely selective when deciding who gets to wear the Briggs logo. Each of our sparkies is an expert in their field, with training, experience and know-how that's the best in Melbourne.
Power Link Electrics – Electricians in Melbourne
400756664
With over 20 years of electrical experience, Power Link Electrics provides prompt and quality work in Brighton, Bayside and South-Eastern and Eastern Suburbs. We specialize in residential and commercial data and electrical installation and maintenance in places like factories, medical consulting rooms, offices and shop fit-outs. Our team also helps you with energy-saving cost ideas and make your home and family safer.
Our lighting electricians in Brighton, Bayside and South-Eastern and Eastern Suburbs can suggest a lighting and power consumption design for your home that can save you money on your energy bills. Simply ask us Today. Our extensive range of lighting installation services include but are not limited to:
Wall lighting
Supply and installation
Maintenance and repairs
Scheduled bulb replacements
Exit and emergency light testing
Bathroom lighting
Bulb replacement
Landscape lighting solutions
Outdoor lighting
Ceiling lights
Security lighting and vandal-proof lighting
Pendant lighting
Office lighting
Floodlighting
Energy-saving lighting
LED lighting solutions
RESIDENTIAL
Are you looking for an experienced electrical company in Eastern/Southeast suburbs, you can trust and rely on, look no further.
Power Link Electrics is here to help from new homes to renovations. All aspects of electrical and security, data and intercom systems.
We offer switchboard and mains upgrades, great indoor and outdoor light ideas and home automation.
COMMERCIAL WORK
Are you looking for an experienced electrical company in Eastern/Southeast suburbs, you can trust and rely on, look no further. Power Link Electrics is here to help from new homes to renovations. All aspects of electrical and security, data and intercom systems. We offer switchboard and mains upgrades, great indoor and outdoor light ideas and home automation.
INDUSTRIAL SERVICES
Your industrial facility runs on a lot of electricity, and just one problem could affect your work. That's why Power Link Electrics' qualified industrial electricians are up-to-date on the latest technology and industrial applications. Whether you need 3 Phase power or emergency lighting installed, our team can help.
AE Roberts Electrical – Electricians in Melbourne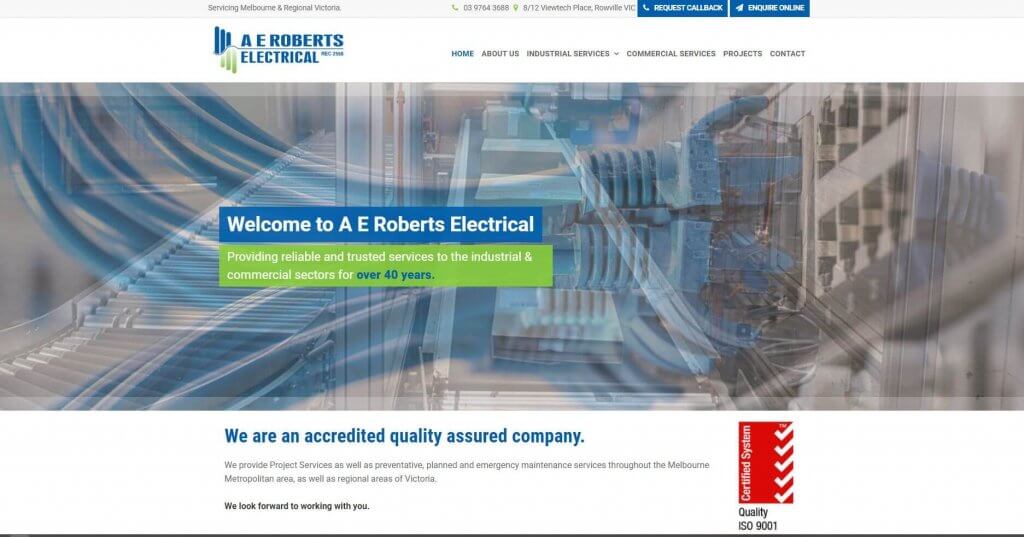 0397643688
A E Roberts Electrical was founded by Alister Roberts nearly 40 years ago as a sole proprietor with one service van. The business has grown into a corporate entity employing a number of "A" Grade electricians, apprentices and specialist staff with a fully maintained vehicle fleet and a strong and reputable client base. Alister Roberts retired in 2011.
Andrew Parker has been a member of the A E Roberts team for more than 20 years and part of our management team since 2001. In February 2011 Andrew was appointed as a Company Director. He is currently our Managing Director and Projects Manager. Andrew heads a dedicated staff, all of whom have a strong background in the industrial and commercial electrical sectors. This enables us to complete high-quality projects to the satisfaction of our clients on time and within budget.
We provide proactive, reactive, preventative and planned electrical services to industry and commerce and the public sector including the manufacturing industry, the transport industry, distribution centres, waste recycling plants, the glass industry and Government Water Authorities.
A E Roberts Electrical has a reputation for being punctual and reliable, efficient and thorough, communicative and approachable, resourceful, proactive and safety conscious. We work closely with our customers to accurately anticipate project demands and the necessary level of resources.
Electrical Installations & Maintenance
A E Roberts Electrical has completed many installation projects over its 40 years of operation, in both the industrial and commercial arenas. Our electrical installation services include:
Turnkey industrial production line installations
Industrial plant and machinery installation, alteration & relocation
Conveyor systems
Industrial switchboard manufacture, upgrade and installation
Wastewater treatment plants & pumping station upgrades
Industrial cold storage facility and refrigeration plant installations
General industrial light & power needs for factories, warehouses, distribution centres etc
Backup generator systems / UPS systems
Commercial office fit-outs including general light and power, data and voice services
Retail industry fit-outs and refurbishments including general light and power
Commercial Electrical Services
A E Roberts Electrical provides an extensive range of commercial services including:
Data and communications installations and upgrades
Light and Power design and installation
Switchboard upgrades and maintenance
Thermal Imaging
Testing and Tagging
Commercial Lighting
Security Lighting
BMI International – Electricians in Melbourne
394454800
The company was established in 1974 and is involved in many commercial projects throughout Australia completing electrical and data cabling fit-outs and all electrical maintenance services.
The team at BMI has repeatedly demonstrated this high work standard carrying out electrical installations as well as complete coordination and organization of all trades where necessary.
Products & Services
Electrical
We have extensive experience in electrical design for commercial, finance and institutional buildings. Our services include design, cost estimating and project management.
Data Installation
When we develop a local or wide area network cabling system, we ensure physical design and layout provides for a robust, reliable and efficient operating system.
​
Fibre Optics
Fibre Optic cabling provides the greatest information-carrying capability of any medium. Installed by our high training and licenced technicians.
BMI International Products & Services
BMI has the technical and management capabilities to deliver end to end solutions involving all aspects of system design, installation and commissioning.
​Training is an ongoing concept keeping staff up to date in all fields of work. Our expertise covers the following:
ELECTRICAL
We have extensive experience in electrical design for commercial, industrial, institutional and residential buildings. Our services include design, cost estimating, specifications and documentation.
Electrical Design and construction
Maintenance
Exit and emergency lighting
Auto lighting control – C-Bus, KKN, Phillips
Commercial
Domestic
Emergency repairs
Lighting installations
Sports field lighting
DATA & VOICE INSTALLATIONS
When we develop a Local or Wide Area Network, we make sure the physical design and layout provide for a robust, reliable, and efficient operating system that will meet your needs both today and for years to come. A properly engineered and implemented wiring scheme saves money, reduces system downtime, and provides for cost-effective future network growth.
Network Design and Implementations
Structured cabling
Integrated systems
UTP, CAT6, CATS6A, Type One, Coax
LAN, Ethernet
Wireless Networking
Communications Cabinets
Cable Testing
UPS Installations
As-Built Drawings
Backbone / Tie Cables
Maintenance
Cabling
Jumpering
Additional Telephone Points
Our fully qualified trained staff are proficient in the widest variety of network media. Whether we are dealing with new construction, upgrade of outdated infrastructure, or an expansion project, our goal is the same as yours; a high-quality infrastructure capable of taking advantage of Today's top network equipment and ready to adjust flexibly to the requirements of tomorrow.
Dahn Group – Electricians in Melbourne
1300413994
Dahn Group has been providing exceptional service and workmanship to our customers throughout Australia. We have established an outstanding reputation in the industry as a company dedicated to providing the utmost in customer service.
Our Services
Strong & Secure Electrical Work!
Design & Construction
From concept to reality, We are proud to be known as one of Melbourne's leading electrical design contractors. We are committed to satisfying all your electrical & electronis requirements.
Maintenance & Service
We provide competitively priced electrical maintenance services for the commercial, industrial, and residential sectors. We provide our clients with preventative electrical maintenance & on-time quality services.
Data & Communications
Get your communications network up and running from design to implementation. Our experienced teams can supply and install fibre cabling as well as wireless services, including laser connections.
Testing & Tagging
We carefully visually inspecting each appliance for damage to flex, connections, guards, covers, and plug by a competent technician. We offer testing and inspection of equipment, RCD safety switches, and emergency & exit lighting.
Emergency & Exit Lighting
We offer comprehensive emergency and exit lighting services that not only test the battery but ensure that the bulbs, casings, and leads are in good condition. We can service all of your fire protection equipment.
Electrical & Electronics Engineering Consultancy
From small tasks to full-scale projects, get in touch with a global network of experts like us. We offer a full range of engineering consultancy services to provide quality engineering solutions.
FLEMING & KINNEAR – Electricians in Melbourne
1300787742
Fleming & Kinnear is a medium-sized Electrical Contracting company originally founded in 1921.
Based in Melbourne, we have Electricians based in most suburbs & service everywhere from Melbourne CBD out to & including the outer metropolitan suburbs & country Victoria – in most cases on the same day basis.
Our experienced tradesmen have a wide and varied skill base, ranging from Licensed Electrical Inspectors, A Grade Electrical Mechanics (Electricians), Motor Rewinders, Telecommunications Technicians, Air Conditioning Mechanics, Alarm Technicians, and Data Cabling Technicians etc. etc. Many have worked for the company for 20 years or more & have a vast wealth of experience behind them.
Using this skill base, there is little that the company, as a whole cannot competently handle.
One of our major strengths is our ability to provide a genuine 24hr 7 Day emergency breakdown service to our regular clientele.
We have servicemen located in or near every suburb & can be anywhere in the metro area in under an hour in the case of an emergency.
Following are some of the area's we specialize in but basically if it has wires or runs on electricity we can repair, maintain & Install it.
24 Hour 7 Day Emergency Service PH: 1300 787 742
Domestic, Commercial & Industrial Electrical Service & Installation
Programmed Electrical Maintenance Services
Exit & Emergency Light Testing & Maintenance
Appliance Testing & Tagging
Telephone, Computer & Television/Audio Visual Cabling
Energy Consumption Audits
Thermographic Imaging (Thermal/Infrared Surveys)
General Light & Power Installations, Alterations & Additions
Switchboards, Safety Switches, Surge Divertors & Smoke Detectors
Hot Water Service repairs
Home Safety Inspections
All Types of General Electrical works
And much much more
Melville Electrical – Electricians in Melbourne
422887759
With more than 20 years electrical experience in domestic and commercial works, Doug Russell, the owner and chief electrician at Melville Electrical, has earned himself a reputation as one of the northern suburb's most trustworthy, polite and efficient tradesmen. The five star Word of Mouth ratings and excellence awards continue to roll in and speak volumes of the man himself and his uncompromising work ethic.
Melville Electrical is based in Brunswick West, 10km north of Melbourne. We service the inner north-western suburbs including the Brunswick region, Pascoe Vale, Ascot Vale, Moonee Ponds, Essendon, Coburg, Carlton, Northcote, Fitzroy, Maribyrnong, North Melbourne, Preston, Thornbury and Avondale Heights to name a few. A full list of suburbs covered can be found at locations.
We offer a broad range of services, conducting both residential and commercial jobs. Whether you own a period dwelling and need to rewire or increase electrical capacity or are building a modern family home with the latest innovations, we can help. Alternatively, if you're running a business, we can offer efficient and effective shop, office and warehouse solutions conducted by an experienced, highly skillful and licensed electrician.
Melville Electrical is a small business with over 20 years experience that prides itself on delivering up-to-the-minute solutions with old fashioned service. Our work is professional and our attitude respectful. If we say we're coming at a particular time, we'll be there. We can even work around your busy calendar and offer weekend attendance. We take the time to explain any problems and propose solutions that are both suitable and affordable without hidden costs. Our friendly service is second to none, and everything is completed with a signed electrical certificate, giving you peace of mind.
Residential Services
We offer a broad range of services to satisfy all your home needs.
Lighting Solutions
Eco-friendly Options
New Installations
Rewiring
Outdoor Lighting
Power Outlets
Safety Switches
Switchboard Upgrades
Appliances
Time Convenient
Maintenance & Repair
Commercial Services
We offer a broad range of services to satisfy all your business needs.
Fit Outs
Lighting Solutions
Telecommunications
Industry-Wide
Maintenance
Approved Electrix – Electricians in Melbourne
approvedelectrix.com.au
383705737
Approved Electrix are a Melbourne based company that specializes in providing a reliable, trustworthy and affordable service to all our clients
Approved Electrix provides a range of services including domestic/commercial repairs and installation. With over 15 years of experience no job is too big or too small for our experienced A grade electricians to handle.
We are renowned for our high quality of workmanship and outstanding customer service. We strive to provide a prompt and professional electrical service to every one of our clients regardless of size or difficulty of the job.
OUR SERVICES
LIGHTING
POWER POINTS
SWITCHBOARD AND MAINS UPGRADES
HOUSE / OFFICE REWIRES
CEILING FANS
AIRCON
MAINTENANCE
DATA AND PHONE
SAFETY CHECKS
Out And Repairs
WHY CHOOSE US?
Our team are among the best-regarded domestic and commercial electricians in Melbourne, and we pride ourselves on offering only the most thoughtful, diligent service to each and every customer. No job is too big or too small for our A-grade electricians, which is why we've rated five stars on the largest search engine.
RELIABILITY
Reliability is what makes us Volts above the rest. We put customers. First, we have served hundreds of happy families, check out our real-life reviews online.
QUALITY
We are qualified electricians, who believe in providing quality outcomes for our customers. All our materials used are of high quality yet affordable.
SAFETY
Rest assure the highest safety standards are achieved. We are proudly partnered with Master Electricians ME safety program.
15 YEARS EXPERIENCE
With over 15 years of experience, our team guarantees your job is completed to the highest standards and within budget.
24*7 EMERGENCY
Emergency repairs and call-outs, for those disasters which strike at any time of the day or night.
COMPETITIVE PRICE
No bill shock, we provide free no-obligation quotes – You can trust us.
100 % GUARANTEE
We only source and use the highest quality products. We guarantee all of our products and workmanship.
TRUSTWORTHY TEAM
All our team are licenced, qualified and insured.
SAME DAY SERVICE
We provide same-day and on-time services that will fit in with your schedule.